Are you an avid concert-goer, a passionate musician, or someone who loves to immerse themselves in the vibrant music festival scene in Australia? If so, you probably understand the importance of protecting your hearing in these loud and electrifying environments.
That's where earplugs for concerts come into play, offering not only protection but also enhanced musical clarity.
In this article, we'll explore the best earplugs for musicians in Australia and music enthusiasts alike, focusing on earplugs for concerts in Australia.
Table of Contents
Why You Need Concert Ear Protection?
Before delving into the top earplug options, let's address why concert ear protection is essential. Concerts and music festivals are known for their high decibel levels, which can cause irreversible damage to your hearing over time. To prevent hearing loss and tinnitus, investing in the right earplugs is a must.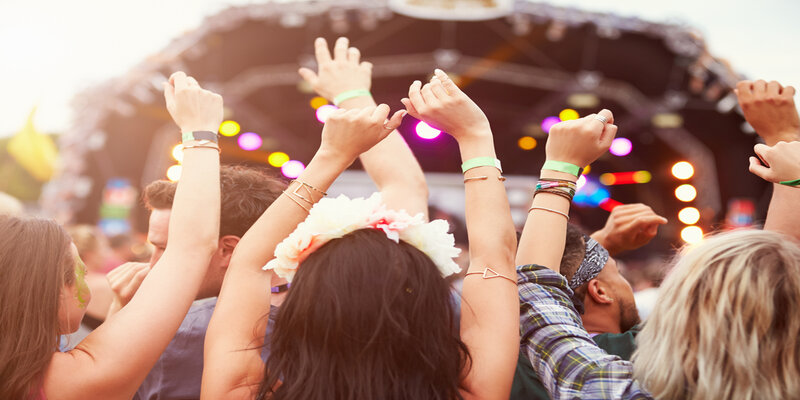 Foam Earplugs VS Reusable Filtered Earplugs
While foam earplugs are better than having no protection at all, they generally produce a muffled sound and reduce higher frequencies which results in poor sound quality.
However, earplugs specially made for musicians reduce all frequencies equally which maintains the musical soundscape for the wearer but at a safer volume.
Top 5 Earplugs For Concerts to Preserve Sound Quality
It's no surprise that one of a musician's pride possessions is their hearing! Hearing loss has direct consequences on your ability to do your job or enjoy your passion. Properly protecting your hearing is therefore essential during rehearsals, performances, and concerts.
MusicSafe Pros are the only earplug that comes with three unique sets of interchangeable filters, giving you more control over the volume with your choice of 16 dB, 19 dB, and 22 dB attenuation levels for the best protection and music experience.
Alpine has developed the MusicSafe Pro, the most high-end product in the Alpine hearing protection range for professionals in the music industry.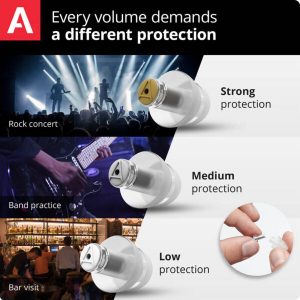 A solid all-rounder earplug. With a discreet, low profile and triple flange design, they comfortably fit most ear sizes. Every pair includes a handy aluminum keyring carrying case so that your earplugs are always within easy reach.
With up to a 21dB Noise Reduction Rating (NRR) these earplugs provide a significant drop in harmful decibels but allow you to continue cranking out the tunes while minimizing the risk of damage to your ears.
Whether you're at a concert, a musician performing with your band, riding your motorcycle, or on an airplane Eargasm Earplugs help you turn the volume down anytime you need it.
Eargasms attenuation filters reduce noise evenly to maintain the full spectrum of sound while protecting hearing so they won't muffle music or voices like foam plugs do.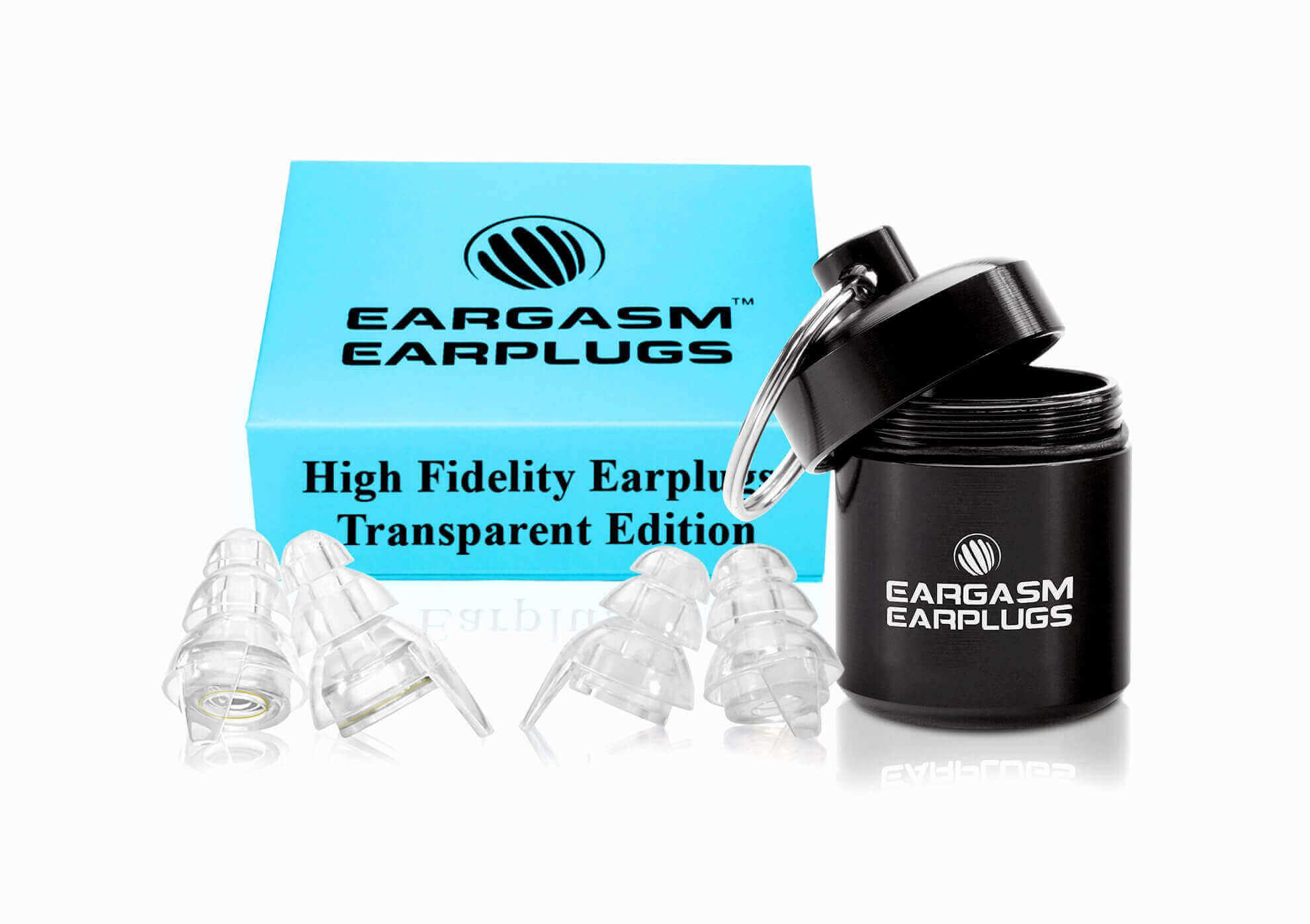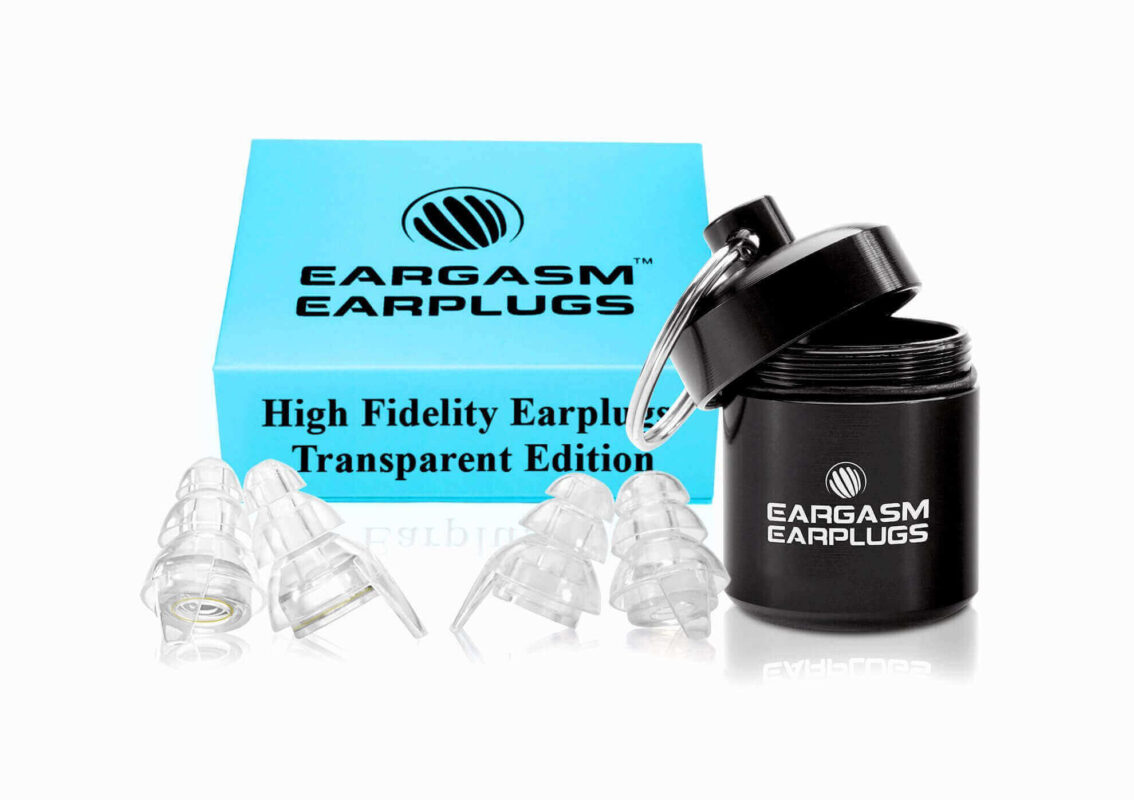 Talk about discreet! Earasers are almost invisible earplugs and feel so light and comfortable that you'll hardly know you're wearing them.
the filters ensure a flat frequency response similar to using studio monitors. The benefit of this is that every frequency you're supposed to hear is accurately represented through the earbuds, yet overall noise volume is also reduced accordingly.
Cleverly created with an open design to allow sound to move closer to the eardrum, before being attenuated and filtered, resulting in a much clearer sound. This model is patented and unique to Earasers.
The placement of the filter enables a more precise sound and removes harsh frequencies giving you about 19 decibels of harmful noise reduction.
One of the biggest things that many musicians love about the Earasers is that they fit easily and comfortably under a set of headphones so that you don't need to remove them when you are in the mix.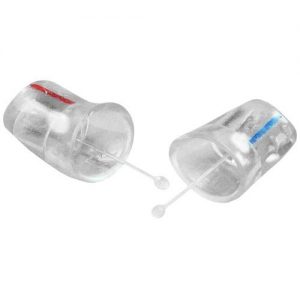 Offering great protection and the best music experience most ideal for more of the music connoisseur party goer.
If you go to a concert or festival you particularly want to enjoy music. But you don't want to incur hearing damage or a permanent ringing in your ears. Especially for music lovers, there are now the Alpine PartyPlug Pro Natural earplugs.
These earplugs have special rectilinear Alpine acoustic filters. This means that the music is attenuated equally at all frequencies. The music quality remains perfect and only the harmful sound is muted. It's like you've turned down the volume button.
Also, thanks to the filters you also won't have an isolated feeling, and conversations remain properly audible.
Attenuates all frequencies virtually the same with no distortion and attenuation Value (SNR) 29 dB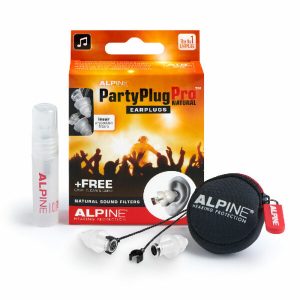 It provides great protection and a good music experience that is ideal for clubs, parties, live bands, and festivals.
The high-quality acoustic filters in PartyPlugs hearing protection reduce the volume of music to a safe level. Your music experience, as well as the sound quality of the music, remains very good. Naturally, you can keep talking to your friends.
By wearing PartyPlug earplugs when you go out, you prevent that irritating high-pitched noise in your ears. Besides, the earplugs are barely visible thanks to the unique transparent filters.
A cost-effective alternative to the Alpine PartyPlug Pro, the PartyPlugs attenuates high, harmful frequencies more with minimal distortion and attenuation Value (SNR) 25 dB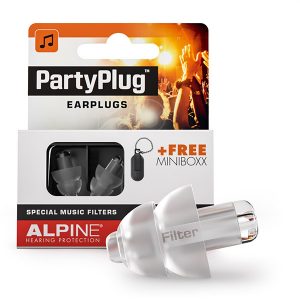 Top 4 Benefits of Concert Earplugs
Concert earplugs offer several advantages, including:
Preservation of Hearing: Earplugs reduce the risk of hearing damage caused by loud music and crowd noise.
Sound Clarity: The best earplugs maintain the integrity of the music, ensuring you can still enjoy the full spectrum of sound.
Comfort: Many concert earplugs are designed for long-term wear, making them comfortable for extended events.
Customization: Some earplugs come with interchangeable filters, allowing you to adjust the level of noise reduction to your preference.
Should I Bring Earplugs to a Concert?
Absolutely! Bringing earplugs to a concert is a smart choice. It's better to have them on hand and protect your hearing than to risk long-term damage.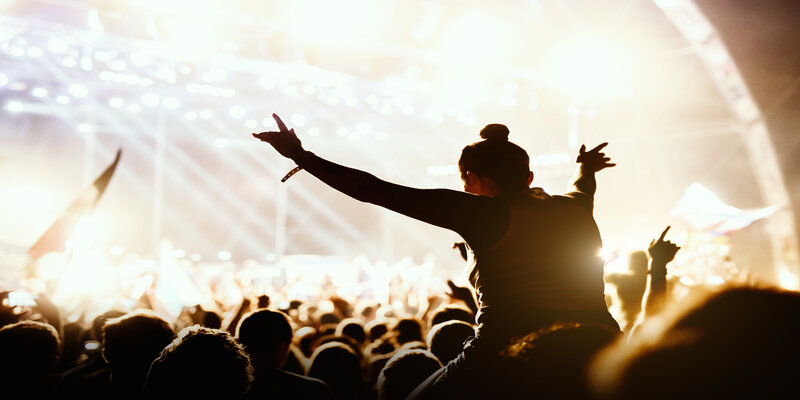 Finding the Right Concert Ear Protection
Discover the perfect concert ear protection at soundsndsleep.co.au. Our carefully curated range of concert earplugs and earbuds ensures your hearing remains protected without compromising music quality. With comfort, noise reduction, and ease of use in mind, our products are designed for extended concert enjoyment. SoundAndSleep offers diverse options, guaranteeing you'll find the ideal fit for your needs. We prioritize quality and convenience, making it effortless to shop both online and near you. Trust our expertise in sound and sleep to safeguard your hearing while you revel in the music you adore. Choose SoundAndSleep for premium concert ear protection and to preserve your hearing.
FAQs
1. Are there special earplugs for music festivals?
Yes, there are earplugs specifically designed for music festivals. These earplugs offer protection from loud music and crowd noise while ensuring you still have a great festival experience.
2. Can I use earplugs as an alternative to noise-canceling earbuds at concerts?
Yes, you can use earplugs as an alternative to noise-canceling earbuds at concerts. Earplugs effectively reduce noise levels while preserving the music's quality.
3. Can I use concert earplugs with headphones?
Many concert earplugs are designed to fit comfortably under headphones, allowing you to enjoy music while protecting your hearing. Be sure to choose earplugs that are compatible with your preferred headphones.
4. Why should I choose SleepAndSound.com.au for my earplug and sound-related needs?
SleepAndSound.com.au is your trusted destination for high-quality earplugs and sound-related products. We stand out due to our commitment to premium quality, exceptional customer service, and a wide range of products designed to improve your sleep and protect your hearing.
Conclusion:
In conclusion, the significance of maintaining sound quality while protecting one's hearing for musicians cannot be emphasized. The top 5 earplugs for musicians covered in this article provide a variety of solutions to suit various tastes and requirements.
These earplugs offer a practical way to lower the danger of hearing loss while preserving the fidelity and clarity of the music, whether you're a professional musician or a die-hard music fan.
Contact us any time at in**@sl***********.au or call us today at 1300 556 366 for more information or advice on your hearing protection