Without Alpine FlyFit Ear Plugs traveling can be tiring, especially if you're on a long-haul flight. Sleep in a noisy place or a hotel room is invaluable and not underestimated whilst traveling.
It can be difficult to get the rest you need. Planes are a constant hive of activity, with the passengers' chatter around you, the movements of the flight attendants, bored children, and a sea of mobile devices performing a thousand different functions. It's not exactly the ideal environment for getting some much-needed shut-eye. That's why earplugs can help alleviate tiredness and jetlag whilst traveling.
Table of Contents
Alpine FlyFit EarPlugs Review
When you're at home, you're able to create an atmosphere of darkness and quiet conducive to sleep. You need to replicate this while traveling, which is why the right equipment is essential.
The Ear Store was thrilled to feature in a recent article by Bupa Travel Insurance, which offers some great advice on having a comfortable flight and which products can help. We nominated Alpine FlyFit earplugs for the article, 'Survive a Long Flight with These Top Travel Accessories.'
As we told Bupa, 'for those sensitive to the pressure changes or who experience ear pain when flying, Alpine FlyFit earplugs are a great solution. They are comfortable enough to wear the entire flight, totally reusable, and will easily fit within your carry-on.'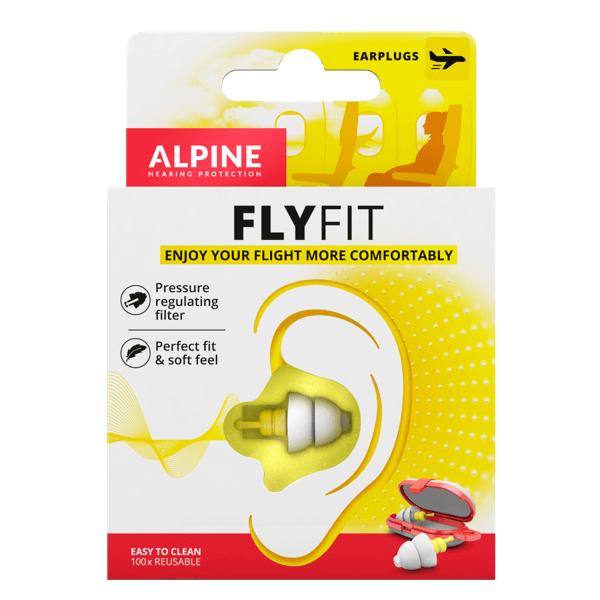 Alpine Flyfit earplugs have been specifically designed for flying comfort. Alpine's ear plugs do a fantastic job, not only at effectively decreasing the pressure on the eardrums during take-off and landing, but they also provide a great level of noise protection and extreme comfort.
Ear Store works in close partnership with the world's leading ear protection and sleep product manufacturers to offer the highest quality goods on the market, with many products specifically designed for comfort while traveling.
Before your next flight, be sure to check out our range of travel earplugs with a unique design that makes them particularly comfortable for sleeping. Made of soft foam, they have a noise reduction rating of 30DB, blocking out all the background noise associated with travel.
They are lightweight and come with a handy keychain travel case, so you'll never leave them behind. They even offer a range for people with small or sensitive ear canals, which are contoured for a more comfortable fit.
Conclusion
In conclusion, Alpine FlyFit Ear Plugs are the best for traveling. We suggest you check out other products to complete your perfect rest, we also offer top-quality sleep masks, renowned for comfort and blocking out light. With the complete sensory peace you need, sleeping on a plane will never be a problem again.