Do you listen to music while you work or study? Do you wish you had better headphones for riding your motorcycle?
Or do you wish you could listen to podcasts while you mow the lawn or do some work around the house? Do you wish you had something to listen to to help you fall asleep or drown out your snoring partner?
If you answered yes to any of these questions, you are among the millions of people worldwide who feel the same way. Not only that, but millions of people are unsatisfied with the quality of their noise-canceling headphones or earbuds and wish they had a better product. What earbuds are best?
Right now, the technology market is severely saturated with all types of wired and wireless devices that allow you to listen to music or audio through earphones and earplugs. While these devices have many good options, very few don't have problems. Most wireless earbuds don't properly fit in your ears and fall out, others block minimal outside sound, and lots of these devices have terrible audio quality.
Table of Contents
The ONLY Noise-Blocking Earphones for Music at Work on the Market
Enhancing Your Music at Work Experience! Plugfones Earplug Headphones redefine the way you enjoy music at work. These innovative devices are not just earphones; they're also noise-blocking earplugs. In fact, they stand as the ONLY headphones and earphones available that seamlessly double as top-notch earplugs! This unique exclusive design is unparalleled in the headphone market because it doesn't require extra power or a bulky design to block noise. When it comes to wireless and Bluetooth headphones and earphones, the Plugfones Earplug Headphones have no competition.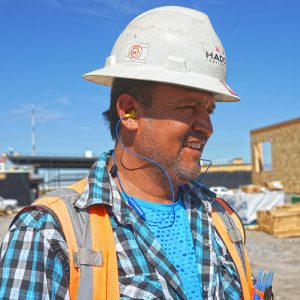 The Plugfones Earplug Headphones are available in Bluetooth and cabled designs, which can be connected to any compatible smartphone or music player for music at work. They are by far the best wireless earbuds on the market, the bland feature a microphone and a 3.5mm jack. There is no difference in quality between the cabled noise-blocking headphones and the Bluetooth headset, which is rare in the Bluetooth headset market, and the same is true with our noise-canceling earbuds. These headphones go above and beyond at both blocking out white noise and providing you with your own while you sleep.
The 4 Main Benefits of Plugfones over Traditional Earplugs:
You get the same silicone or foam earplugs to protect hearing + music! Depending on the plugs used, plug ones have certified Noise Reduction Ratings (NRR) of 29 dB and 27 dB.
Plugfones help make work so much more enjoyable by allowing you to listen to whatever you want rather than your noisy or droning environment. Plugfones models feature tuned speakers that emit a fuller, more dynamic sound to complete your listening experience.
They also have a built-in noise-isolating mic that helps reduce noise for phone calls. The mic identifies, isolates, and kills environmental noise so the person on the other end of the call can hear you, not what's going on around you.
Keep Working without Distractions
The Quickdraw Easy Access Control lets you control your music and manage your phone calls without handling your phone. You can answer and end calls or toggle through your music, change the volume, and more.
Comfort is key to choosing earplugs. Our earplug-earbud hybrids are designed to fit all ear types, keep you irritation-free, and work for hours at a time, in fact, all day long. Our soft foam and silicone earplugs are interchangeable and can easily be replaced when dirty or worn out.
Traditional earplugs are boring, yes, they block noise, but they prevent you from continuing your day/night without music. Plugfones solve both issues of workplace boredom and the need for safety compliance in the workplace.
Headphones for Snoring
If you're someone who has trouble falling asleep, are a light sleeper, or have a noisy partner, Plugfones Dynamics Hi Fidelity Earplugs Headphones are great at blocking out noise and fit perfectly in your ear so that they won't fall out while you sleep, even if you shift and move around in bed.
Most headphones are not designed for sleeping because they can be uncomfortable or fall out, but Plugfones Earplug Headphones go above and beyond to solve this issue. Even better, if you listen to music or other audio to fall asleep, there is little to no audio leakage, so your audio won't disturb your partner while you sleep either.
Headphones for Sleeping
There are many uses for Plugfones for sleeping; they can be just the right solution for you if you:
Have trouble falling asleep due to tinnitus
Are exposed to a noisy sleeping environment due to neighbors or a partner snoring
Travel for work (or play) and need help sleeping whilst traveling, perfect for blocking noise on long journeys
Benefits of Headphones for Sleeping
Increased comfort no matter how you sleep
Added safety to ensure that your ears do not hurt when you wake up
It helps you fall asleep gently with your music or the sound of your choice.
The earplug feature works as a double benefit as it also helps block outside noise.
Durable quality keeps them from breaking or becoming damaged.
With long battery life, the wireless Plugfones give you up to 12 hours of playtime with a full charge.
Headphones for Tinnitus
Do you suffer from tinnitus and wish that something could help you get through the day without stress and anxiety from the constant unwanted sound buzzing in your ears?
We have had a lot of customer feedback from people who suffer from tinnitus who have shared with us that they find the Plugfones headphones the perfect solution as they are comfortable for all-day use (which many headphones aren't, customers citing that other brands in comparison are uncomfortable, cause discomfort and that they often easily fall out)
Plugfones provide the perfect distraction to their tinnitus and help them concentrate and focus on living their everyday lives. They've also proven invaluable for tinnitus sufferers who sadly have a loss of sleep due to their tinnitus.
Plugfones provide an environment whereby anyone can comfortably block unwanted noise whilst listening to their favorite music, podcasts, ambient sounds, or even white noise.
Headphones for Studying
Because of this SoundSeal technology, these headphones are top of the line for the best headphones for studying. They allow you to block out all outside noise so that you can totally focus on your studies or work projects without distractions of any kind. If you love working in coffee shops or busy places but hate the noise, Plugfones Earplug Headphones are the best choice.
Headphones for Working
Plugfones are earplugs first, and headphones second!
Plugfones are incredible for working outside or indoors; they are the perfect work buddy for anyone! Most headphones can offer you a little bit of ear protection, but they provide poor sound quality or good sound quality but no noise-cancellation or hearing protection! That's where this product goes above and beyond.
Suppose you are mowing, riding a motorcycle, driving with the windows down, or working with any other heavy machinery or power tools. In that case, Plugfones give you incredible sound quality while also being a top-of-the-line noise-canceling headphone!
This means you can listen to your music, podcasts, or television shows without worrying about missing out on top-quality audio just because you're in a noisy environment. You can mow the lawn, work with a power drill or other shop tools, or even work with heavier moving machinery at your construction job. Plugfones will still seal and block out this noise to protect your ears and still offer you great sound quality in return.
The most incredible thing about Plugfones Earplug Headphones isn't just their use as sleep headphones, but especially for their use during waking hours! The best solution for workers who need to block harmful noise is to protect their ears and listen to their favorite tunes.
When working, cords and cables can get in the way. Plugfones provide modern wireless capability to listen to your Bluetooth device while moving around from at least 10 meters away! You can answer phone calls, adjust the volume, and pause & toggle through songs.
Plugfones solve both issues of workplace boredom and the need for safety compliance in the workplace. Plugfones help ensure workers are protected from hazardous noise levels while boosting their productivity and morale.
Plugfones help protect you from hazardous noise levels at work while boosting your productivity. The special noise-suppressing technology minimizes environmental noise and acts as a barrier between you and everything you don't want to hear, creating an atmosphere just for you and your music.
Headphones for Gym
Unwanted noise is a common problem for gym-goers. Some people hate hearing other people working out at the gym. Other people worry that their sound is too loud and that other gym-goers can hear their music. Even more, people wish they could drown out the grunting, weight-dropping, or cheesy gym music that they hear while exercising.
Plugfones Earplug Headphones fix all of these problems because they boast an excellent noise-canceling design that will keep all of those unpleasant gym sounds far away from your ears. Listening to music while you work out has been proven to be a great distraction, increasing your motivation. Music gets you in the zone, increases your mood, helps you keep a good pace, and makes you want to move.
Features of Plugfones Earplugs
Here are some other great features that you'll discover when you purchase your Plugfones Earplug Headphones:
Excellent Bluetooth connection quality, compatible with all Bluetooth-enabled devices
Extremely long battery life and quick battery charging
High-quality materials while remaining light-weight and featuring beautiful designs
If you buy a model with a microphone, these feature an IsoTalk Noise Isolating Microphone. This built-in noise-isolating microphone reduces outside noise for phone calls or video chats. The IsoTalk microphone identifies, isolates, and kills environmental noise or audio leakage so that the person on the other line can better hear you, not what's going on around you.
Water and sweat-resistant
Still not convinced that Plugfones are the best noise reduction product for you? Don't just take our word for it. Plugfones are Certified in Noise Reduction Ratings.
As always, Plugfones Earplug Headphones are earplugs first and headphones second. As such, the entire Plugfones line is tested and compliant with ANSI S3.19-1974 noise reduction standards and meets NIOSH criteria. The Basic model is certified for a Noise Reduction Rating (NRR) of 25 dB when used as directed. For environments with high noise levels, using over-ear protection such as earmuffs in conjunction with Plugfones products may be necessary. Plugfones have been independently tested to meet U.S., E.U., and Australian standards.
It's simple: whether you're sleeping, working, traveling, or just relaxing, there is no better product for headphones than the Plugfones Earplug Headphones.
Are Wireless Headphones Safe?
Are Bluetooth headphones safe? Bluetooth devices emit low levels of nonionizing radiation. Exposure to low amounts of this type of radiation is not harmful to humans.
Yes, and they're certainly safer than cell phones alone. Whether you're worried about health risks from radiation or distracted driving, Bluetooth headsets serve to reduce those risks.
How Can Headphones/Earphones be Cleaned?
Using a damp cloth, gently wipe the top and underside of each layer of the plug to clean the surfaces. Take care not to tear the silicone layers. Do not submerge the unit in water. Ensure that earwax or other debris has not obstructed the opening at the tip of the plug.
Will Headphones Damage Hearing?
Any sound repeated or for long periods of time at a level over 85db can cause hearing damage. Unfortunately, factory, construction, and industrial environments are commonly noisier than that threshold.
Plugfones Industrial Headphones allow you to protect your ears while listening to your favorite tunes. OSHA Guidelines say that you should limit your listening to noise by around 90 dBA for an hour a day. This is where Worksafe Volume Limiting comes into play.
The built-in WorkSafe Volume Limiting is a unique, work-compliant technology that keeps Plugfones at a safe volume. Then you never have to worry about hearing damage, even after long days of using them. These VL Plugfones, available on the Plugfones industrial line, limit the volume to an OSHA standard of 82dB.
That makes them perfect for work environments that are OSHA-controlled.
This volume level is perfect thanks to the noise-blocking earplug design of Plugfones. Workers won't have to worry about competing with external noise to hear their music. The noise-blocking earplugs keep outside noise out, so they won't have any need to turn the volume up.
One of the other advantages of this volume-limiting technology is that it makes the environment safer for everyone. Employees cannot increase their volume past 82db, so they retain awareness of the environment around them. This ensures they can enjoy their job while still being fully aware of potential dangers as they arise.
Conclusion
In conclusion, listening to music at work can undoubtedly increase our output and foster a positive environment, but it's crucial to understand the value of safeguarding our ears when enjoying this aural pleasure.
So, let the tunes play while keeping in mind to listen responsibly so that the symphony of sounds that enhances our lives today can continue to do so in the future.
Contact us any time at in**@sl***********.au or call us today at 1300 556 366 for more information or advice on your hearing protection