EARasers Peace And Quiet Earplugs
Are you tired of not getting a good night's sleep because of the loud nearby traffic, the neighbour's dog barking, or a snoring partner? You will find that you'll get more of a block it all out effect with the Earasers Peace and Quiet Earplugs than you do with the Earasers Musicians Earplugs but with the same, great much loved comfort.
With a backed up guarantee by EARasers that the Peace and Quiet Earplugs will not tickle, itch or sweat, what's stopping you from getting your sanity back today? Providing you with a 22-decibel reduction, they are perfect for getting quiet and concentration back at work in your noisy office. Many use them for yoga or meditation, anytime and anywhere.
EARASERS EARPLUGS FOR SENSORY REDUCTION & HYPERACUSIS
Rave reviews are pouring in regarding the benefits of Earasers Musician Hi-Fi Earplugs by individuals with Autism, as well as individuals suffering from Hyperacusis Hearing Disorder. Earasers earplugs are providing a unique, and discrete approach to sound reduction and all-day comfort, by providing the necessary reprieve from the noises of the world around them. There are three levels of attenuation to choose from to provide just the right amount of reduction.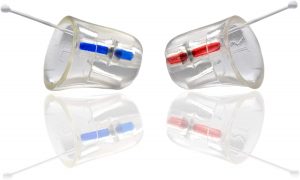 Revolutionary Design
EARasers Peace and Quiet earplugs are a favourite with many of our customers who want to block out those distracting noises when trying to sleep, study or just simply relax from the hustle and bustle of fast-paced everyday life.
EARasers have an "Inner Ear Design" which makes them virtually invisible. The soft medical grade silicone earplugs have been designed by experts to work the same as custom made earplugs, to fit individuals' ear canals at a fraction of the cost.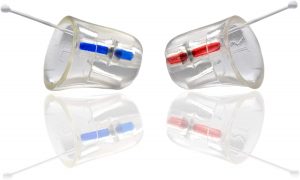 EARasers Benefits:
Reusable. Easy to clean and re-use & great for the environment, you don't have to throw them away like disposable earplugs.
Retains Sanity & get back that much-needed Peace and Quiet.
The open canal shape is specifically designed to allow sound to travel closer to the eardrum before being filtered, creating a more natural sound which keeps the musical layering intact.
Virtually invisible – no large central stem.
Hear sounds clear at a safe and comfortable level.
Made of soft transparent medical grade silicone
Colour coded for left and right earplugs
Durable storage case
Smart seal design ensures near true custom fit earplug
Highest Clarity of Sound With High Hearing Protection
Everything Sounds So Clear – How is this so?
There are several reasons why Earasers provide amazing listening clarity.
First of all, most earplugs, including custom sets, place the filter outside the opening of the ear canal.  What this means is that sound is then filtered but still has to travel through a narrow tiny curved tube (or canal) to reach the eardrum.
Earasers patented open design was created to let sound travel farther more naturally before it reaches the filter, which is strategically placed at the tip, nearer to the eardrum.
By reducing the travel distance, Earasers naturally achieves clarity.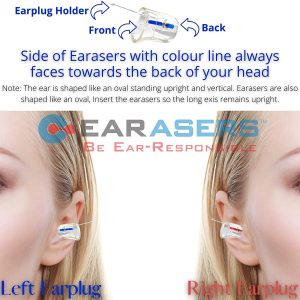 More about Earasers Peace and Quiet Earplugs
Designed especially to block out mild to moderate noises, particularly in the high registers.
This makes these earplugs perfect for blocking out gentle snoring, the hum of the Air Conditioning unit, or other annoying light nighttime noises.
What this means is that you will still be able to hear voices calling, children or babies crying, or your alarm clock going off in the morning.
Peace and quiet ear plugs have been made with people in mind who just need to take the edge off, rather than blocking out the whole world.
Unique & Patented Filter
Earasers has specially designed and patented their innovative "V" (variable) filter. All of Earasers hearing protection products focus on protecting against the most damaging range of our ear's natural resonance (which is around 3150 Hz) and filter approximately 19 decibels of sound. For most people, this keeps loud music, concerts, sounds etc underneath the uncomfortable and harmful decibel range that invariably causes hearing loss.
Earasers filter less in the normal and natural range (1000 Hz and less) so that most of the sound can still come through. Similarly, they filter less natural sound above 8000 Hz where cymbals and "S"'s & "T"'s are heard in speech.
By reducing less in the ranges where heavy filtering is not necessary, they allow and create a clearer, more natural, sound instead of an "underwater" or "muffled" sound.
No more of that "plugged up" feeling when wearing earplugs, plus you can rest assured you are continuing to hear the clarity of sound, voices, music etc whilst safely protecting your valuable hearing!
Sizes
SMALL – works very well with the majority of women, younger males, and some men who prefer a more snug, further-in-the-ear canal fit.
MEDIUM – work well with Adult Males who prefer not-so-far-in-the-ear canal fit.
LARGE – a smaller percentage of the population.
WHAT SIZE SHOULD I CHOOSE
While we wish there were an easy chart for everyone to follow to find their perfect sized EARasers earplug, research has discovered that your individual ear canal size is not at all determined by height and weight, but rather age and gender and good ol' DNA from your biological parents.  Years of fitting individuals has given us a general guideline, however, and don't forget there is the complimentary size swap out that's available to you as well.  Once you're in the right size for your unique needs….You'll be all set – and we are 'hear' to help you do just that!!
GENERAL GUIDELINES: (use your past experience as well to assist you. Remember, we have 4 sizes…and a billion different ear canals in the world.  You do the math!)  First Time Users…Keep reading below about EARasers Starter Kit, so you have two sets of tips to try on side by side for one set of filters. It makes "getting it right the first time" so much simpler.
X-SMALL – generally used by youth, such as Elementary, Middle Schoolers, and some High Schoolers – Also a small percentage of the adult population is male and female.  If you've always had a difficult time finding any earplug that would fit comfortably into your ear canal, then this may just be your perfect category for you.  We always recommend you try the SMALL before attempting the X-SMALL, since it is so tiny.
SMALL – typically the majority of women and younger males (late 20s and younger).  Works well for some Adult Males with a smaller ear canal.
MEDIUM – typically these work well with Adult Males (late 20s and up) who do well with the average earbud.
LARGE – enjoyed by a small percentage of the adult population. Some Males over 60 and some Females as well.  (Did you know women, that being able to wear this size EARasers earplug is a sign of "Genius!" (Thank your biological parents.)
STILL WONDERING ABOUT THE RIGHT SIZE?
Time to think back to your personal past experience with earplugs and/or earbuds?  Any indication you may have small or tiny canals?  If so, we recommend you try the SMALL size.  If standard ear-buds seem to work well for you,  then perhaps you would do well with the MEDIUM.
'HEAR' is the same info…broken down by gender rather than Size:
Women – generally speaking, women do well with Smalls, (again, rely on your past experience)
Young Males (late 20s and younger) – generally speaking, younger Males do well with Smalls. Our ear canals grow our whole life. If you find that standard earbuds seem to work quite well, then perhaps a Medium.
Adult Males (Late 20s and up) – Generally this group is split about 50/50 between Small & Medium.  This is where your own personal past experience comes in handy.  If you have any indication that you may have tiny canals, then start with a Small.  If standard earbuds seem to work fine for you, then perhaps start with a Medium.  We will always do our best to help you find your appropriate size.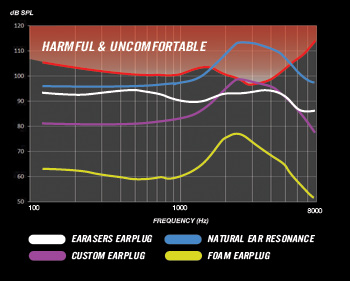 Caring for Earasers
To clean your Earasers, simply rinse off under warm water and let dry, that's it, done! Water will not harm the filter, however, try to refrain from using soaps as they may cling to your filter and create build up.
I personally, like to use wipes or wet towelettes. If you do, be sure to use ONLY "Alcohol-Free" products! Alcohol will eventually dry out the silicone and can over time compromise the integrity of your earplug.
Be certain to NEVER (say it with me…..NEVER) stick or poke anything down into the tip, or opening, of your earplug.  Doing so WILL result in a popped, or unsecured, filter or coupler rendering your earplug "damaged" and thus voiding the warranty.
IS EAR WAX NORMAL
In a word yes! What's more, it is healthy. 
It is totally normal for ears to generate earwax. While we recommend you clean your ears, prior to inserting your earplugs, we realise that this will probably not always happen. If wax, or debris, goes into the tip of your Earasers, it can gently be removed by simply using a "Soft Bristled Brush" such as a Soft Head Toothbrush, or a soft Baby Nail Brush.
Using warm water and the soft bristle brush, gently work the wax and debris out by making soft motions over the opening. The soft bristles will gently remove the wax without having to insert anything down into the tip.