If you're having trouble winding down and falling asleep, then the Pillowsonic Bluetooth pillow speaker may be just what you need. With its sophisticated design, superior sound quality, and bluetooth compatibility, you can now drift off to sleep with your favourite songs or calming sounds.
Now more versatile than ever before with its wireless connectivity, the Pillowsonic allows users to achieve all their relaxation goals in the comfort of their own beds.
The setup is extremely simple–just download the Pillowsonic app onto your mobile device and connect it to your Pillowsonic bluetooth speaker for instant access to soothing music and sounds. And better yet, it has a built-in amplifier system that produces crisp audio without any distortion or annoying noise. It also houses advanced Bluetooth technology that ensures smooth streaming from up to 30 feet away.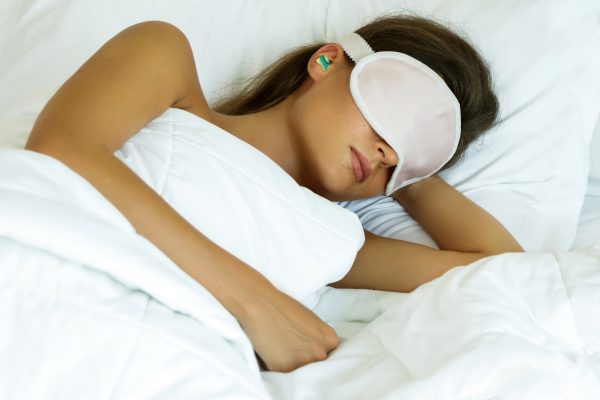 Made with high quality fabric and delicately stuffed cushioning, this pillow speaker provides comfort while offering a luxurious aesthetic design that looks great anywhere in the bedroom.
Whether you need calming classical music or peaceful rainforest sounds to help you fall asleep quickly and easily, our bluetooth pillow speaker helps make sure your night is restful and satisfying every time. So why wait? Give yourself the gift of a blissful rest tonight with Pillowsonic!
Our NEW Bluetooth Controller Offers
Bluetooth  – Version 5 technology
Built-in Digital Player with a 1GB memory card
2+ hour pre-recorded playlist with sounds of nature and music for relaxation.
You can easily change the pre-recorded programming to your liking, by deleting and/or adding up to approximately 100 Soundtracks.
The memory card of the Digital Player can be upgraded to up to 8 GB.
Volume enhancement electronics
Sleep function that reduces your preset volume after 30 minutes and gradually decreases it to a complete auto shut-off, to save battery energy
500mAh battery with 6 hours of constant play life
Headphones port
External sound source port
Audio Out port for additional Pillowsonic simultaneous connection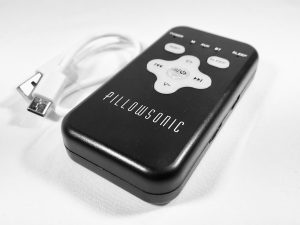 But Wait, There's MORE!
The controller also has an optional "Sleep Mode" which, when activated, lowers volume automatically after 30 minutes and shuts off after 15 more minutes to save battery life!
The built-in lithium battery recharges fully in 1.5 hrs and plays for 6-9 hrs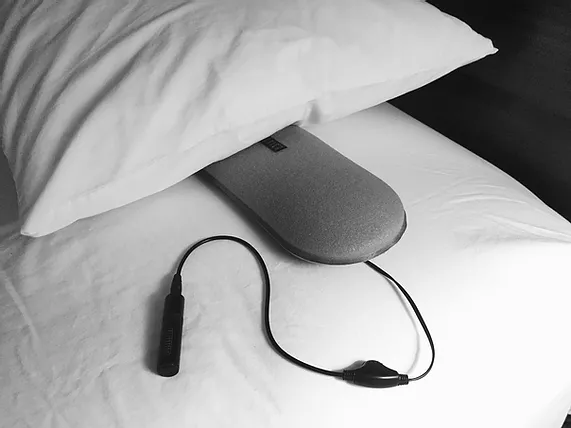 !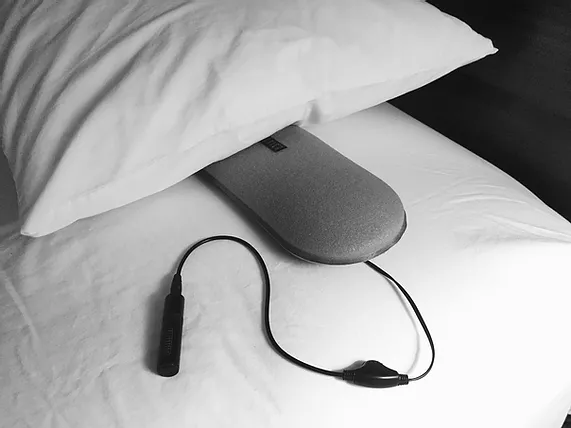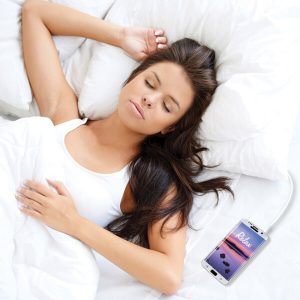 Product Features
210 cm audio cable
Convenient In-line volume control
Standard 3.5 mm jack Aux In, to connect all non-Bluetooth devices, like iPod, MP3, CD Players, Sound Machines, etc.
No batteries or power source is needed. Just plug into your sound source and play
Size – 10 x 30 x 2 cm
Manufacturer's Warranty – 12 months
Music Player not included
Bluetooth Receiver
Micro Stereo Speakers – High Quality Sound
Placed under your pillow, Pillowsonic delivers audio with absolute clarity, at intimate, safe volume levels, with sound emerging from within your pillow without headphones or earbuds.
You will not realise anything is there, except for the sound that caresses your senses in total comfort for the best bedtime audio experience.
Bedtime Never Felt So Good!
Pillowsonic will help create for you the most comfortable bedtime audio experience around. No uncomfortable headphones, no tangled wires, no earbuds that hurt or fall out through the night disturbing your precious sleep.
Listen to your favourite music, podcast, audiobook, white noise sounds, Pandora, Spotify and more whilst you drift off to sleep.
BUT…. We are excited to share with you, that now you can now pair your Pillowsonic bluetooth pillow speaker with your favoured Bluetooth compatible device.
The new Bluetooth pillow speaker receiver enables you to stream your favourite sound of choice, wirelessly, up to 9 m away through your new inbuilt pillow stereo micro speakers.
Crystal Clear, Stereo Sound from within Your Pillow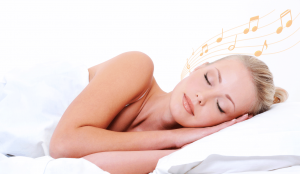 Relax
Fall Asleep Easier & Faster
Relieve Stress
Manage Pain and Anxiety
Mask Tinnitus
Treat Insomnia, Depression, Addiction
Private listening without headphones or earbuds.
Recommended by healthcare professionals
Customise Your Sleep Experience
Enjoy the high-quality sound of your own private sound therapy under pillow speakers every night!
You will not realise anything is there, except for the sound that caresses your senses in total comfort for the best bedtime audio experience.
Unlike traditional headphones, sound headbands or earbuds, Pillowsonic does not isolate you from other at-times-critical ambient sounds, like a knock at the door, an alarm, a call for help from someone in another room, intruders, etc.
The bluetooth pillow speaker requires no power or batteries, so there are no worries about tangled cords or the battery dying during the night—the speakers run directly off your chosen music player
Soothing for ALL Ages
Bluetooth pillow speakers are ideal for:
Children, who can listen to their favourite music or audiobooks—an excellent tool for learning foreign languages
Teenagers, to enjoy their own music without disturbing others
Insomniacs, for playing light music or nature sounds to help relax them to sleep
People of all ages seeking to relax and relieve tension and stress
Neonatal units are attesting that "Musical Medicine" has proven helpful for a faster recovery of premature and young babies.
Stress & Anxiety Relief
Music can have a profound effect on both the emotions and the body. A slower tempo can quiet your mind and relax your muscles, making you feel soothed while releasing the stress of the day. Music is effective for relaxation and stress management.
Insomnia & Learning
The music-sleep connection has been supported in studies all over the world. It is perfect for anyone wanting to achieve a blissful night of sleep. Music even helps people with schizophrenia get some shut-eye.
Pain, Tinnitus, and More
Music has the power to soothe, inspire, energise, and uplift. Research shows it can also help manage pain in people who are living with chronic pain. Music therapy for pain management is offered by many pain clinics and cancer centres and helps many people find solace and relief.
Easy To Use
You simply
Insert the thin soft foam Pillowsonic either inside or under your pillowcase.
Attach it to your preferred audio source, and Voilà!
With the new Bluetooth receiver, you simply pair it with your chosen device and boom, the sweet sounds appear
​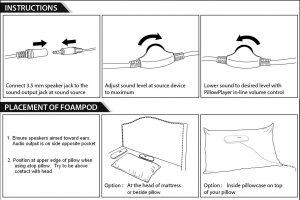 Private sound
Absolute Comfort 
Inconspicuous
Un-obstructive
Safe & Versatile
Total Comfort & Pure Joy!
Quality Sounding Speaker
Our stereo speaker for under the pillow has been the internet's best-selling bluetooth pillow speaker since 2001. It works by connecting it with its 3.5 mm jack to popular players (smartphones, iPods, computers, radio, etc.) And NOW with the latest updated Bluetooth Controller!
Our new Bluetooth Controller lets you pair and stream and or download your favourite audio sounds, up to a distance of 30 metres.
Pillowsonic delivers quality sound at intimate volume levels so that it can surround you with soft sound emerging from within your pillow, or caress your senses with just a touch of sound that only you can hear, without troubling your sleeping partner.
New Design
Designed with new acoustic soft foam, which not only ensures that you are the only one to hear the sounds from within without disturbing your partner, but it helps to amplify sound for evenly quality listening. It also stops the speaker from slipping around inside your pillow like other cheap models that do not have this soft, padded surround.
The light and soft foam casing is totally removable, which allows it to be washed easily, and won't lose its shape, form or texture.
Pillowsonic – A Sound System For Your Pillow!
Drift off with peaceful calming music, the sound of the ocean, whooshing white noise, sounds of nature, or any other audio sound to help you get your slumber.
.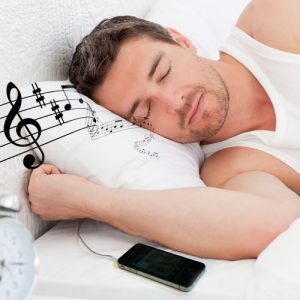 Drift away in Comfort to your Favourite Sounds
Transform your favourite pillow into a soothing sleep station with the Pillowsonic Pillow Speaker. These slim profile speakers, which include an in-line volume control located conveniently on the cord, slip easily under or inside your pillowcase. So you can listen to your preferred music or sounds without resorting to uncomfortable headphones or earbuds.
Unlimited Sound Environment Possibilities!
Turn any pillow into a Sleep Therapy Pillow with our ultra-thin stereo speakers now with inline volume control. Simply place it under your existing pillow and enjoy your favourite music or sounds for optimal relaxation and comfort. Use with standard or king-size pillows. Use with CD players, iPods, iPhones, iPads, most MP3 players, TVs etc. It does not require batteries or power.
SOUND AND MUSIC CAN HELP IMPROVE SLEEP, EFFECTIVELY BLOCK UNWANTED NOISE AND MASK SOUNDS OF TINNITUS
Reviews
I researched the best types of pillow speakers and in particular the best under-pillow speaker for iPhone for some time and the  top reviews all pointed to Pillowsonic