Alpine Muffy Kids Earmuffs are small earmuffs specially designed for children aged 5 to 16. These earmuffs protect your child's hearing in noisy environments such as parties, parades, fireworks displays, concerts, and car and motorcycle races. Alpine Muffy Kids earplugs attenuate up to 25 dB of ambient noise.
In today's day and age, children are confronted with stimuli everywhere they go. Getting focused is challenging, and blocking noise can help improve concentration!
Alpine Muffy Kids Earmuffs

– Earmuff for children – SNR 25 dB – 5 to 16 years

Young children are exposed a lot to loud noises every day. Playing with other children in the schoolyard, a noisy classroom, cars honking in traffic, toys with sound …. Did you know that noise in the schoolyard can cause sounds of 85 dB and higher? And sounds from 80 dB can already be harmful to our hearing.

Because the hearing in young children is still very fragile, a children's ear can tolerate even less sound than an adult ear.

Research shows that 1 in 8 children suffers permanent hearing damage, which in the long term can lead to concentration problems, sleeping problems, stress and delay in language development. As a parent, you want to do everything possible to prevent hearing damage to your child.
Alpine Muffy Kids are small earmuffs specially designed for children aged 5 to 16 years old. The earmuffs are used in noisy environments such as parties, parades, fireworks displays, concerts, and car and motorcycle races. Alpine Muffy Kids earplugs attenuate up to 25 dB of ambient noise.
The Alpine Muffy Kids Earmuffs are available in five new trendy colours. The outer layer of the coloured earmuffs is made of plastic, making them easy to clean. The earmuffs are collapsible, so you can easily take them with you.
The headband is adjustable in size and has a soft lining. Children often experience the Alpine Muffy Kids Earmuffs as comfortable. Because the headband is adjustable, your child can also use the Alpine Muffy Kids for years to come. That is great!
Perfect for Children with Hearing Sensitivity

Loud noises, such as outside sounds or ambient noise in a classroom, can overload young children. Does your child find it difficult to focus in a noisy environment? The Muffy Kids earmuffs also help your child to be able to learn or read in a focused manner without being bothered by ambient noise. The solution for hyperacusis, sensory overload and hearing sensitivity!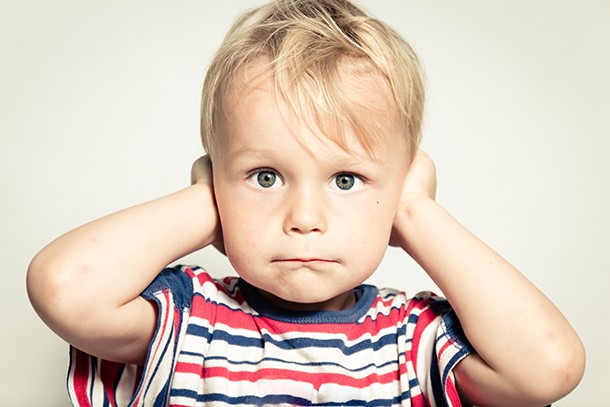 With Protect & Go Carry-Case
Including a free Travel Bag to keep the Kids Muffy clean and safe during travels. The Muffy is lightweight but still sports an unbreakable shell. Quite important, since most harmful noise will be found outside of your home!
Are you ordering Alpine Muffy Kids earmuffs? Then you will receive a free carry-case with your order. This carry-case ensures that you can easily take the collapsible earmuffs with you, protect them and keep them clean. This way, the Muffy Kids earmuffs last extra long.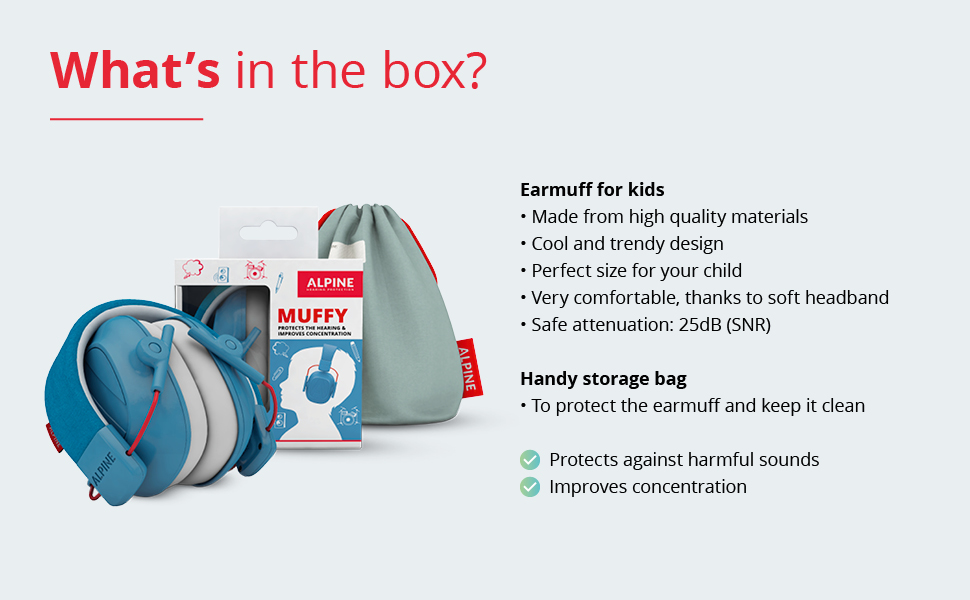 Alpine Muffy Kids Earmuffs
Designed for Kids and approved by kids. The premium materials are soft, easy to clean and, more important. Very comfortable. Adjustable headbands so they will always have a snug fit around the ears.
PREVENT PERMANENT HEARING DAMAGE 

IMPROVED FOCUS AND CONCENTRATION 

UNIQUE CHILDREN'S DESIGN 

TAKE THEM WITH YOU 

TESTED AND CERTIFIED 

CHOICE OF 5 NEW COLOURS
FREE CARRY CASE
SUITABLE FOR CHILDREN AGED 5 – 16
Quality Product ANSI Certified
Thoroughly tested and proven to reach an acoustic attenuation of up to 28 dB! In accordance with European Regulations (CE). Sustainable hypoallergenic material without silicone, so no allergic reactions or irritations!
All Alpine products are well designed and produced in The Netherlands. Alpine products have come out on top in tests in various countries. Especially due to the development of the special AlpineThermoShape material and the AlpineAcousticFilters, Alpine earplugs are unrivalled in terms of comfort and attenuation.
Premium Noise Cancelling Earmuffs
Earmuffs suitable to block all sounds that can be damaging to your little ones' ears. Or perfect for times when your child needs some time out from our very noisy and busy world.
A lot of children have trouble concentrating in loud surroundings. Earmuffs for kids have been proven to improve concentration for learning and reading.
Specially Designed for Kids
Alpine is an innovator and leader in quality hearing protection with 25 years of R&D experience. Additionally, the company has been working for years to create global awareness regarding hearing protection.
Comfortable Hearing Protection
Designed with a super soft, padded and adjustable headband for the ultimate comfort, which makes these Earmuffs for Kids suitable for wearing for long periods without discomfort like the other cheaper earmuffs on the market.
Alpines' number 1 hearing protection continues to inspire continuously and positively contribute to everyone's wellbeing.
Love your Ears!
A wide variety of hearing protection ensures you can do what you love to do without risking ear damage!