Looking for an easy and convenient way to protect your hearing? Look no further than the Moldex Sparkplugs Disposable Foam Earplugs now in a convenient resealable jar – 40 pairs!
Moldex Sparkplugs disposable foam earplugs are perfect for throwing in the toolbox when working remotely or on the go. These earplugs are perfect for ensuring that you always have a supply of hearing protection on hand. They come in a handy canister that can be stored in your glove box, console, locker, toolbox, or desk, so you'll always know where to find them when you need them.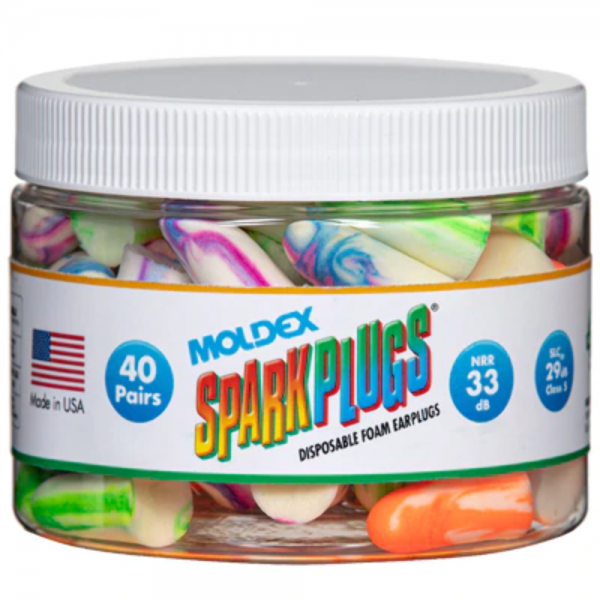 Australian Certified Earplugs
And they're tested to ANSI Specs S3.19-1974, so you can rest assured that you're getting a high-quality product. So why wait? Pick up a jar of Moldex Sparkplugs Disposable Foam Earplugs today and start protecting your hearing! SLC 80 29db Class 5 earplug
Entering Class 5, this is the kind of ear plug you should be looking at if you're working on a loud building site or any other environment involving exposure to loud or disruptive noise. Class 5 is the highest standard in the Aus/NZ rating
Comfortable
Tapered for a snug fit while gently conforming to the ear canal. Non-irritating smooth surface Easy to use, shaped to fit even very small ear canals. They're so comfortable you'll forget you're wearing earplugs.
Easy Fit
Moldex foam earplugs are made of extra-soft, extra-light foam. The tapered shape of the SparkPlugs disposable earplugs fits easily into the ear canal, allowing them to seal gently and snugly with minimal pressure. Plus, the outer surface of the earplugs is smooth, so it doesn't irritate the ear canal.
Perfect For
Ideal for earplugs for sleeping, studying, construction, travel, lawn mowing, shooting, concerts, motorcycling, and relaxation and helps with a partner that snores
Hypoallergenic
Moldex Sparkplugs Earplugs are proudly MADE IN USA Latex free and PVC free 
High Noise Reduction Rating (NRR)
SPARKPLUGS Moldex 40 pair. NRR 33 Blocks out all manner of noise while protecting your hearing Value Priced. Extra-soft, lightweight foam for all-day comfort.