MusicSafe Pro musicians earplugs are the ultimate in hearing protection for those working in the music industry. Utilizing advanced filtering technology, MusicSafe Pro offers tailored hearing protection with different filters that offer a wide range of attenuation levels to suit any situation.
When inserted, they act like tiny speakers that adapt the sound level while maintaining clarity so you can still hear vocals and other instrumental details clearly. The ergonomic design makes them comfortable to wear during long performances or studio sessions and their waterproof design helps to keep them clean and hygienic.
For anyone that regularly works with loud music, MusicSafe Pro Musicians Earplugs are an essential item for keeping your ears protected from harm.
Hearing Protection for Musicians
As a musician, DJ or sound technician, you often find yourself surrounded by loud music, which means you run a high risk of hearing damage. Hearing loss has direct consequences on your ability to do your job or enjoy your passion.
Properly protecting your hearing is therefore essential during rehearsals, performances and concerts. For professionals in the music industry, Alpine has developed the MusicSafe Pro musicians earplugs, the most high-end product in our hearing protection range for musicians.
Music Quality Remains Preserved
Depending on the instrument you are playing, your position on the stage, or the type of music you are playing, you can always choose the protection that suits you most.
The Alpine MusicSafe Pro earplugs do not make you feel isolated, allowing you to remain in touch with your surroundings, for instance during a studio recording. This allows for optimal performance.
Three sets of Alpine Acoustic Filters – Choose your own level of sound attenuation
MusicSafe Pro earplugs are the only universal earplugs in the world that offer three different filters. With the included gold, silver and white music filters, musicians, DJs and sound technicians can choose between different levels of sound attenuation for various applications.
These filters reduce the music volume to a safe level, without compromising the music experience at all.
The unique AlpineAcousticFilters™ only attenuate harmful sounds. At the same time, they do not affect the quality of the music and still allow the wearer to communicate with their fellow musicians at a normal level.
It is like turning down the volume a few notches.
This not only makes MusicSafe Pro invaluable during performances or in the studio, but also during concerts, rehearsals and teaching sessions. You can choose your own level of sound attenuation in any situation.
Gold filter: average attenuation (SNR) 22 dB
Silver filter: average attenuation (SNR) 19 dB             
White filter: average attenuation (SNR) 16 dB
The #1 Earplug
They have been named the number 1 earplug for music lovers & professionals in more than 50 countries.
Prevents hearing damage and tinnitus due to exposure to loud music
With three high-fidelity filter sets: Gold (22 dB), Silver (19 dB) and White (16 dB)
Features a unique interchangeable filter system: choose your own level of sound attenuation
Excellent sound quality, 100% sound
Made from high-tech AlpineThermoShape™ material
The perfect fit can be worn comfortably for hours on end
Includes a storage case, carrying cord, cleaning spray and a spare earplug
Reusable and easy to put in and take out
"The #1 Earplug" for music lovers and professionals in more than fifty countries
Who can Benefit from Alpine Music Safe Pro Earplugs?
All musicians, whether you're the lead singer of a band, the drummer, guitarist or DJ, are constantly in environments where they are subject to loud noise, which invariably will result in hearing loss.
As a musician, you are also aware of the significant risk these environments have on your hearing. It goes without saying that your hearing is paramount to your profession and passion.
The most essential thing needed for music is, without question, your ears! Hearing loss has a huge and significant impact on your ability to perform and or enjoy music. Having the ability to hear well is essential during any performance, whether rehearsals, concerts or jamming. The key to maintaining your hearing is to protect your ears.
All the fantastic Alpine range of quality ear plugs are fitted with unique, colour coded, patented AlpineAcousticFilters. The newly released packaging now comes with a spare earplug (if you drop one in the dark of the night).
With luxury storage case, cleaning spray and carrying cord
Alpine MusicSafe Pro earplugs come with a handy case to store the earplugs and filters. The case can easily be attached to a keyring. Every set also comes with a carrying cord that you can attach to the earplugs when you are not wearing them.
You can easily and quickly clean the earplugs with the included Alpine Clean, a disinfecting cleaning spray (5 ml). Cleaning the earplugs regularly will extend their life span.
How are they different from Foam Earplugs?
The difference between foam ear plugs and specifically designed ear plugs is the ability to filter sound. Foam ear plugs are intended to basically block all noise. What this does to music and sound is makes it muffled. Where in fact Alpine Acoustic Filters actually still absorb the unwanted, annoying sounds, whilst still allowing you to hear the other sounds clearly.
The process in which the MusicSafe are manufactured means every earplug is made with a very tight tolerance,s and every specific earplug is specialised with the right filter for the best absorption for each individual requirement and use.
The Alpine Acoustic Filters
• Perfectly filter sound
• Take away that feeling of being disconnected
• BPA-free & Non-Allergenic
• Do Not Contain any Plasticisers
What Filter is Suitable for Me?
Depending on your situation, the instrument you're playing, and where you're playing it, you can choose your own absorption. For instance, as a drummer, you'll require higher absorption levels than when you're a singer.
Practical, Comfortable and Durable
Like all Alpine products, MusicSafe Pro musicians earplugs are made of the special AlpineThermoShape™ material, which moulds itself to the wearer's ears because of their own body heat.
This means the earplugs are a perfect fit for the wearer's ear canal and will always stay in place, which makes them comfortable to wear. The thermoplastic material is hypoallergenic, which prevents an itchy sensation in or around the ear.
MusicSafe Pro musicians earplugs can be used more than one hundred times.
They are available in two colours: transparent and black.
• PROTECTION – Prevents hearing loss, ringing and tinnitus in your ears
• UNIQUE – The only ear plugs on the market with three exchangeable acoustic filter sets
• QUALITY SOUND – The sound quality of the music remains unspoiled
• COMFORTABLE – The earplugs are comfortable to wear and are hardly visible in the ear
• FREE – With a handy storage box that can be personalised
• PRACTICAL – Comes with a handy carry strap
• 2 COLOUR OPTIONS – Available in Transparent or Black
• SPARES – Comes complete with a spare earplug if you lose one, saves you buying a whole new set!
Our luxury model MusicSafe Pro musicians earplugs have been specifically developed for musicians. This is the most luxurious and extensive edition of the Alpine music range, with three sets of exchangeable filters, allowing you to determine your own protection.
The MusicSafe Pro's Musicians Earplugs are hailed as the deluxe edition in ear plugs, which has been developed specifically for musicians and music lovers alike.
Sleep and Sound are proud of this quality, luxury model edition of their range. The feedback received from customers the world over backs just how great they are.
Contents
Two musicians earplugs and a spare earplug
Three interchangeable sets of filters (gold, silver & white)
Luxury storage case
Alpine carrying cord
Alpine Clean
Try them for yourself today! 
When Does Noise Become Damaging To Your Hearing?
| | |
| --- | --- |
| Noise level | Maximum exposure without hearing protection |
| 86 dB | 2 hours |
| 89 dB | 1 hour |
| 92 dB | 30 minutes |
| 94 dB | 15 minutes |
| 98 dB | 7 minutes |
| 102 dB | 3 minutes |
Attenuation Values MusicSafe Pro in Decibels
GOLD FILTER • H=23 M=19 L=16 SNR= 22 NRR=19,4-25,4
| | | | | | | | | | |
| --- | --- | --- | --- | --- | --- | --- | --- | --- | --- |
| 1 | Frequency Hz | 63 | 125 | 250 | 500 | 1000 | 2000 | 4000 | 8000 |
| 2 | Mean Attenuation dB | 15,7 | 17,8 | 19,2 | 21,4 | 22,9 | 27,3 | 27,4 | 29,4 |
| 3 | Standard Deviation | 6,2 | 6,5 | 4,7 | 4,5 | 4,3 | 4,8 | 3,9 | 4,8 |
| 4 | Assumed Protection in dB (APV) | 9,5 | 11,3 | 14,5 | 16,9 | 18,6 | 22,5 | 23,5 | 24,6 |
SILVER FILTER • H=20 M=17 L=14 SNR=19 NRR=18,5-22,9
| | | | | | | | | | |
| --- | --- | --- | --- | --- | --- | --- | --- | --- | --- |
| 1 | Frequency Hz | 63 | 125 | 250 | 500 | 1000 | 2000 | 4000 | 8000 |
| 2 | Mean Attenuation dB | 11,6 | 13,5 | 15,4 | 17,4 | 18,7 | 24,6 | 25,1 | 31,4 |
| 3 | Standard Deviation | 4,4 | 4,9 | 3,5 | 2,4 | 2,6 | 4,4 | 5,6 | 5,6 |
| 4 | Assumed Protection in dB (APV) | 7,2 | 8,6 | 11,9 | 15,0 | 16,1 | 20,2 | 19,5 | 25,8 |
WHITE FILTER • H=19 M=12 L=8 SNR=16 NRR=11,1-18,0
| | | | | | | | | | |
| --- | --- | --- | --- | --- | --- | --- | --- | --- | --- |
| 1 | Frequency Hz | 63 | 125 | 250 | 500 | 1000 | 2000 | 4000 | 8000 |
| 2 | Mean Attenuation dB | 6,2 | 5,6 | 8,7 | 10,7 | 15,9 | 23,6 | 24,2 | 29,5 |
| 3 | Standard Deviation | 4,5 | 2,2 | 3,2 | 2,3 | 1,9 | 3,8 | 5,3 | 4,2 |
| 4 | Assumed Protection in dB (APV) | 1,7 | 3,4 | 5,5 | 8,4 | 14,0 | 19,8 | 18,9 | 25,3 |
ATTENUATION DATA Alpine MusicSafe Pro
Tested according to EN 352-2: 2002
Nominal diameter: 9-12 mm, size M
Calculated to ISO 4869-2a standards.
| | |
| --- | --- |
| Nominal Diameter | 9-12 mm |
| White filter | H=15 M=12 L=9 SNR=14 NRR=8 |
| Silver filter | H=18 M=14 L=12 SNR=17 NRR=11 |
| Gold filter | H=20 M=15 L=13 SNR=18 NRR=16 |
NRR = Noise Reduction Rating
WINNER RED DOT AWARD 2015
Alpine Hearing Protection has won the Red Dot Award 2015 for its "high-quality design and innovative ability" of its latest earplugs!
Alpine is now permitted to use the coveted quality seal on the Musicsafe Pro Musicians Earplugs.
The hearing protectors will be put on display in the Red Dot Museum in Essen, among previous winners such as Audi, Apple, BMW and Philips.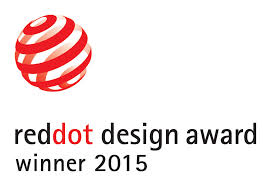 Musicians Earplugs Care
Just like your mother told you about most things in life… MusicSafe Pro musicians earplugs will last longer if you look after them.  All you need to do is regularly pop them in a little warm soapy water, then rinse and allow them to dry.
Alpine MusicSafe Classic offers three levels of hearing protection for anyone associated with music or loud production events.
MusicSafe Pro Musicians Earplugs patented open duct filters will keep music or noise at a safe level, but still allow you to hear music or conversations without loss of clarity.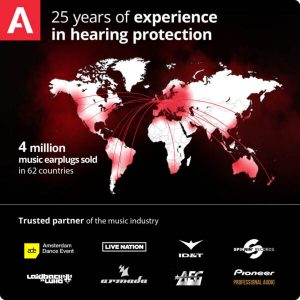 What Others Are Saying
" I play in a band and go to gigs every month at least. I then developed tinnitus in the last 2 years. Tried a few different earplugs, mainly foam and silicon based, but I could never hear my guitar properly with them in. With the white tips of these ones in, I can hear myself playing and thankfully don't have the extreme ringing after practices and gigs. Exactly what you want. Oh & PS, their customer service is top notch!"  George…
"Got these almost 3 years ago on the recommendation of a friend. I used them a LOT, 3-4 times a week at band practises and very loud rock gigs for several hours. they discoloured slightly but aside from that felt like new. I recently lost them so am buying more now. They are really good in terms of sound clarity. They reduce volume without muffling the sound. For the money, I think they are an amazing buy. The fact that I'm buying these again speaks for itself." Jen…
"Having tried several alternatives I can honestly say these are great, especially for the price. Very clear and allow the detail to still be heard without being muffled. I no longer gig (be it playing or watching) without them." Steve…
"As a professional Mobile DJ, my ears take a beating. I was noticing my ears would ring after my gigs. Honestly I was scared. My Doctor said to try ear plugs. But normal ear plugs, just kill everything off. I could hear myself talk and not what people were saying. So I went on a web surfing journey to find a better solution. I have tried many different ear plugs. But nothing comes close to offer what Alpine MusicSafe has done for me, I can hear everything, but my ears no longer ring after a gig!" David…
"I going clubbing a lot, 3-4 times per week, so I thought was time to buy some earplugs. I went for this one as they are supposed to be some kind of "professional" earplug, I don't like cheap stuff.
I liked that they have 3 different filters so you can change them depending on the club/party where you (music higher or lower).
I'm really surprised by this item, after 2 weeks using them, I can't go out with them. The music is lower, with no distortion, but the best thing is that I hear the people speak super clear, especially in the dancefloor. Now I can talk with everybody without any problems, even under the speaker, they are the one who needs to lean in to listen to me better 🙂 I feel protected and sound is crystal clear.
5 stars, really recommended!" Simone…