This sleep mask kit is perfect for travelling. The mask folds into a small pouch for easy carry. Inside the case are a pair of earplugs and a neat little earplug case to keep your earplugs dust-free while you travel.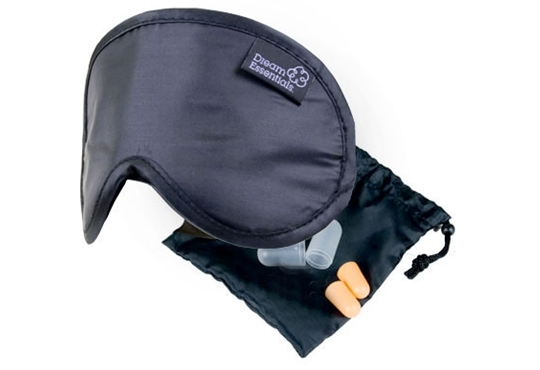 Comes with Carry Pouch, Earplugs and Earplug Case
The sleep mask is slim-line so is great for stomach and side sleepers. It is made of multiple layers so that light blocking is wonderful, the layers are all thin gauge so if you are a person that sleeps on their side the fabric won't dig into your face.
Slim-line Sleeping Mask for Side Sleepers
The Twilight Mask has a dual strap that is positioned at the back of the head and is ideal for travelling or for side sleepers. It is very soft and light on the face. The design molds comfortably to the shape of the face making it perfect for blocking out all light. The dual strap means this mask will stay in place if you tend to roll around a lot in your sleep.
Sleep Mask Features and Benefits
Great for airline travel, hotel and bedtime.
Adjustable strap for comfort
Nose piece to stop light entering from around your nose area.
One Size fits all with this good night sleep kit!
FREE Carry Pouch
FREE Ear Plugs & Ear Plug Carry Case
Ideal Sleep Mask for Side Sleepers
PERFECT BLOCK OUT – Soft Padded Nose Piece blocks all light
Mask Care
Gently hand wash in warm water and lay flat to dry. For longevity of sleep mask – allow to air dry out of the direct sunlight
Fabric Details
Cotton liner
Synthetic exterior
Care Instructions
Gently hand wash in cool water
Air dry
Specifications
Weight 0.8 oz / 225 gm
Size 4″ x 8″ / 10 cm x 20 cm