This soothing gel eye mask is the perfect way to treat yourself and relax. Whether you're looking for a cooling sensation on tired eyes, or gentle warmth to help soothe your worries away – this eye mask has it all!
Filled with a form-fitting gel, this eye mask will stay comfortably in place while delivering long-lasting relief. It can be used cold or warm depending on your preference – simply pop it into the fridge or microwave for just the right temperature.
Stop settling for temporary relief – enjoy hours of complete comfort with our soothing gel eye mask! With its excellent therapeutic benefits, you'll never want to take it off again. Give yourself the gift of relaxation today. You deserve it!
Are your Eyes Sore, Tired and or Puffy?
Enjoy the ultimate relief to your overworked eyes. Imagine yourself after a busy day getting a well-deserved break with the warm or cold therapy of a gel eye mask in the comfort of your own home. The Solace Gel Mask is the best relaxing and soothing sensation for your tired eyes.
What Causes Puffy Eyes?
GENETICS – we can thank our parents and or grandparents for this
MAKEUP – Not cleansing our face & eyes & removing makeup each night before bed
TRAVEL – Long plane flights, dry conditions and lack of sleep
SLEEP – Or lack thereof rather… A night spent tossing and turning brings on the "bags"
SADNESS – Another reason to stay happy – tears give us sore, red, puffy eyes
WORK – Late nights in the office
PARTYING – This nights out partying until all hours, unfortunately, catch up with us
All of these things can and do take their toll on our face, and skin.
Experience the Instant Relief for your Tired Eyes
You deserve to feel and look at your best. This calming gel eye mask can relieve sinuses, sunburns and tired eyes due to overexposure to a computer screen. It's simple. Just lay down, wear the gel eye mask and take a deep breath. -Try it now!
Cooling Gel Eye Mask Features and Benefits
REDUCES PUFFINESS – Reduce Puffiness by Cooling your sore Tired Eyes
RELAXATION – Instant Relaxation – a great reason to take 5 mins to relax and reset
SINUS – Cool eye masks reduce swelling & pain by reducing inflammation. Sinus problems are often accompanied by puffy eyes

HEADACHES – Help ease pain from Headaches and Migraines
QUALITY – Made of High-Quality Materials
SILKY COVER – You can upgrade your experience & purchase the soft silky cover
EASY WEAR – Mask fastens with an adjustable Velcro strap.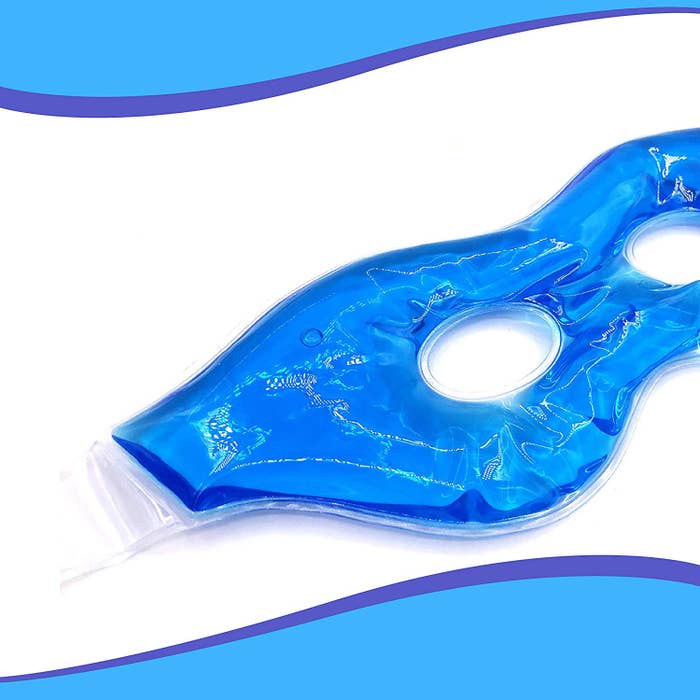 Wonderful Chilled
Toss your gel eye mask in the fridge for at least an hour before using (you can keep multiple at home for a continuous fresh experience). Also, you can place it in the freezer for 10-15 minutes (it is not recommended to freeze the gel eye mask solid)
Now, find a spot at home where you can sit or lay down, place the gel eye mask in your eyes and start feeling stress and pain diminish almost immediately.
Soothing Warm
Soak 5 – 10 minutes in hot (not boiling) water.
Please note we do not recommend you putting your Solace Gel Soothing Eye Mask in the microwave, it could cause the gel to become too hot.
Our optional cotton cover is always recommended for an even more comfortable experience.
Gel Mask Cotton Cover (for Cooling Gel Eye Mask )
Enhance your relaxation experience with our soft, silky, microfibre Soothing Mask Eye Cover.  Made exclusively to use with the Solace Gel Soothing Mask. CLICK HERE TO ADD ON

Use Warm or Cold
Enjoy the ultimate relief to your overworked eyes. Imagine yourself after a busy day getting a well-deserved break with the warm or cold therapy of a gel eye mask in the comfort of your own home.
You can reduce puffy or saggy eyes and lessen the appearance of fine lines by placing a cooled gel eye mask across the eye area for 10-15 minutes. The solace gel mask can help your skin stay hydrated.
For dark circles use the solace gel mask warm for 10-15 minutes.
Benefits
SOOTHING EYE MASK USED HOT OR COLD
GEL LIQUID CONTOURS TO THE SHAPE OF YOUR FACE
REUSABLE & WASHABLE
SOOTHING TREATMENT FOR MANY ACHES AND PAINS
SUITABLE FOR SENSITIVE SKIN
Relieve Eye Strain
After a long day in front of a screen working or wearing contacts, this can put a lot of strain on your eyes. Relax with either cooling or warming therapy to help you wind down.
Reduce Dark Circles and Puffiness
Cooling masks contract the blood vessels around your eyes and can help bring down puffiness and minimise dark circles.
Reduce Fine Lines
The soothing sensation, moisture and relaxation can all lend themselves to helping reduce fine lines. Both cooling and warming properties are beneficial to the delicate skin around your eyes.
Soothe Sunburns
If you've gotten a bit too much sun, or even wind, use our Cooling Gel Eye Mask to help pull the heat and discomfort from the area.
Reduce Tension and Headache
Both heat and cooling provide the tension-relieving benefits you need to help calm body tension, as well as reduce the pain of headaches and migraines.
Reduce Sinus Pressure
Similarly, sinus pressure is often alleviated using both cold and warmth to help reduce inflammation and bring discomfort under control.
Improve Sleep
The reduction of tension and the ability to calm your senses supports relaxation and sleep. When used as a sleep mask, this even furthers the mask's ability to help you sleep.
Cooling Gel Eye Mask – Great for
Swelling
Puffiness
Dryness
Dark Circles
Under Eye Bags
Headaches,
Sinus & Allergies
Sleeping
Perfect for Travel
Pop this on for 10 mins once you arrive at your destination to help alleviate sore, tired and puffy eyes.
The Solace Cooling Gel Eye Mask is the best relaxing and soothing sensation for your tired eyes
Extra Comfort and Care for your Skin
Specifications
Read here for more benefits of a Gel Eye Mask from this online beauty writer