The Somnofit Anti Snoring Device is a patented medical device that reduces and or completely removes snoring and mild to moderate sleep apnoea.
The Somnofit is a mandibular advancement anti-snoring device (MAD) and is an innovative snoring solution designed and manufactured by a Swiss Medical Company. It is recommended by Doctors, Pharmacists & Sleep Physicians globally as a successful sleep solution against obstructive sleep apnoea and patients who cannot tolerate CPAP machines.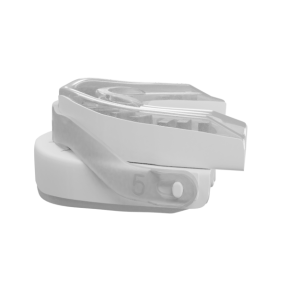 The BEST Anti-Snoring Device, with over 10 years of Experience!
SOMNOFIT, a thermoformable mandibular advancement device, is the most advanced on the market with over 10 years of experience in the field of snoring and sleep apnoea!
Thermoformable, but extremely reduced volume 
SOMNOFIT-S volume is reduced by 30% less than most other thermoformable mouthpieces. This means that users confide that its comfort is exceptional, particularly compared to bulkier mouthpieces on the market.
How does the Somnofit Anti Snoring Device Work?
Somnofit is the most comfortable solution for effectively controlling snoring and mild to moderate sleep apnoea. The Somnofit snoring device uses the medically recognised principle of mandibular advancement, which opens the airways by gently shifting the jaw forward. You choose your ideal degree of advancement, as this patented device has several interchangeable bands of different size settings that allow a precise fit. Its design offers several possible adjustments, in 1 mm increments, to adapt perfectly to your teeth and mouth.
During sleep, SOMNOFIT moves the lower jaw forward a few millimetres. This advancement frees the back of the tongue and opens the passage to allow increased airflow in the upper respiratory tract. This approved principle is very efficient in reducing snoring and sleep apnoea. 
The anti-snoring device, made of two oral mouldings fitted to the upper and lower jaw, is placed in the mouth just before sleeping.
Its customisable components permit long-lasting use while preserving your dentition. Due to itS possibilities of adjustments, the Somnofit Mandibular Advancement DEVICE (MAD)  can be adjusted to suit your desire.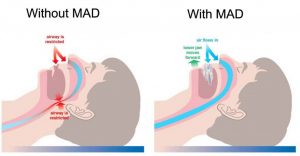 Custom Fit
It is very simple: Somnofit includes two oral mouldings (upper and lower). The user simply takes a dental impression, just once, by immersing each moulding in the water, which is heated, to soften the thermal moulding material to the required temperature as indicated on the included floating thermometer for 3 minutes. The two mouldings are then linked by one supple strap to fix the advancement of the lower jaw. It's as easy as that!
The user then has a fully personalised Somnofit that is ready for use. Place the Somnofit in the mouth before sleep to ensure a restful night.
You can remould it several times, guaranteeing that the Somnofit device is perfectly adapted to your teeth and that your comfort is optimal. With the adjustment bands, you can choose from 6 levels of mandibular advancement (from 3 mm to +10.5 mm).
Recommendations of Use
It is important to identify your level of snoring. See the below recommendations and consult with your sleep specialist, Ear, Nose & Throat Specialist, Dentist or General Practitioner first.
When snoring is of obstructive origin, i.e. due to obstruction of the upper respiratory tract, the SOMNOFIT anti-snoring orthosis is the ideal device to fight against obstructive snoring.
Who is a Good Candidate for the Somnofit Anti Snoring Device?
Snoring – Obstructive sleep apnoea (OSA) patients with mild to moderate OSA. This refers to patients with 20 to 30 apnoea/hypopnea episodes during sleep.
Sleep apnoea patients on the move, travelling, camping, boating, holidaying etc. who prefer an alternative to their usual CPAP therapy
Those who suffer from positional apnoea/hyponea. This refers to patients who experience some relief from sleep apnoea when lying on their side.
Those with a receding bottom jaw. A receding jaw could cause the apnoea and pushing the bottom jaw out could effectively manage it.
Who are Not Good Candidates for Somnofit Anti Snoring Device?
Patients with poor dental structure or those with no teeth, as there is no structure to attach the device.
Those with stiff jaw joints may not achieve 8 to 10 mm advancement.
Overweight OSA patients may fare better with a CPAP machine.
Mandibular advancement devices can reduce apnoea/hypopnea by as much as 50%. This may not be enough for patients with hundreds of episodes during sleep or complicated sleep apnoea.
Those who wear full or partial dentures
Those under 18 years old
Somnofit Anti Snoring Device Package Contents
Two Dental Splints (upper and lower) thermo-adaptable to your teeth.
• A Somnofit Anti-Snore Mouth Guard Lower Moulding
• A Floating Thermometer
• A Ventilated Storage Case
• A set of supple straps to regulate the mandibular advancement.
• Instruction Leaflet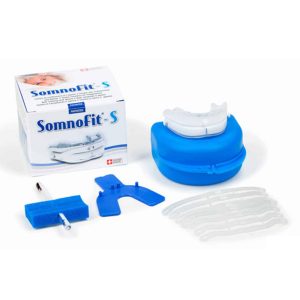 SOMNOFIT Versus SOMNOFIT- S
What is the difference between the Somnofit and Somnofit S?
SomnoFit is an all-rounder– that is, this mandibular advancement device (MAD) is suitable for jaws of nearly all shapes and sizes. SomnoFit-S is more suitable for small- to average-sized jaws. It has a very slim and material-saving design. Should you be unsure whether the SomnoFit-S is suitable for your jaw, then we recommend the following approach:
Cut a square from a thick and clean cardboard box, just large enough to fit inside your mouth and cover your teeth. Insert the cardboard square into your mouth and bite down on it. This should leave behind a clear imprint of your jaw on the cardboard square. Then measure the length and width of your jaw imprint with a ruler, then compare your measurements with the MAD measurements provided on the respective product page in the section "Technical Data". The MAD should be at least 1 mm larger in length and width than that of your jaw imprint to be a suitable fit for your respective jaw size. 
                SOMNOFIT                                                SOMNOFIT-S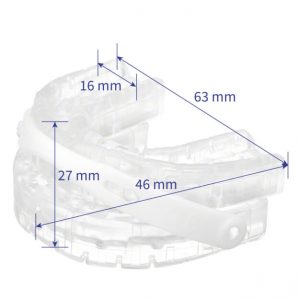 .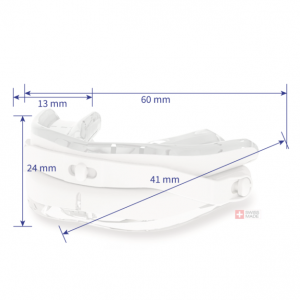 Cleaning your Somnofit Anti Snoring Device
For daily cleaning, we suggest using denture cleaning tablets or our Fresh Mouthguard Spray.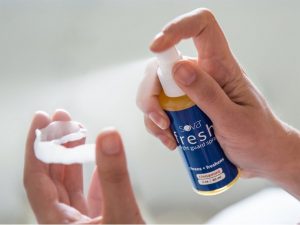 Instructions
Apply directly to the mouthguard before use, leaving a refreshing cinnamon and mint taste. To clean after use, rinse, spray, and store the night guard once it is dry. Freshens mouthguard before and after use
Mouthguard freshening and cleaning spray for maintaining night mouthguards and other dental appliances
A couple of sprays give nightguard, and breath, a fresh, clean, and flavourful cinnamon mint taste
Flavoured with spearmint extract, cinnamon bark, peppermint oil, rosemary extract, coconut oil, xylitol, and vitamin E
Convenient 60ml bedside bottle; spray on dental guard before use for flavour and fresh breath
Spray also cleans the nightguard after use before storing it in a case
Somnofit Anti Snoring DeviceCustomer Reviews
Nic – 22. April 2020
It works!
First of all, it arrived promptly and on the day stated. The instructions are easy to follow, and there is a handy thermometer enclosed to make sure you heat it to the exact temperature and a bite guard to protect the device as you fit it into your teeth. The product and accessories all seem to be made from high quality materials. Initially, it looks as though the mouthguard is quite small and possibly too small, even for a small female. However, it will stretch when warmed to fit around teeth. It is the fact that it is so small that it is comfortable to wear. On night one I used the suggested strap for tightness, but this was not effective in preventing snoring.
This was not unexpected as you need to adjust to fit your mouth/jaw. On night two I selected a different strap, and immediately even before I went to sleep I could tell it would work. I could breathe better and it felt surprisingly comfortable. Mind you, I am used to a less comfortable, larger mouthguard. The snoring stopped completely on night 2. I woke up feeling as though I had slept really well for the first time in ages. The mouthguard was not at all uncomfortable and my teeth didn't hurt. If you've never worn a mouthguard before you might feel some discomfort the first few times. But persevere because this will settle down. I am very, very pleased with this product and can highly recommend it.
Michael Wall – 5. May 2020
I have been snoring for as long as I can remember and I am tired in the morning very often as if I had stayed up the whole night. I found this Splint by chance and get curious and my wife also said, that I should try it. I have already tried several things and so I decided to order it. After three days it already arrived. I unpacked it immediately and was already thrilled by its look, it has a high-tech look and everything is very cleanly produced. Very high quality and all the stuff which is inside. All the individual parts as well as the thermometer, the plastic strips, and the Splints. The SomnoFit-S Splint consists of three parts: One Splint for the lower- and the upper jaw and bands in different thicknesses and sizes. The setup of the Splint took nearly 30 minutes.
The creation of the imprints is relatively simple, I just needed 2 trials, so it was very easy. I made it step by step as it was described in the instruction. The wearing comfort is in the first instance a little bit strange, but this vanishes as time goes by. I am wearing it now for one week and my wife says, that my snoring is getting less and I am also not that tired anymore in the morning. So we are both thrilled by the SomnoFit-S Snoring Guard, it is a total success, and it is worth the money. I can not say anything negative about this product. Due to the processing, I am going to use it for a long time. It can not get better.
Dursun – 16. May 
Since puberty, I suffer more and more from snoring and I always feel tired. After my appointment with an ENT doctor, he noticed that I could need a splint for my teeth, because of my strong teeth clenching during the nights. Of course unconsciously. The splint from the doctor did not show any results. Then I stumbled upon the Somnofit Anti Snoring Device. It is maybe not very cheap (but a lot cheaper than a Dentist one), but I finally wanted a relaxing sleep, without snoring. Conclusion: after one week I could see a clear difference. I finally woke up relaxed and I did not snore anymore. Great product! I can just recommend it to everyone!