Introducing the Dream Essentials Soft Plush Inflatable Travel Pillow! This unique ergonomic pillow is designed to provide proper support on the go, helping prevent tension and strain in the neck and shoulders. Whether you're travelling by plane, train or car, this pillow will help you feel more comfortable and relaxed at your destination.
The inflatable design means it's lightweight and easy to carry, so you can take it wherever you go. Don't let a sore neck ruin your next trip – make sure you're prepared with the Soft Plush Inflatable Travel Pillow!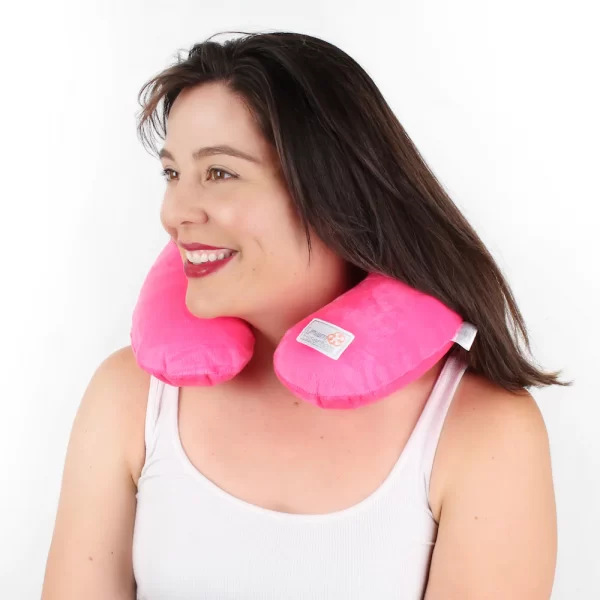 Inflatable Travel Pillow – With Removable, Soft, Plush Cover
Do you like to travel light? Here is the perfect combination of space-saving and comfort. Tired of not getting a night of good sleep when travelling? Can't sleep when flying? Do you wake up with a stiff neck?
The Dream Essentials Travel Flat Pack Neck Pillow is a very easy-to-use inflatable neck pillow with a washable cover made of soft plush materials that will add an extra layer of a cosy feeling when used against your skin.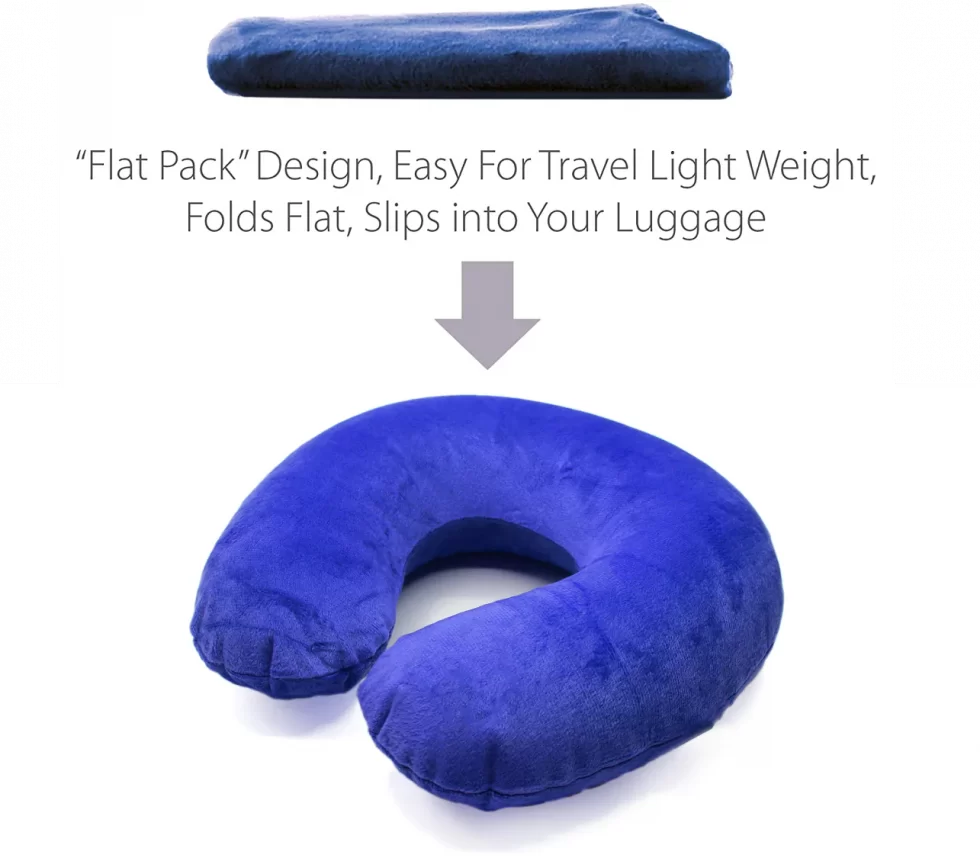 Do you Snore when you Travel?
So many people fear flying/travelling because the likelihood troubles them is that they will snore when they fall asleep.
When we fall asleep sitting up, our head falls back, which often causes the tongue to fall back and block our airway. Using a travel pillow, your head remains upright or comfortably rests to the right or left side. This enables unrestricted airflow, lessening the likelihood of embarrassment by upsetting your fellow travellers with your snoring.
The tongue often falls back and blocks the airway, but this is less likely to occur if you sit up.
Snoring occurs when your airway becomes obstructed. Often simply opening the nasal passage and allowing air to flow alleviates snoring. Our Macks Nasal Breathing devices for snoring work a treat!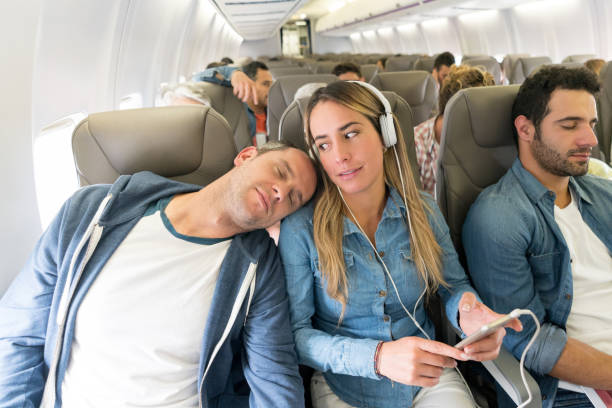 Features

Easy to inflate with only a few breaths, which allows you to adjust the pressure depending on your preference effortlessly.
Supports your neck while you travel, arrive better rested
Perfect for trips where you or your kids spend considerable periods in a seating position.
Washable, easy-to-remove cover made of soft plush material in different colours.
The contoured shape provides maximum comfort.
Super compact design will travel deflated in any small space. You can choose one for each child at home and get to your destination in complete comfort.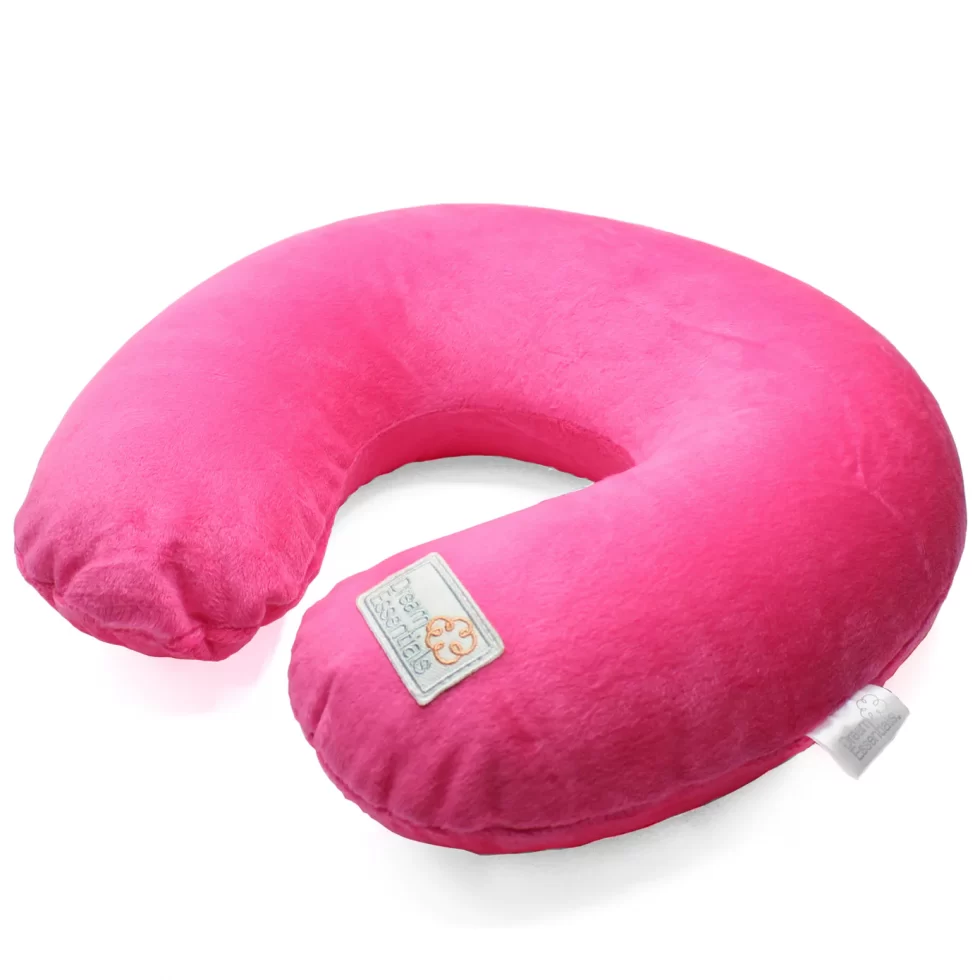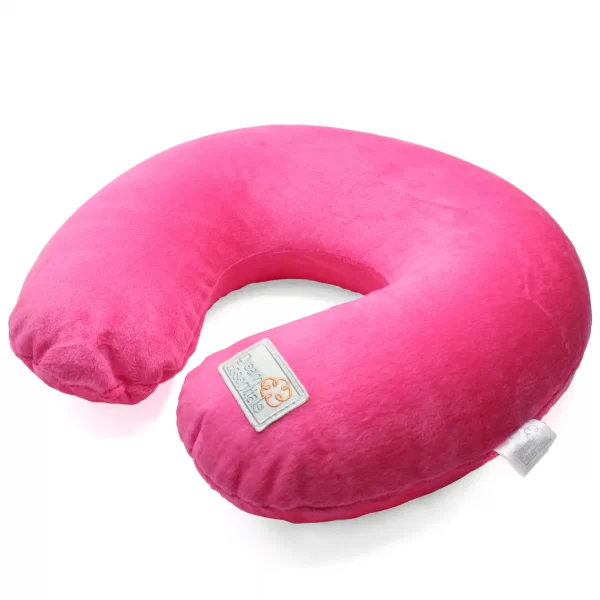 Travel Pillow Uses

Perfect for all travelling in planes, trains or cars
Ideal for long-distance or overnight travellers.
An affordable and compact solution to add comfort to kids while travelling.
Especially good for aeroplane trips.
Perfect for road trips by car or train.
Recommended for hiking, backpacking or camping.
Ever woken on a stranger's shoulder when travelling?
Argh… eek how embarrassing… I know I've been there…
Our soft, inflatable travel pillow will prevent this from happening, and you will no longer wake up with a stiff neck.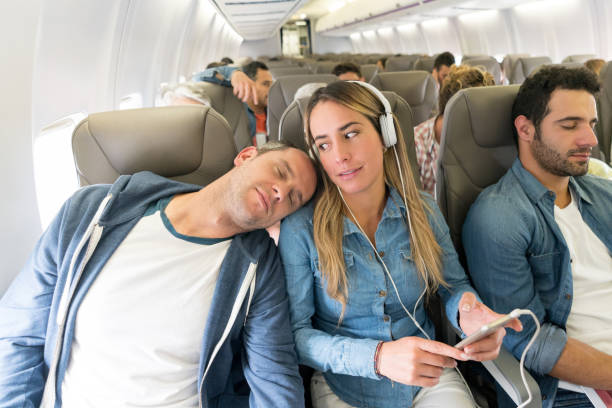 Specifications

Inflated dimensions 11 inches x 11 inches x 3.5 inches.
Fabric is 100% Faux Fur Polyester.
Flat Dimensions: 9 cm x 28 cm x 28 cm high.
Weight: 80 grams.
Care

Remove filling
Machine wash warm with like colours.
Can tumble dry low.
Do not bleach.
Do not iron.
Do not dry clean.