The Dreamsonic Bluetooth Sleep Mask by Sleep and Sounds is the ultimate solution for a better night's sleep. This innovative sleep mask features built-in Bluetooth technology, allowing you to drift off listening to your favorite music, white noise, podcast, meditation or audiobook.
Made from a luxurious blend of modal and soft cotton, this Dreamsonic Bluetooth Sleep Mask is incredibly soft and breathable, and super comfortable and gentle on the skin. With adjustable volume and a comfortable, soft design, Sleep and Sounds Dreamsonic Bluetooth Sleep Mask blocks light and external noises so you can wake up refreshed and rejuvenated every morning.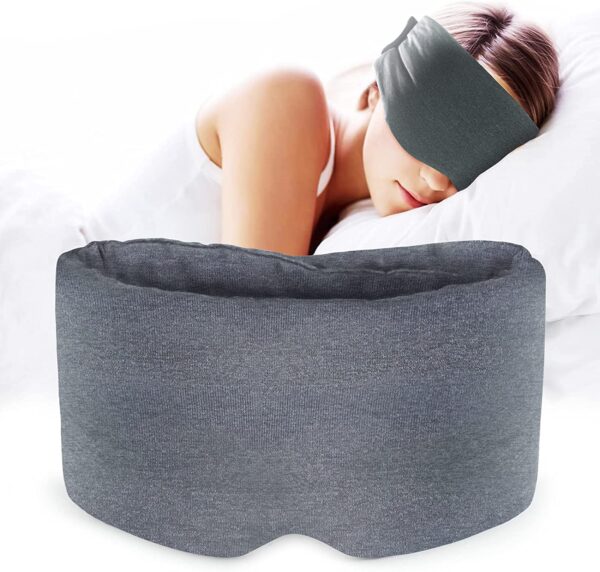 Dreamsonic Bluetooth Sleep Mask Features
Total Blockout for Deep Sleep
Removable Headphones
Silky Soft Modal Material
Wireless Connection – Bluetooth Receiver
2 x Hi-Fidelity Speakers
Premium Quality Noise Output
22 Built-In Sounds
Auto Off Timer 30/60/90 mins
Built-in Rechargeable Battery
Wireless Range of up to 15 meters
Blocks out Light and Noise
No Partner Noise Disturbance
Up to 15 Hours of Battery Life
Adjustable Volume & Power Directly from Mask
Washable Sleep Mask
Handmade!
Two Quality Speakers
The sleep mask features Hi-Fi standard 1W stereo headphones that deliver crystal clear sound quality. You can wirelessly connect to your devices and listen to your favorite music, audiobooks, or soothing sounds to help you fall asleep. It also has a built-in Bluetooth receiver function, allowing you to answer calls hands-free while you are sleeping.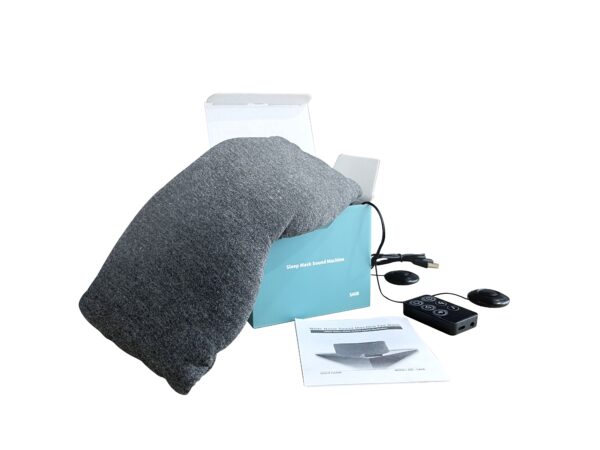 22 Built-In Sounds
This sleep mask offers a variety of built-in sounds, including nature sounds, white noise, and binaural beats. It has a 30/60/90 mins auto-off timer that ensures that the device will turn off after your desired time and save the battery life.
The sleep mask is powered by a rechargeable battery of 500mAh, which provides 8 hours of continuous use after a full charge, making it perfect for travel. With the Bluetooth Sleeping Eye Mask by Sleep and Sounds, you can wake up feeling refreshed and rejuvenated every morning.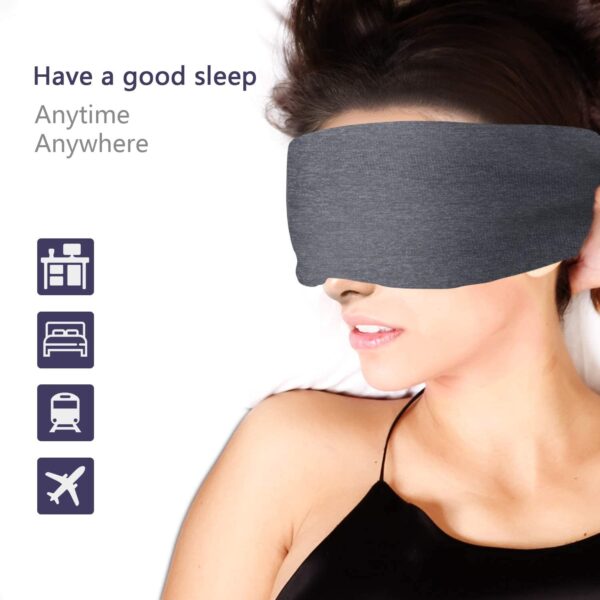 Made from Silky Smooth Material
Constructed with a premium modal and soft cotton blend, this sleep mask offers ultimate softness and comfort against the skin. It effectively blocks out light and noise, keeping you cool and comfortable throughout the night for a tranquil and restful sleep experience.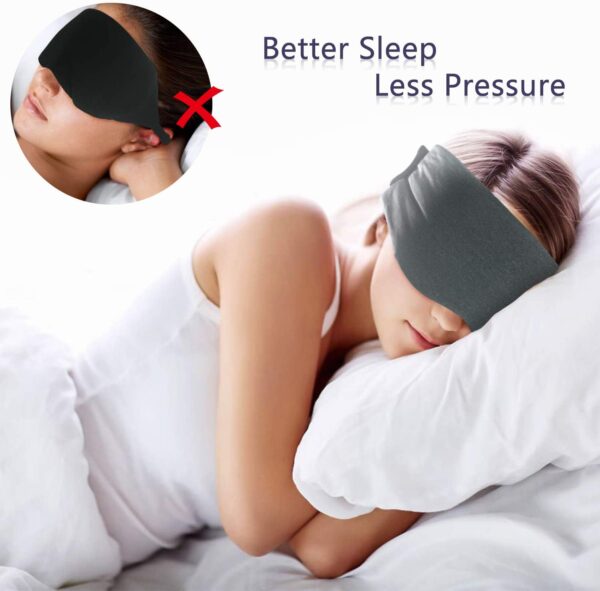 What are the Benefits of Modal
Modal is a type of rayon fabric that is known for its softness, breathability, and durability. These properties make it an ideal material for a sleep mask.
Soft
One of the main benefits of modal is its softness. Unlike other fabrics, modal has a very smooth, silky feel that is gentle on the skin. This means that wearing the sleep mask will not cause any irritation or discomfort, even if you wear it for an extended period.
No more firm or bulky masks; you can hardly feel that you are wearing anything when you fall asleep. Wake up refreshed and energized!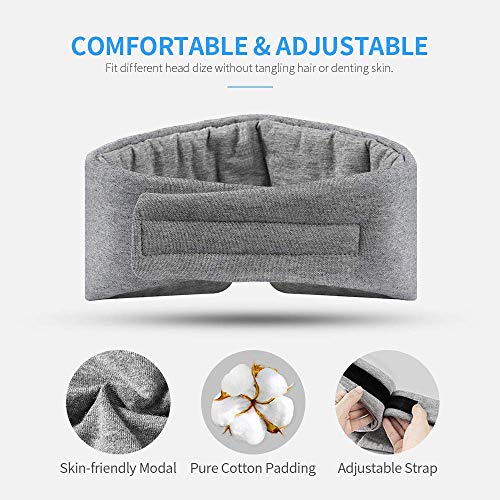 Moisture Wicking
Made from an ultrasoft modal moisture-wicking material that helps keep those hot summer nights cooler so you can get quality rest all year round.
Cool, Comfortable, And 100% Dreamsonic Bluetooth Sleep Mask is made of premium moisture-wicking soft modal material. Lightweight and Skin-friendly, breathable cool fabric 
Modal is also lightweight, skin-friendly, and highly breathable, which means it wicks away moisture and prevents overheating to help you sleep on those warm nights.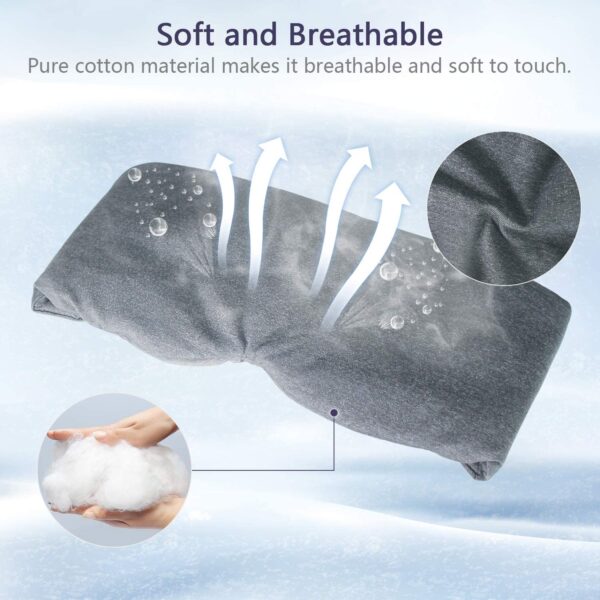 Durable
Modal is also a durable fabric that can withstand multiple washes without losing shape or softness. This makes it a great choice for a sleep mask because it can stand the test of time and maintain its quality.
Eco Friendly
Additionally, the modal is eco-friendly, sustainable, and biodegradable, making it a great choice for consumers looking for environmentally-friendly products.
Overall, Modal is a great choice of material for a sleep mask because of its softness, breathability, durability, and sustainable properties. These features can help ensure a peaceful and comfortable sleep, leading to a more restful night and a refreshed morning.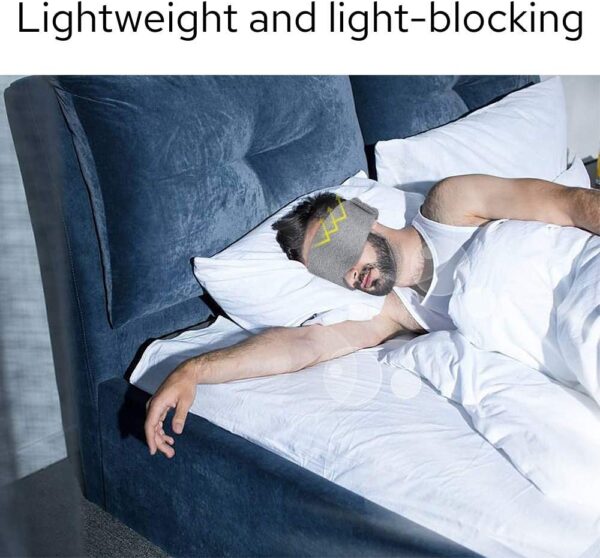 Dimensions
Eye Mask Dimensions: 73cm x 12cm

Bluetooth Sleep Mask
Step away from everyday noise and enjoy a soothing sleep or break with the Dreamsonic Bluetooth Sleep Mask! This clever mask features Version 5.0 Bluetooth technology with superior high-definition stereo sound. you can easily pair your phone or smart tablet, allowing you to listen to music without extra headphones while blocking out lights for better restful slumber in peace.
The Dreamsonic model of Bluetooth sleep headphones is the latest and most unique one on the market! With just 2 hours of USB charge time providing up to 10 hrs playtime, help yourself fall into sweet dreams quickly – no matter if it's on vacation or at home after work.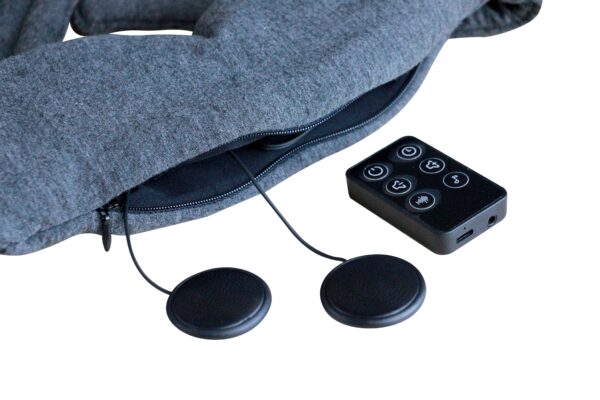 Ideal for Side Sleepers
The central panel and ultra-thin sleeping headphones are friendly for side sleepers. You won't feel any hard panels and earphones but soft fabrics.
Made of ultra-soft material that hugs the shape of your face, the Dreansonic helps block out lights while listening to relaxing tunes without needing extra earbuds for up 10 hours on one full charge – perfect when you need some time out during work breaks and at bedtime.
Noise-canceling works well in noisy environments. Perfect Bluetooth eye mask headphones for traveling, blocking noisy neighbors, snoring mates, Yoga, Afternoon Naps, Audio Books, AMSR, Meditation, Kids' Bedtime Reading, and more!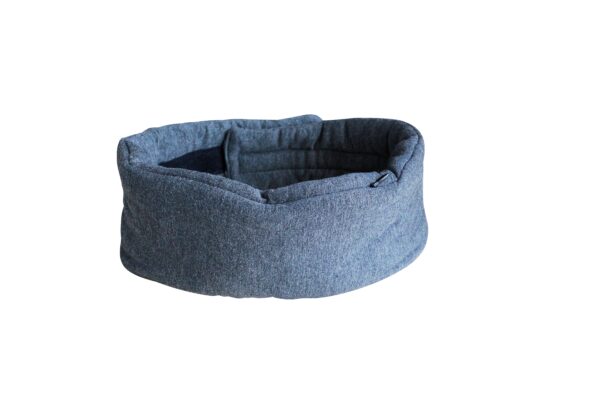 It's time to put insomnia behind you. Get the sleep you deserve with Sleep and Sound Dreamsonic!