Help your baby or child fall asleep faster, stay asleep, and mask distracting noises with the YogaSleep Nod Sound Machine and Nightlight. Featuring 20 sound options including white noise, fan sounds, nature sounds, and eight lullaby tracks.
Better Baby Sleep
Help your little one drift off to the land of Nod with this dreamy sound machine and night light in one.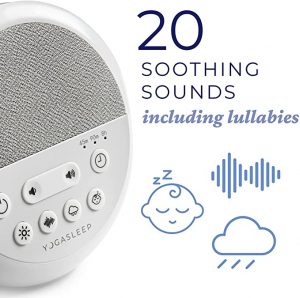 The YogaSleep Nod Sound Machine and Nightlight has a soft, dimmable night light in amber tones that soothes rather than disrupts sleep cycles. Run the sound machine all night long or set the auto-off timer with three timer options: 45 minutes, 90 minutes, or 8 hours.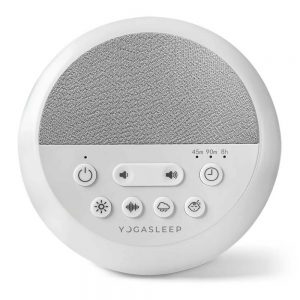 The sleek and compact white noise machine fits seamlessly with any bedroom or nursery. Easy to operate with a simple and user-friendly interface. Yogasleep has 50+ years of making the best white noise machines for home, baby, and work.
20 Baby Soothing Sounds
A collection of sounds engineered for baby sleep including eight classical lullabies, mother's heartbeat, womb sounds, and our signature fan sounds
Listen to a Sound Sample:
White Noise, High Fan, Low Fan, Pink Noise, White Noise, Bright White Noise, Birds, Stream, Gentle Surf, Rain, Ocean, Thunderstorm, Lullaby 1, Lullaby 2, Lullaby 3, Lullaby 4, Nature, Heartbeat, Shushing.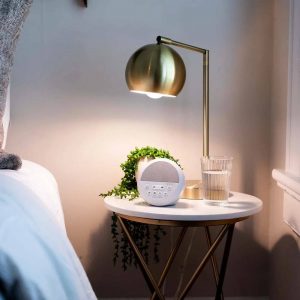 Soft amber night light: Dimmable night light in a warm amber tone creates a sleep-inducing bedroom environment. Hold the button down to turn up the brightness and illuminate the room.
20 sound settings plus sleep timer: Sound options include white noise, fan and nature sounds, and 8 classical lullabies. Includes a "shushing" sound and heartbeat setting engineered to soothe infants. Set the sleep timer to 45 mins, 90 mins, or 8 hours
Unbeatable quality & guarantee: For over 50 years, Yogasleep has been the gold standard for white noise machines. Backed by a one-year limited warranty.
Simple to Use: No battery required, powered by USB cord and features a simple, intuitive design and buttons (power adaptor not included).
Modern look: Featuring a sleek and neutral design that fits with most nursery themes and bedrooms
Sound and Night Light in One
Illuminate the room, nursery, or changing area with built-in dimmable night light in a soft amber tone designed to not disrupt REM sleep cycles or wake your child like blue light.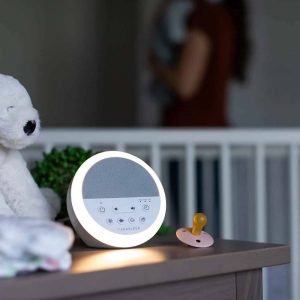 Highlights
Masks noise and disruptions and lulls to sleep for improved sleep quality
20 Soothing sound options including pink noise and white noise
Sleep timer options to suit most – 45 minutes, 90 minutes, 8 hours and continuous play
Dimmable nightlight
Simple, intuitive design and sleek interface
No batteries required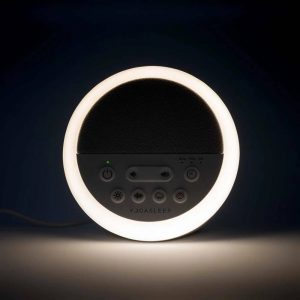 DOHM

OCEAN SURF

RAIN

LULLABY

PINK NOISE

WHITE NOISE

BRIGHT FAN

DEEP FAN

BRIGHT WHITE NOISE

GENTLE SURF

THUNDERSTORM

STREAM
BIRDS
TWINKLE-TWINKLE
MUSIC BOX
HAPPY CHILD
LANDSCAPE
SHUSH
WOMB SOUNDS