The Tranquillity multi sound white noise machine has revolutionised white noise for modern, tech-savvy households. Its versatility is off the charts – with white noise, night light, and Bluetooth wireless speaker functionality all in one small device.
The Tranquillity White Noise Machine is perfect for creating tranquil sleeping or work environments. It is an ideal sound machine for being able to sleep peacefully through the night uninterrupted or for making sure of privacy for confidential conversations in workplaces.
Whether you need to add white noise to your bedroom while you sleep or set up a soundtrack to get your party going; the Tranquillity has you covered so you can kick back and enjoy the soundscape. Pick a tune from your smartphone, switch on the night light, and let the stream of white noise lull you into peace in no time at all. Get a multi sound white noise machine – get Tranquillity!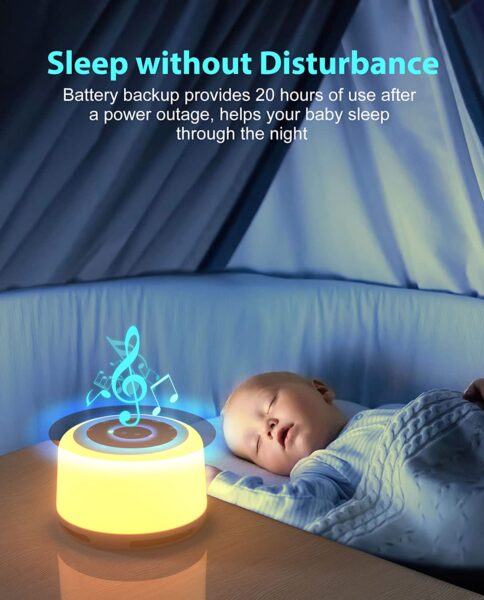 Ensure a Better Nights Rest
The Tranquillity multi sound white noise machine is the perfect way to improve your sleep or to find some peace and quiet in this sometimes crazy and loud world. This versatile noise-cancelling system offers a huge selection of fan sounds, white noise and other soothing sounds in order to block out unwanted and distracting noises.
The sounds from the machine can easily be adjusted allowing you to control the intensity of your new soothing companion. Plus, there are seven fan sound options for added variety when you need something totally different from a traditional fan hum. With an overall size of 6in x 5in x 2in, this device won't take up much room on a shelf or bedside table while still providing maximum results.
Your personal white noise and fan sound machine will ensure a better night's sleep and peaceful rest as the best white noise machine to block sound.
A Simple Design with Loads of Features
24 Digital Sounds
Excellent Noise Masking
Precise Volume Control
Small, Sleek and Modern Design
Compact & Portable
Rechargeable
Easy to Use
Colour Changing Mood Light
Bluetooth Speaker
Upward Facing Speakers for Full Room Sound
Built-in Timer Function for 30, 60, 90 minutes or continuous
Multi Sound White Noise Machine
Best White Noise Machine for Office
Additionally, this product makes a great choice for conference calls and working from home since it'll help muffle out any background distractions. Furthermore, it ensures that intimate conversations within homes or offices remain private.
This innovative machine uses advanced technology and intuitive design to bring you perfect relaxation any time of day or night. It will fit seamlessly into any room décor with its sleek, all-white exterior.
In addition to providing increased comfort in your living space, the Tranquillity multi sound white noise machine also works beautifully in helping you focus and concentrate when studying or working in a home-office atmosphere with its powerful sound-blocking capabilities and range of soothing sounds designed to complement any space.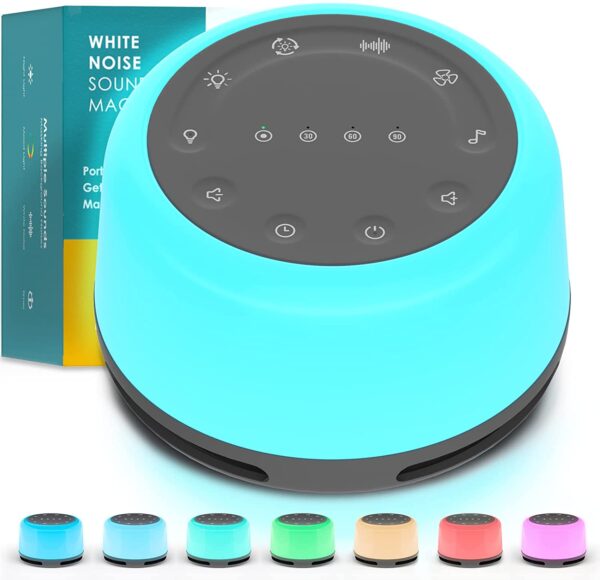 Colour Changing Mood Light
You get to choose from 7 beautiful hues of light that can fill your home with an enchanting atmosphere. Whether you're hosting a BBQ party or tucking away your baby into a peaceful slumber at night, this machine is here to make life more memorable and fun with all the colours of the rainbow at your disposal, creating an unmatched ambience for any situation.
The unique colour changing night light means you can choose from white, warm white, or cool white or pick one of seven beautiful shades from the rainbow before having it softly fade and toggle through the entire spectrum.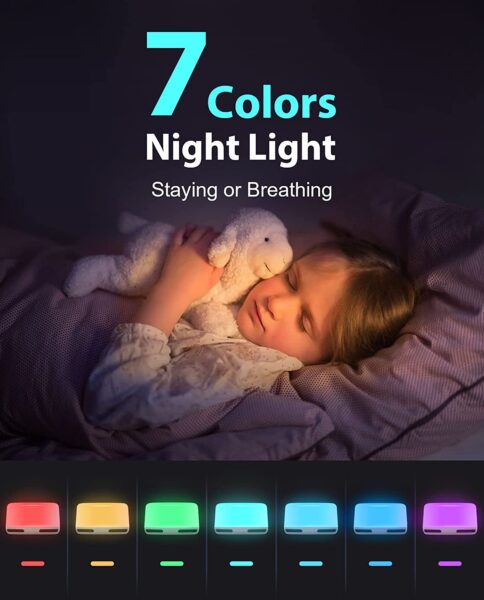 Portable Bluetooth Speaker
This Bluetooth multi sound white noise machine is the perfect addition to any special occasion or your home, making this sound machine noise enjoyable in any situation – white noise, music, and lullabies included!
Choosing the right sound is just as easy with white noise at your disposal – a great way to soothe not only kids but the perfect white noise machine for adults also!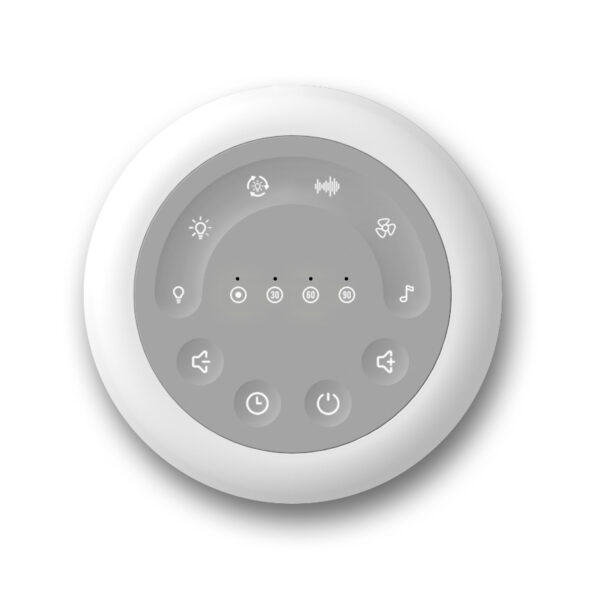 White Noise x 4
Pink Noise
Brown Noise
Fan x 7
Rain
Fire
Rainforest
Ocean Waves
Heartbeat
Shushing
Meditation
Ba Ba Black Sheep
Hush Little Baby
Summer Night
Lullaby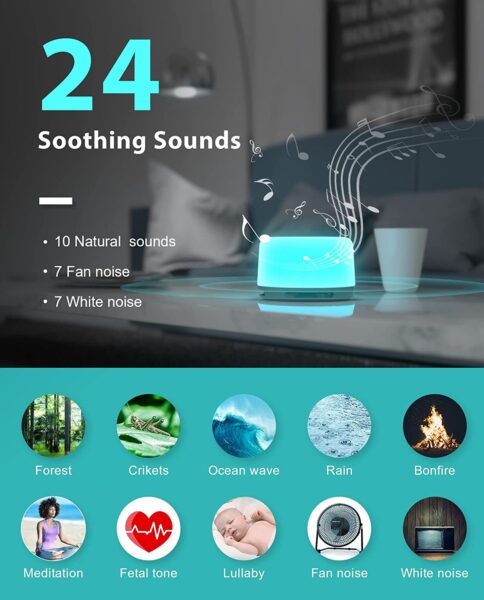 What is White Noise
White noise, by the technical definition, is a consistent noise that comes out evenly across all hearable frequencies. White noise is just an equal amount at every frequency, from low to high, that a human being can hear.
When a noise wakes you up in the night, it's not the noise itself that wakes you up, per se, but the sudden change or inconsistencies in noise that jars you from your slumber. White noise creates a masking effect, blocking out those sudden changes that frustrate light sleepers, or people trying to fall asleep.
"The simple version is that hearing still works while you're asleep," says Seth S. Horowitz, a neuroscientist and author of The Universal Sense: How Hearing Shapes the Mind.
Tranquillity White Noise Machine provides an effective blend that will help lull you into dreamland for a deeper sleep during the night and more energy throughout the day. Our machine seamlessly and continuously adapts to create a relaxing ambience that blocks out unsettling background noise. Whether you prefer soothing pink noise, calming ocean waves or traditional brown noise,
It eliminates distraction from outside noise, so no more sleepless nights = tranquillity is the best white noise machine for loud neighbours,  noisy traffic or barking dogs!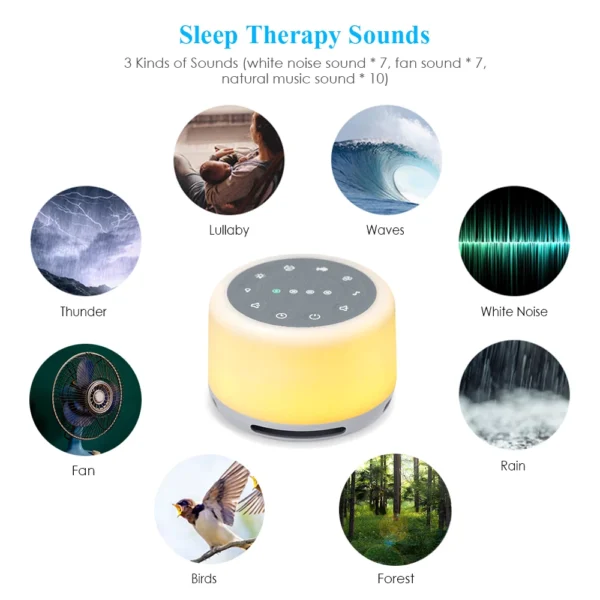 Compact and Portable
Power is provided through a USB cable, so you can operate it from a wall outlet or any powered USB port. This sound machine is compact and portable, making it the perfect white noise device to take with you on your next business trip, vacation, or family adventure.
It is also rechargeable so it's the ideal device to take with you when you're away from home as your all-in-one, Bluetooth speaker, night light and sleep machine. The Tranquillity multi sound white noise machine has revolutionised white noise for modern, tech-savvy households.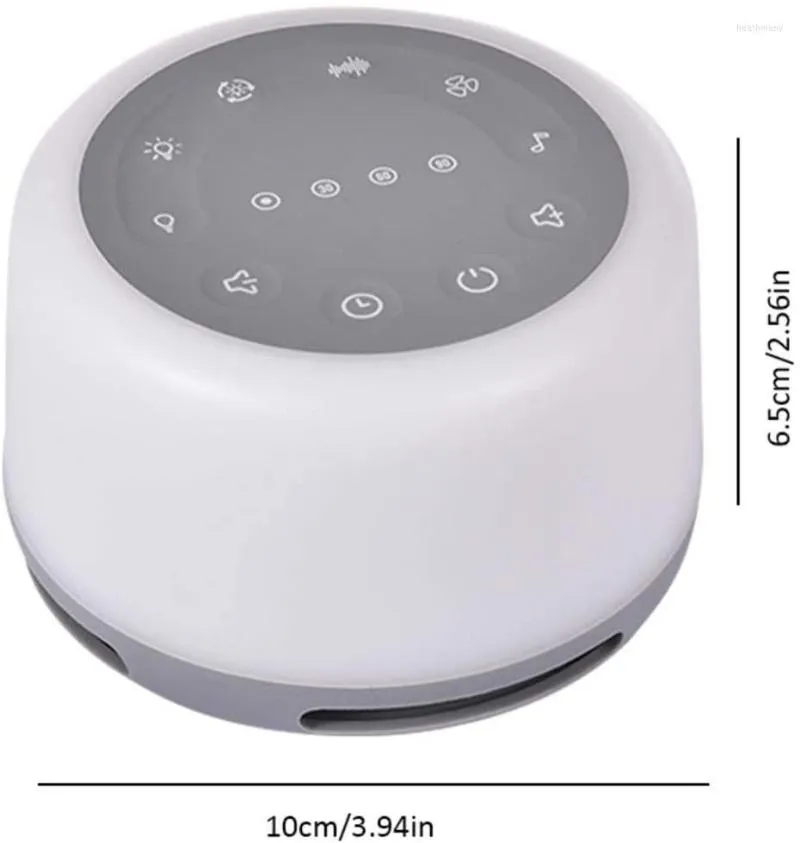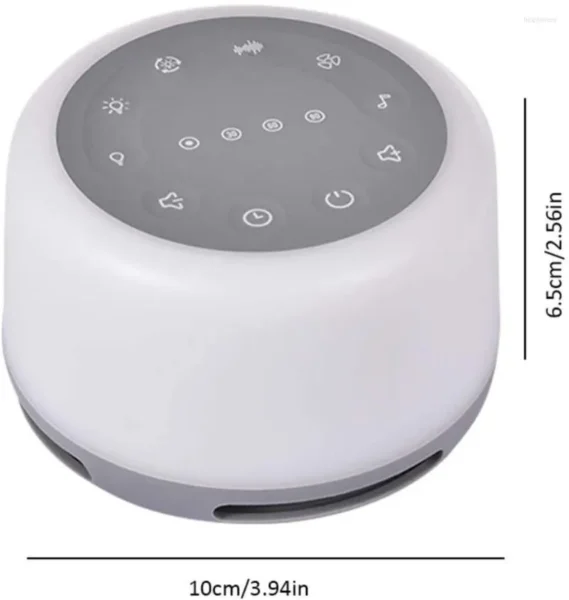 Natural Sleep Aid
Multi sound white noise machines help create a soothing environment and cover unwanted noises around you so you can fall asleep and stay asleep throughout the night. This machine is a perfect all rounder for adults, children and babies.
Our best-selling Sleep and Sound model offers seven pure variations of white, pink and brown noises, plus four fan sounds and thirteen other soothing sounds for masking disruptive noise while you're sleeping or working.
Tranquillity non-repeating white noise and fan sounds are dynamically generated using an algorithm that creates a truly random sound. Other white noise machines use looping sound clips that wake up your brain, while others use actual fans that can't get loud enough to block out anything. Tranquillity has an adjustable volume control to mask all levels of noise and a timer for those mid-day naps.
The Most Versatile Fan Sound & White Noise Machine
The Tranquillity is ideal for:
Relaxation
Study
Speech Privacy
Anywhere that you want to control your sound environment