Would you love to smell the serene aromatic bliss in the air? Then you need to explore various types of aromatic diffusers that can transform your mood and well-being through the power of aromatherapy.
Sitting all day at home and staring at your laptop can cause serious mood swings, trust me it happens to me all the time. But you know what relaxes me instantly and drifts me into a pleasant mood?
Aromatic Diffuser, I must say it's truly a life-saver. It wouldn't be an exaggeration if I say, it even aided in cherishing my relationships as well.
Have you ever experienced that feeling of emotional attachment to certain aromas? Like the smell of your old t-shirt (washed ones in the closet, not in the laundry bag). I still remember the butter and chocolate smell in the kitchen when my grandma baked the best cookies. The smell takes you back to the time and brings back those sweet memories.
Table of Contents
Let's Discuss the Benefits of Aromatic Therapy
Aromatic therapy has gained importance in recent ages as it has shown promising results in enhancing emotional stability. Aromatic therapy has helped a million users out there to enhance their quality of life. Study says Lavender oil has the power to enhance the mood and relaxes those stressed nerves. Research has proven that a sweet pleasant smell not only increases the creativity of the person and promotes mental health and wellbeing. Following are some aroma diffuser benefits.
It helps in treating headaches and migraines.
It also helps in improving sleep patterns.
Aromatic oils also help in easing pains and body aches.
It aids in reducing stress and anxiety levels.
It even provides comfort during the menstrual cycle.
Aromatic oils stimulate the connections in your brain by enhancing your moods.
Research also proves it has lowered depression and loneliness feelings.
Essential oils fill the area with sweet fragrances uplifting your mood.
Wondering Which Essential Oils Diffuser to Buy?
Let me help you with that. You might find many brands and oils in the market with attractive names that don't serve the purpose. So I showcased the best quality products which are rare to find. Here's a list of a few aromatic diffusers and oils that can transform your mood to a whole new happy level.
Types of Aromatic Diffusers:
Discover the different types of aromatic diffusers to find the perfect one for your needs. Whether you prefer ceramic, cool-mist humidifiers, or innovative inhalers, there's a type of aromatic diffuser to suit your lifestyle and enhance your well-being.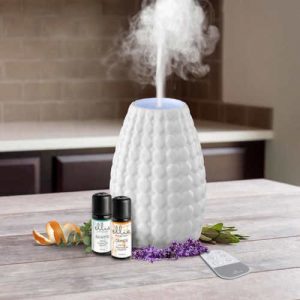 1. The All- In- One Master Class Ceramic Diffuser
You're sure to fall in love with the artistically crafted ceramic and wood, designed to enhance the elegance of the room by serving as a multi-functional product. It serves as a night lamp and also as an aromatic diffuser, not just that, it also functions as a white noise machine. Isn't that amazing?!
This beautiful diffuser gently lifts the aroma of Ellia Essential Oils into the air to help you reduce stress, boost mental clarity, and soothe your body and mind. Ellia Gaze Aromatherapy Ceramic Diffuser is a beautiful, functional centerpiece that adds natural style to your home.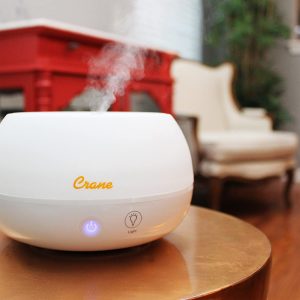 2. Cute and Cozy Cool-mist Humidifier
Did you know the sensation of dry throat arises due to the lack of moisture in the air? Here comes the solution, Cool mist air humidifier is the best remedy to cure any dry coughs or dry throat sensation. It is baby-friendly, as it runs whisper-quiet the entire night. Shhh…… Don't even read this loudly; you will wake up the baby!!
Anyway, It features an optional night light that softly glows, changing colors. The best part is, it's a perfect fit for a small room and holds up to 750ml of water.
3. Inhale to be Hale And Healthy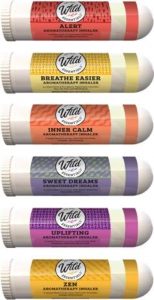 Have you heard about the revolutionary inhales that have taken over the market overnight, creating a must-have buzz all around? These inhalers are so in demand and have already bagged many great reviews. Wild Essentials Premium blend aromatherapy inhalers are 100% Pure Essential Oil Aromatherapy Inhalers made with 100% pure and natural, therapeutic-grade essential oils and are housed in a made-in-USA, high-density,
and medical-grade plastic shell. This will keep your blends safe and allow you to use your inhaler to help whenever you need it most!
These inhalers come in various aromas each one with a unique purpose. Inhalers for immunity booster is the best-selling among the other aromas like sleep dreams, breath easy, and Inner relaxation ZEN. The best part is they are easy to carry and can boost your mental health anywhere at any time!
4. The Best-in-Class Air Purifier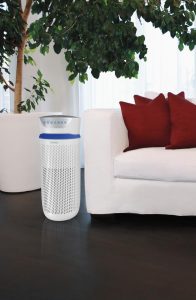 The HEPA filtration system of TotalClean Large Room Tower Best Air Purifier filters airborne particles as small as 0.3 microns. In addition, the built-in carbon filter will assist in removing odors. With 4 speeds, a night mode for uninterrupted use whilst you sleep, and replacement filter indicators, you can rely on the 5 parts within the purifier to leave you with a cleaner and fresher-smelling home. I guess I would need it the most in the kitchen, I forget something on the burner, and the pungent burnt smell is so unpleasant. Lucky for me, this purifier can also be used in the kitchen, a room air purifier can help remove cooking odors that tend to linger, like fish or bacon.
The best thing about this air purifier is:
The AP-T40 model cleans the air, removing allergens, dust, smoke, mold spores, and germs.
A built-in particle sensor monitors the indoor air quality and adjusts the speed as necessary.
The optional ionizer releases negative ions to help the purification process.
The carbon odor filter reduces unwanted odors and VOCs (Volatile Organic Compounds), while the UV-C light kills germs, bacteria, and viruses.
Advanced high technology runs for 12 hours and operates in a whisper-quiet night mode as well.
Wouldn't this be perfect to gift someone with pet owners? Gift me please, I would love it!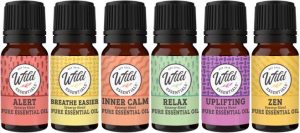 Wild variety packs made of 100% Pure Essential Oils, undiluted, quality essential oils that are distilled and bottled in the USA, are a great way to try many oils at a great price. Essential oils are highly concentrated natural extracts from the leaves, flowers, and stems of plants.
Each bottle is labeled with the exact essential oils used to create the blends, so they work best for their targeted use. Wild Essential Top 6 Single Note Oil Set comes with Eucalyptus, Lavender, Lemongrass, Orange Sweet, Peppermint, and Tea Tree.
Conclusion
In conclusion, the wide variety of aromatic diffusers that are currently offered has substantially improved the fields of aromatherapy and beauty. These five distinct diffuser types offer special ways to spread the healing and alluring aromas of essential oils. Each variety caters to individual preferences and needs.
My personal all-time favorite would be lavender as it eases my stressed nerves and helps me relax instantly. What is your favourite aroma??