Alpine WorkSafe Reusable Earplugs have been designed to protect the ears from annoying and harmful noises that we are regularly exposed to during work. The specially designed filter blocks damaging sounds whilst still allowing the wearer to be able to carry out a conversation and hear warning noises.
Play It Safe
At home or work, you must wear hearing protection during exposure to loud noise to protect your hearing.
This includes mowing the lawn, leaf blowing or using power tools.
Any extended exposure to noise that reaches a level of 85 decibels will cause permanent damage to the hair cells in the inner ear, leading to hearing loss.
Alpine WorkSafe Reusable Earplugs protect the ears against harmful and annoying noise during any form of work.
Alarms, alerts, warning noises and conversation can still be sufficiently heard.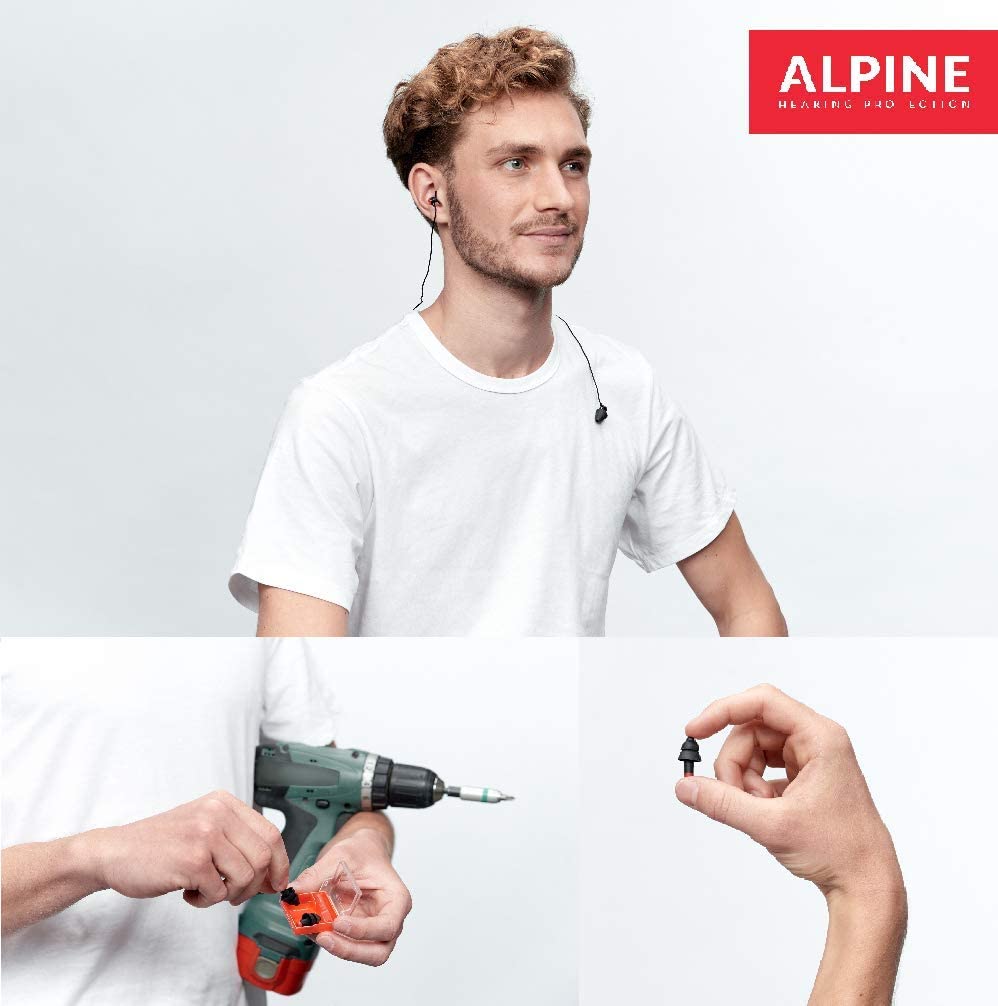 Perfect for every DIY enthusiast.
Alpine Worksafe reusable earplugs are just what you need to protect your ears for jobs at home such as lawn mowing or any use of power tools.
The ever-popular WorkSafe Ear Plugs now come with a longer tube to make positioning the plugs and removing them even easier than before. They have also been launched in the modern, on-trend, new black colour. Additionally, a convenient cord has been added to help ensure you don't lose your plugs when out and about.
The WorkSafe ear plugs are popular for a myriad of trades from commercial gardeners, and tree loppers to builders & industrial workers. The earplugs have a NRR of 20db. They are often preferred over soft foam earplugs as people find them more comfortable.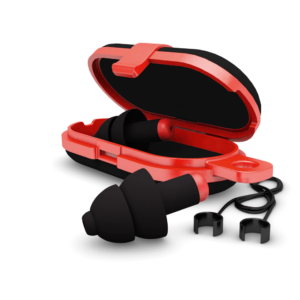 The patented open duct filters on these Alpine Worksafe will reduce the dangerous range of noises to a safe level but still allow you to hear kids running up behind you, traffic or the call for a well-earned drink break.
When inserted into the ear canal, the dual-flange silicone Alpine Thermo Shape (ATS™) material softens as it warms and adapts to the shape of your ear duct. This makes them extremely comfortable to wear for long periods of time.
Perfect for every DIY enthusiast, but also very suitable for use on the work floor.
Prevents hearing loss – Safeguards against noise-induced hearing loss
Easy to put in and take out, thanks to the extended stem
Comfortable – Can be worn all day
Easy wear (the extended stem allows easy insertion and removal).
Practical Strap – Helps to keep track of your earplugs, so you don't lose them
NRR 20db (Blocks 20db of harmful noise)
FREE Carry Case – Keep them on hand and clean when not in use.
SAVE MONEY – Employees reduce costs with reusable earplugs
Alpine WorkSafe Reusable Earplugs Features: 
Protect up to 27 dB
Warning signals and conversations can still be heard because of unique Alpine Acoustic Filters™
Easy to put in and take out because of prolonged stem
Extremely comfortable due to the soft Alpine Thermo Shape™ material
Can be worn throughout the day when working, engaging in DIY work
Convenient compact carrying case
With Alpine Carrying cord to prevent loss
No silicone
Reusable
Alpine WorkSafe Reusable Earplugs Contents
Two universal thermoplastic hearing protectors
Two acoustic filters
Alpine carrying cord
Plastic carrying case
Alpine insertion sleeve
| | | | | | | | | |
| --- | --- | --- | --- | --- | --- | --- | --- | --- |
| Frequency Hz | 63 | 125 | 250 | 500 | 1000 | 2000 | 4000 | 8000 |
| Mean Attenuation dB | 23,4 | 23,1 | 23,6 | 22,3 | 23,4 | 27,2 | 26,3 | 25,1 |
| Standard Deviation dB | 5,1 | 5,0 | 4,1 | 3,9 | 3,3 | 3,7 | 4,0 | 3,9 |
| Assumed Protection in dB (APV) | 18,3 | 18,1 | 19,5 | 18,4 | 20,1 | 23,5 | 22,3 | 21,1 |
EN 352-2: 2002 compliant
Nominal diameter: 9-12 mm
H=22 M=20 L=20
SNR=23
NNR=20,9-25,0
WINNER RED DOT AWARD 2015
Alpine WorkSafe Reusable Earplugs has won the Red Dot Award 2015 for the "high quality design and the innovative ability" of its latest earplugs!
Alpine is now permitted to use the coveted quality seal on the Worksafe Reusable Earplugs.
The hearing protectors will be put on display in the Red Dot Museum in Essen, among previous winners such as Audi, Apple, BMW and Philips.