Alpine PartyPlug Earplugs absorb the sound of the music, without reducing the quality of the music. With these earplugs, you can enjoy your favourite music at a concert, party, festival or other music events, while protecting your ears.
The high-quality AlpineAcoustic Filters in the PartyPlug earplugs tone down the volume of the music to a safe level, in doing so, preventing ringing ears!
The music experience and music quality remain very good. And in addition, you can still hear others talk. Because the filters are transparent, the earplugs are hardly visible in the ear. PartyPlug hearing protectors are made of the special AlpineThermoShape material. This material takes on the shape of the ear, giving the earplugs a perfect fit in the hearing canal, allowing them to stay put in the ear, and proving them to be extremely comfortable.
AlpineThermoShape is hypoallergenic, preventing itches in or around the ear. The earplugs can easily be worn all evening and night.
Earplugs for Festivals, Parties, Concerts & More…
Concerts
Parties
Nightclubs
Pubs
Musicians and roadies
Music Teachers and music students
DJ's
Film and TV production staff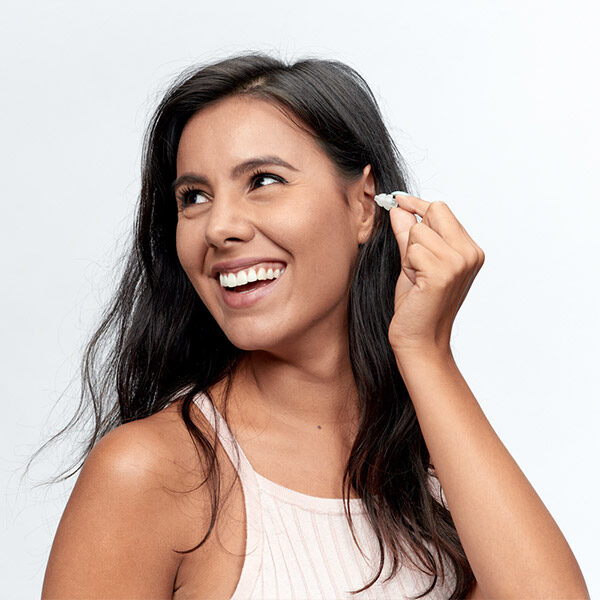 No More Ringing in Your Ears
The music experience and the quality of the music remain excellent and you will still be able to talk to people.
Had a great night out at a concert, nightclub or party but you still have a ringing in your ears? This is called Tinnitus. Next time why not try Alpine PartyPlug?
The patented open duct filters will keep music or noise at a safe level but still allow you to hear music or conversations without loss of clarity.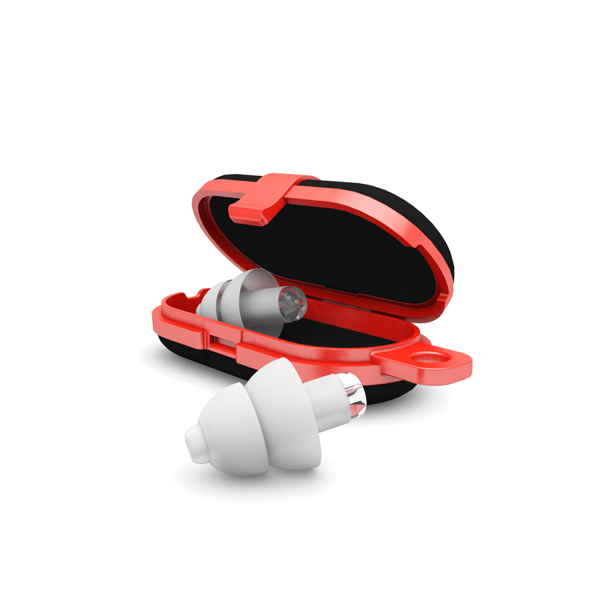 Alpine PartyPlug Earplugs Features:
Super Comfortable – Dual-flange silicone Alpine Thermo Shape (ATS™) material, when inserted inside ear canal, softens as it warms and adapts to the shape of your ear duct. This makes them extremely comfortable to wear for long periods of time
100% of Music Quality
Transparent – Hardly visible in the ear
Open duct filters will let you hear music without loss of clarity.
Can be trimmed to size so it does not protrude from the ear (see instructions inside the pack for details)
Durable storage case for earplugs and filters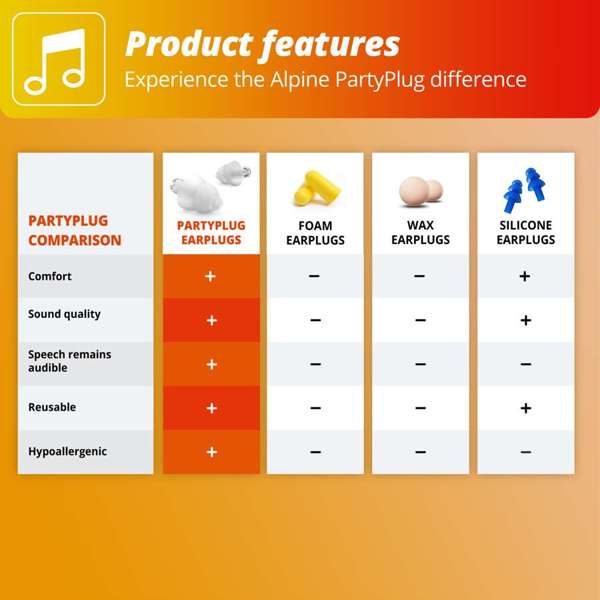 Revolutionary Earplug Model
Twenty years of experience have allowed Alpine to develop a revolutionary new earplug model with a noise filter, that filters out damaging sounds. The extremely well thought-out and extensively tested shape of the earplugs provides a perfect fit.
Conversations can still be heard
Perfect fit because of soft AlpineThermoShape™ material
No silicone
Hardly visible in the ear
Reusable

AlpineThermoShape™ Material – Very Comfortable
PartyPlug hearing protectors are made of special AlpineThermoShape material. This material adapts to the shape of the ears so that you always have the perfect level of noise attenuation. They are also very comfortable to wear.
There is no sense of isolation or external pressure on your ears. AlpineThermoShape is hypoallergenic. This means you will not experience itching in or around your ears, as is often the case with silicone earplugs: you can wear Alpine PartyPlugs the entire night.
Choose your Own Colour
You want to look good when you go out and you do not want your earplugs to be visible to everyone from a distance. You set a good example and you are proud of this. Just as well Alpine has ensured the earplugs are barely visible in your ears thanks to the transparent filters.
PartyPlug earplugs are available in four colours:
Barely Visible/Transparent
Trendy Black
Bright White
  Alpine PartyPlug Earplugs Contents
Two universal thermoplastic hearing protectors
Two acoustic filters
Luxurious Alpine travel case
Lifespan and Cleaning
The lifespan of the earplugs depends on the frequency of use. Keeping the earplugs clean will extend their lifespan. The earplugs can be cleaned with lukewarm water and soap.
Dutch Design
The design of the Alpine hearing protectors is an exclusive Dutch Design. All earplugs and filter systems are produced in the Netherlands.
Attenuation Values Alpine PartyPlug Earplugs
| | | | | | | | | |
| --- | --- | --- | --- | --- | --- | --- | --- | --- |
| Frequency Hz | 63 | 125 | 250 | 500 | 1000 | 2000 | 4000 | 8000 |
| Mean Attenuation dB | 8,8 | 10,3 | 13,2 | 16,6 | 20,6 | 25,4 | 25,2 | 19,2 |
| Standard Deviation dB | 4,4 | 3,3 | 3,0 | 2,4 | 2,8 | 3,0 | 5,0 | 4,1 |
| Assumed Protection in dB (APV) | 4,4 | 7,0 | 10,2 | 14,2 | 17,8 | 22,4 | 20,2 | 15,1 |
EN 352-2: 2002 compliant
Nominal diameter: 9-12 mm
H=19 M=17 L=12
SNR=19
NRR=16,5-21,5
PartyPlug earplugs absorb loud music and prevent ringing ears when going out, during concerts, festivals and other music events.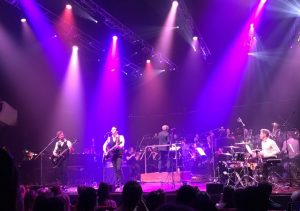 Winner Red Dot Award
Alpine Hearing Protection has won the Red Dot Award 2015 for the  "high-quality design and the innovative ability"  of its latest earplugs!
Alpine is now permitted to use the coveted quality seal on the Party Plugs.
The hearing protectors will be put on display in the Red Dot Museum in Essen, among previous winners such as Audi, Apple, BMW and Philips.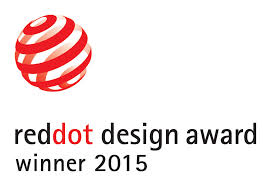 PartyPlug V's PartyPlug Pro Natural
Alpine PartyPlug Earplugs have a non-linear attenuation and the Party Plug Pro have linear attenuation. The Pro earplugs have special rectilinear Alpine Acoustic Filters that provide a very natural attenuation.  The music is attenuated equally at all frequencies.
This means that the music quality remains perfect and only the harmful sound is muted. It's like you've turned down the volume button.
Product Comparison
| | | |
| --- | --- | --- |
| | Alpine PartyPlug Earplugs | Alpine PartyPlug Pro Natural |
| Most suitable for | Festivals, concerts and going out | For the true music lover |
| Attenuation | Attenuates high, harmful frequencies more | Attenuates all frequencies virtually the same |
| Sound quality | Minimal distortion | No distortion |
| Attenuation Value (SNR) | 25 dB | 29 dB |
| Speech audibility | √ | √ |
| Soft, anti-allergic material | √ | √ |
| In various colours | √ | Only transparent |
| With Alpine Miniboxx | √ | No |
| With luxury Alpine pouch | No | √ |
| With Alpine Clean spray (5 ml) | No | √ |
| With carrying cord | N0 | √ |
Attenuation values Alpine PartyPlug Earplugs
| | | | | | | | | |
| --- | --- | --- | --- | --- | --- | --- | --- | --- |
| Frequency Hz | 63 | 125 | 250 | 500 | 1000 | 2000 | 4000 | 8000 |
| Mean Attenuation dB | 8,8 | 10,3 | 13,2 | 16,6 | 20,6 | 25,4 | 25,2 | 19,2 |
| Standard Deviation dB | 4,4 | 3,3 | 3,0 | 2,4 | 2,8 | 3,0 | 5,0 | 4,1 |
| Assumed Protection in dB (APV) | 4,4 | 7,0 | 10,2 | 14,2 | 17,8 | 22,4 | 20,2 | 15,1 |
Attenuation Data PartyPlug Pro Natural
| | | | | | | | | |
| --- | --- | --- | --- | --- | --- | --- | --- | --- |
| Frequency Hz | 63 | 125 | 250 | 500 | 1000 | 2000 | 4000 | 8000 |
| Mean Attenuation dB |  19,2 |  20,7 |  21,3 |  20,8 |  23,5 |  27,1 |  20,9 |  28,9 |
|  Standard Deviation dB |  3,9 |  2,8 |  3,3 |  3,6 |  3,9 |  4,7 |  3,7 |  6,4 |
|  Assumed Protection in dB (APV) |  14,9 |  17,9 |  18 |  17,2 |  19,6 |  22,4 |  17,2 |  22,5 |
For more information on Noise Reduction Rating (NRR) and Sound  please view our frequently asked questions