The next-generation noise isolating, wireless, Bluetooth earplug/earbuds hybrid, unlike any others!
Plugfones Liberate 2.0 are earplug headphones designed for hearing protection at work, home, play, and travel. 25db NRR-certified, comfortable earplugs with Bluetooth Liberate wireless stereo speaker headphones to play your favourite tunes.
Earplugs & Bluetooth Headphones All In One
In the late 2000s, we recognised a great need in many workplaces—people were required to wear hearing protection but wanted to listen to music simultaneously.
That's why we created Plugfones Liberate 2.0. We've combined comfortable, noise-reducing earplugs with high-quality audio speakers. The resulting hybrid provides the ultimate hearing protection + listening experience on the market.
The Most Unique & Effective Earplug Hybrid
The unique earplug tips surpass the quality of traditional earplugs and fit securely in your ear without falling out.
Unlike traditional earplugs, Plugfones Liberate 2.0 allow you to hear outside low-level noises while listening to music, audiobooks, or podcasts.
EARPLUGS WITH AUDIO:

We've combined comfortable, safety-rated earplugs with high-quality audio speakers to give you the ultimate hearing protection + listening experience

WHERE TO USE: Plugfones are ideal for loud activities like working out at the gym, DIY-ing in the workshop, shooting at the range, or travelling via motorcycle or plane

SAFE & SOUND: The Liberate 2.0 has ANSI-certified Noise Reduction Ratings (NRR) of 23 and 26 dB, meets NIOSH criteria, and is OSHA compliant when used with OSHA regulations

ENGINEERED TO LAST: The Liberate 2.0 features a flexible, durable wire casing + a 180-day manufacturer's warranty

WHAT'S INCLUDED: Liberate 2.0 wireless Bluetooth earplugs with audio, two pairs of ComforTwist™ Foam Plugs, two pairs of ComfortTiered™ Silicone Plugs, nylon zipper case, cable management clip, Micro USB to the USB charging cable, and quick start guide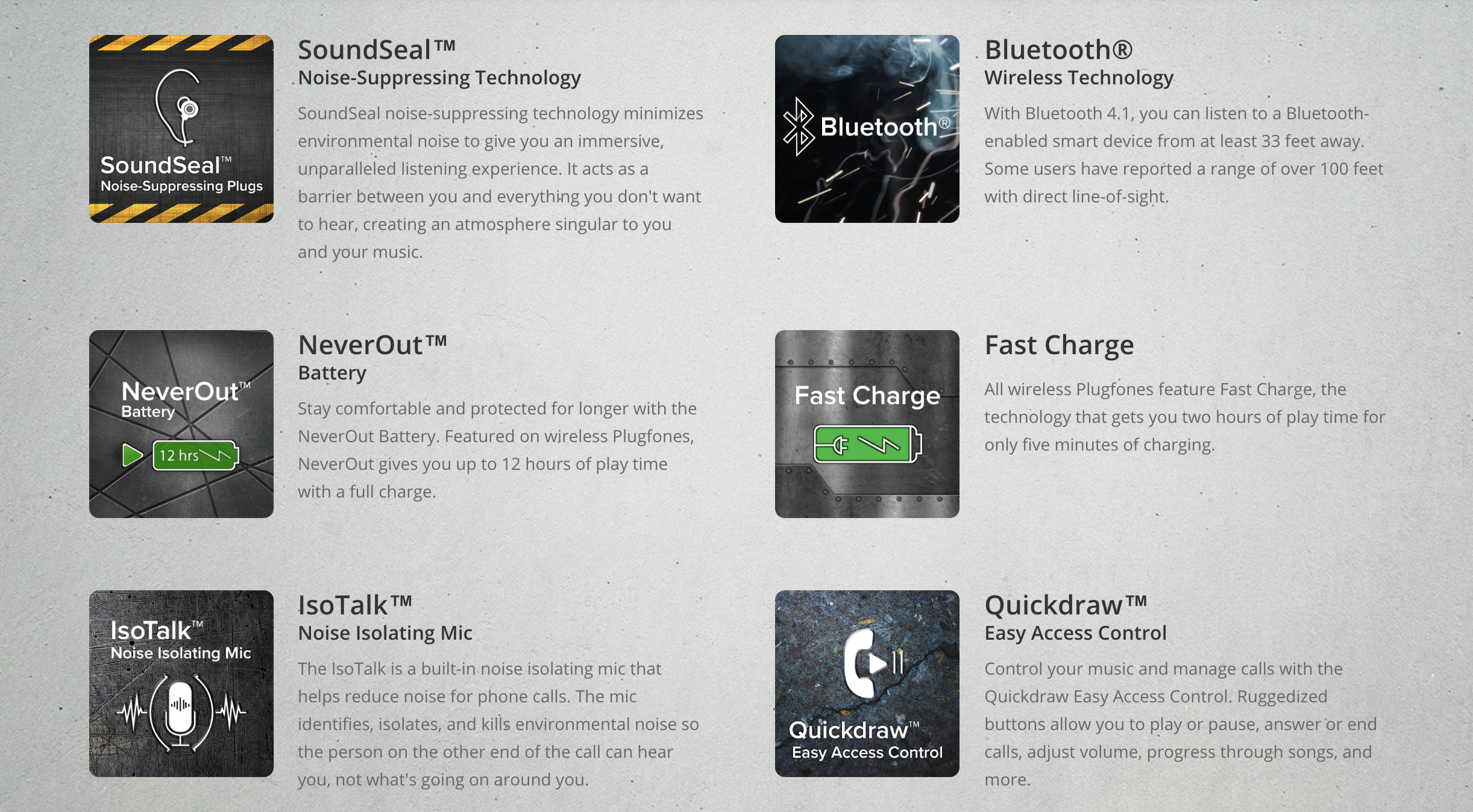 Plugfones offer four main benefits over traditional earplugs:
In-ear noise reduction: You get the same silicone or foam earplugs to protect hearing + music! Plugfones have certified Noise Reduction Ratings (NRR) of 23 dB and 26 dB, depending on the plugs used.
Sound: Plugfones help make work enjoyable by allowing you to listen to what you want rather than your noisy environment. Almost all Plugfones models feature tuned speakers that emit fuller, more dynamic sound to complete your listening experience.
Comfort: Comfort is key to choosing earplugs. Our earplug-earbud hybrids are designed to fit all ear types, keep you irritation-free, and be worn for hours at a time. Our soft foam and silicone earplugs are interchangeable and can be replaced when they become dirty or worn out.
Innovation: Traditional earplugs are boring. Plugfones solve both issues of workplace boredom and the need for safety compliance in the workplace. Plugfones Liberate 2.0 help protect workers from hazardous noise levels while boosting their productivity and morale.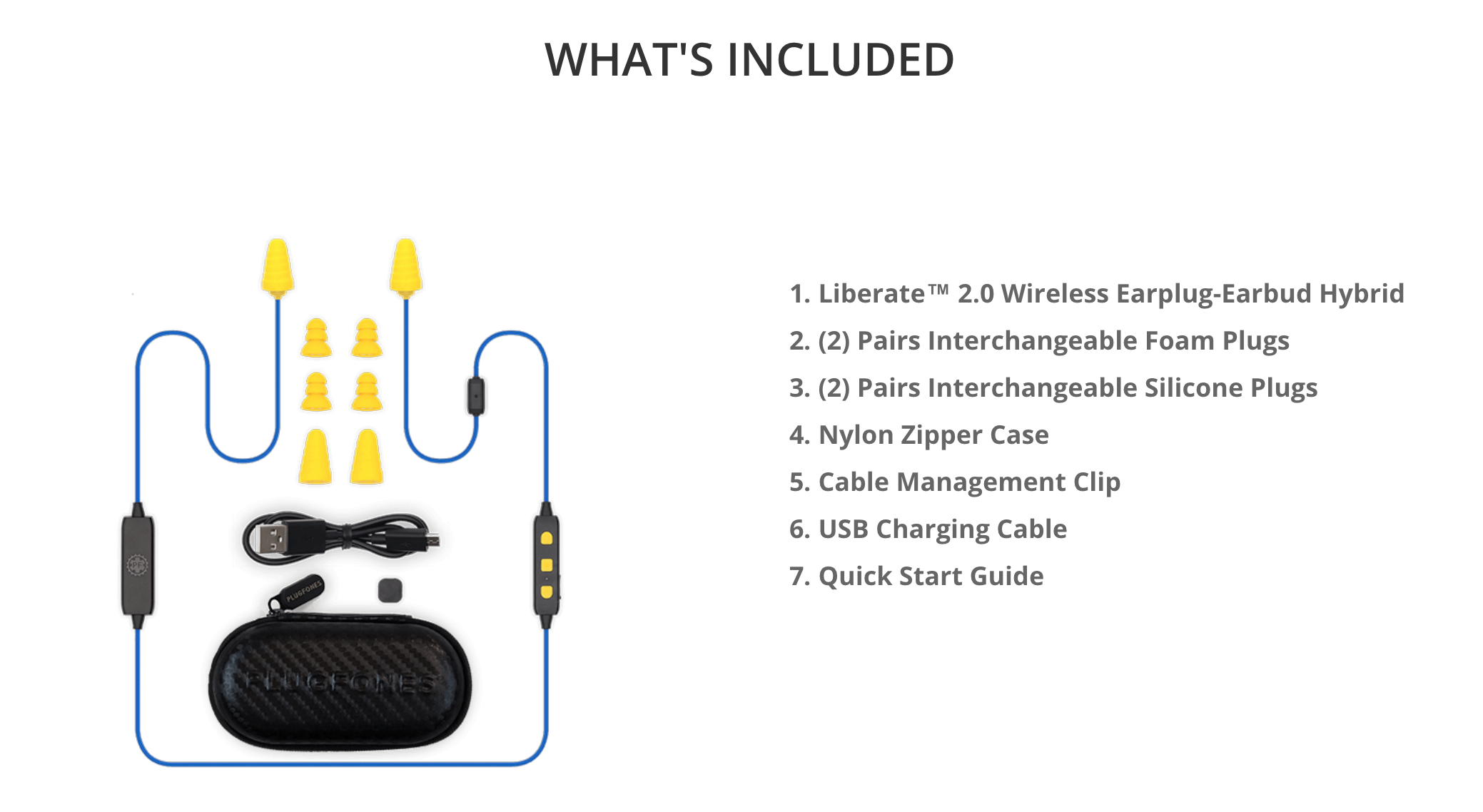 Features
SoundSeal™ Noise-Suppressing Technology
Interchangeable ComforTwist™ Foam Plugs with Noise Reduction Rating of 23 DB
Interchangeable ComforTiered™ Silicone Plugs with Noise Reduction Rating of 26 DB
Bluetooth® 4.1 Wireless Technology
Never Out™ Battery – Up to 12 Hours of Play
Fast Charge
IsoTalk™ Noise Isolating Mic
Quickdraw™ Easy Access Control
Tuned Speaker
Sweat-Resistant
Independently Tested and Compliant With ANSI S3.19-1974 Noise Reduction Standards as Certified by Michael & Associates, Inc.
Unique Patent Pending Design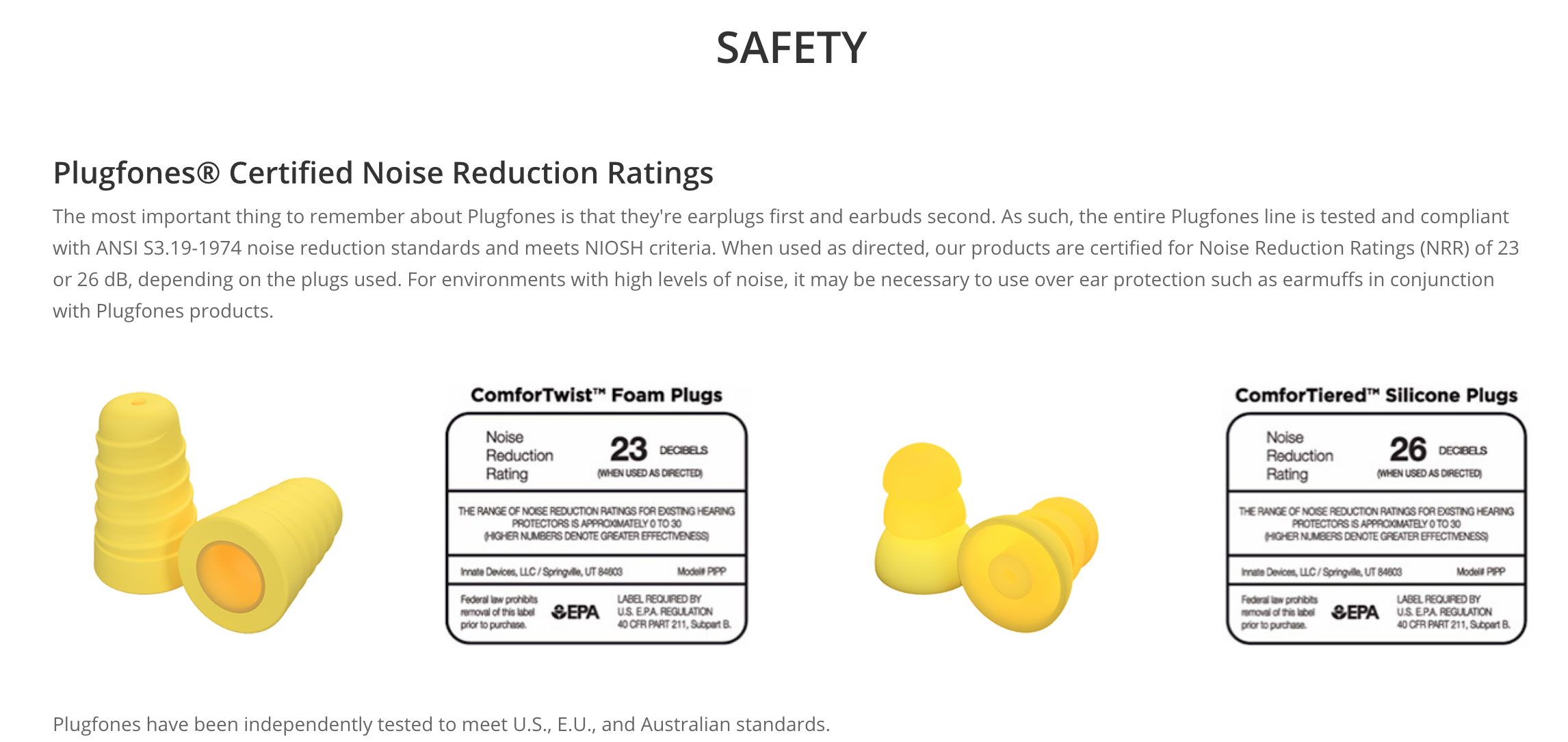 BLUETOOTH COMPATIBLE Features Bluetooth 4.0 antenna
SWEAT RESISTANT – Great For Working Out or Being at Work
NOISE REDUCING MIC – In-Built Mic – Take Phone Calls on the Go!
EASY CONTROLS – Universal Button for Power On/Off, Play/Pause, Answer/End Call
VOLUME CONTROL – And Song Progression
WATER RESISTANT CHARGER – USB Charging Connector
BATTERY LIFE – Up to 12 Hours
LIGHTWEIGHT – 120 Grams (total weight)
HANDSFREE – Totally Handsfree Compatible with all IOS & Android Bluetooth Devices
ANSI CERTIFIED NRR (Noise Reduction Rating) of 26db
REPLACEABLE TIPS – Interchangeable Silicone and Soft Foam Tips
COMFORTABLE – Designed as Earplugs first & headphones second – Your ears won't fatigue after wearing these for hours
CARRY CASE -Water Resistant Carry Case
Earplugs With Music
WORK
GARDENING
GYM
FLYING
TRAIN/BUS COMMUTE
SNORING PARTNER
FACTORY
MOTORCYCLE RIDING
MOWING THE LAWN
ANY LOUD ENVIRONMENT
CHILLAXING
Enjoy the spoils of an earplug without going insane. Beyond streaming music, take incoming calls without having to expose your ears to unsafe levels of loudness, even for a moment.
Replaceable Tips
Plugfones Liberate 2.0 is designed to be worn for extended periods. As such, they've been designed for the earplug tips to be user-replaceable.
Four sets of tips (two silicone and two foam sets) are included with each Plugfones Liberate 2.0 Bluetooth Earplug Headphone Set.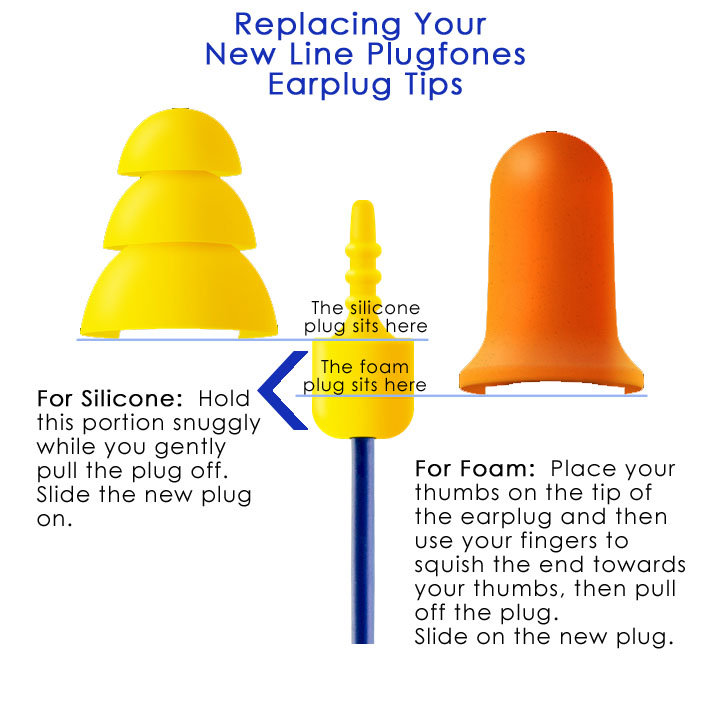 Totally Handsfree
Plugfones Liberate is ear plugs and Bluetooth headphones all in one. Plugfones Liberate 2.0 feature a replaceable tip design to keep them new, fresh & clean, unlike other headphones.
Featuring a noise-reducing microphone for phone calls, the person on the other end of the call can hear you but not the surrounding noise.
Each Plugfones Liberate 2.0 headset has a Bluetooth 4.0 antenna, a fully sweat-proof design, and a noise-reducing inline microphone for voice calls.
Complete with ruggedised play/pause, volume up, volume down and song progression buttons.
The handy USB charging connector is water-resistant.
You can expect the battery to last 8 hours on a full charge, enabling you to easily get through extended shifts without having to source power.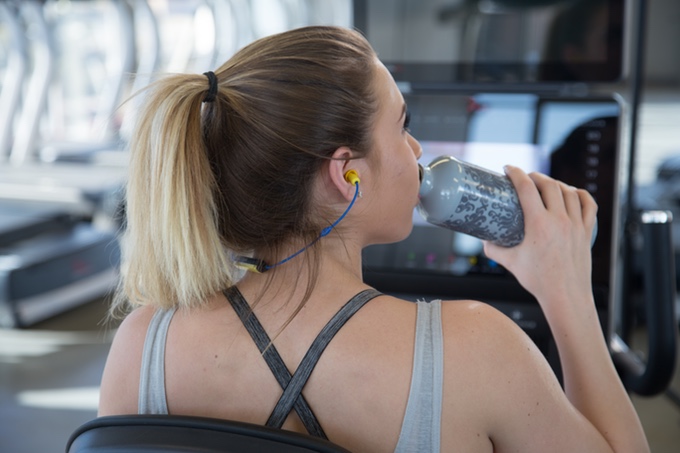 Questions & Answers
Q: Do Plugfones Liberate 2.0 provide caller ID on incoming calls? 
A: Yes, the headphones read off the phone number of the incoming call. They will tell you what number is calling, but not the name in your contacts.
Q: 

So can you answer incoming calls as well?
A: Yes, the Plugfones Liberate 2.0 allows you to answer or reject incoming calls with the buttons on the Quickdraw Easy Access Control. You simply press the centre button.
Q: 

Can you use these for 2-way radio communication? We have walkie-talkies at work with single ear over speaker
A: 
Yes, if the radio is Bluetooth compatible.
Q: How long does the battery last?

A: The NeverOut Battery gives you up to 12 hours of playtime with a full charge. 
Q: Are Plugfones Liberate 2.0 sweatproof
Q: Are they compatible with Pixel 2
A: Yes, they are compatible with all Bluetooth devices
Q: 

What has improved/changed since the 1.0 version?
A: Plugfones Liberate 2.0 is much improved over the previous generation. The 2.0 features Bluetooth® 4.1 with a longer range, an improved battery life of 12 hours on a single charge, a micro USB to USB charging cable rather than a charging dock, a better noise-isolating mic, and more tactile buttons on the control module.
Q: How far can you be away from your phone with the device near you?
A: Bluetooth® technology is rated for a distance of 33 feet/10m, but some of our customers have reported a range of over 100 feet/30m with direct line-of-sight.
Q: I have an iPhone, and I am accustomed to using Siri to make calls. Can you make outgoing calls using the buttons on the cord?
A: Yes, you can activate Siri by holding the centre multifunction button on the unit for 4 seconds.
Specifications
Length: 34″
Weight: 0.6 ounces (16 grams)
Speaker Type: Tuned