This soft padded, natural bamboo eye mask, is handmade using fully breathable material to gently rests over your eyes to help you achieve the ultimate in relaxation.
This masks slimline profile makes it extremely lightweight and super comfortable.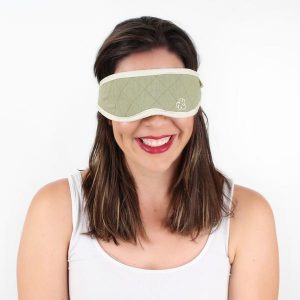 Why this Bamboo Sleep Mask is so GREAT!
Hypoallergenic: Smooth, soft and silky to touch and makes for the perfect answer for anyone with sensitive skin or who suffers from allergic skin reactions.
Comfortable & Breathable: Bamboo is a natural fibre that helps to keep you cool in warmer weather and warm in cooler weather being 60% more absorbing of water than cotton.
Anti Bacterial and Antifungal: Bamboo sleep masks remain fresh and without odour even after multiple washes
Biodegradable & Renewable Resource:  Bamboo is a natural, fast-growing plant, which requires less than half the amount of water that trees do to survive and produces 35% more oxygen.
Bamboo is not just for Pandas!
No longer is bamboo just the beautiful pandas favorite food. Bamboo has fast flourished with the times and peoples demands for a greener environment.
In just a few short years bamboo has become the hot topic of conversation for many.
We see it being used more and more every day for everything from bedding, to furniture to clothing, to flooring and now Sleep Masks!
What is Bamboo Fabric?
The leaves and the soft inside pith of the hard bamboo stem are crushed into a pulp to make bamboo fibre. This fibre is then spun into a silky, soft yarn which is used to make fabric.
Bamboo fabric absorbs moisture away from the skin but does not absorb odour, which means it keeps your skin dry and comfortable in warm conditions.
Mask Fastener
Mask secures around the head with a soft, wide single elastic band