Whether you stare at a screen all day, suffer from headaches and migraines, or struggle to fall asleep, Therabody Smart Goggles keep you moving throughout your day and help you rest at night. Slip them on to help ease facial tension, relieve eye strain, decrease headache pain and calm your body and mind.
Using our exclusive Smartsense Technology™, the SmartRelax mode measures your heart rate to personalize your experience. Our Focus and Sleep modes use a combination of heat, vibration, and massage to help with concentration and rest. Pair Therabody Smart Goggles with the Therabody app for a multi-sensory experience that supports sleep, focus, relaxation and more.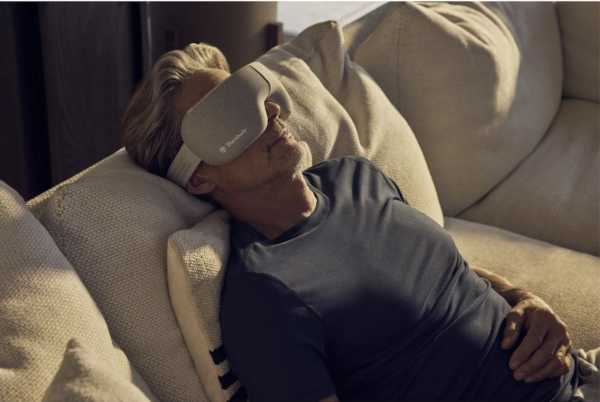 Feel better through the day – Sleep better through the night
Key Features
SmartSense Technology™ powers SmartRelax mode to physically lower your heart rate and help reduce stress and anxiety. Use the Therabody app with SmartRelax mode to track your results
Multiple modalities–vibration, massage, heat–tailored to provide relaxation for the eyes and face and relief for headaches and migraines
3 modes: Focus, SmartRelax and Sleep for custom mind and body wellness
Portable, foldable design for relaxation wherever you go
Designed for use with the Therabdody app to deliver an integrated holistic wellness solution
SmartGoggles physical benefits with Therabody's performance-enhancing audio content
Therabody Smart Goggles
Tap into better rest with heat, vibration, and massage, intelligently customized to your unique biometrics.
Smart Relax
Melt away stress and anxiety with personalized vibration patterns designed to lower your heart rate.
SmartRelax Mode is a clinically-proven, natural way to reduce anxiety and stress — when you need it most. Using our exclusive SmartSense Technology™, a biometric sensor analyzes your pulse and customizes unique vibration patterns to lower your heart rate to a more relaxed state.
Focus Mode
Release tension and relieve eye strain with a proven combination of vibration and heat.
Whether you're worn down from hours staring at a screen or just need a minute to reset — press pause. Focus Mode combines a vibration pattern designed to release tension between the eyebrows with restorative heat to relieve eye strain. So you can zero in on your next project with fresh eyes and a clear mind.
Drift into a more restful sleep with a relaxing temple massage.
For stressful days and restless nights, Sleep Mode is a safe, natural way to help you fall asleep faster and sleep better. A gentle massage delivers slow-wave vibrations to the temples, clinically proven to promote sleepiness.
What are Therabody Smart Goggles?
Smart Goggles is an intelligent wearable that combines vibration, massage and heat to help relax your eyes and face to ease mental stress and reduce/ease discomfort related to headaches and migraines. Our proprietary SmartSense Technology™ is backed by science to help you relax and fall asleep faster.
What is Smart Sense Technology?
A proprietary technology that uses your biometric data to optimize your experience. The SmartRelax mode uses personalized vibration to lower your heart rate.
Can Smart Goggles help with Anxiety?
SmartSense Technology™ powers SmartRelax mode to slow your heart rate and reduce stress and anxiety with trackable results in the Therabody app. Also, Therabody Smart Goggles may induce relaxation and support restful sleep, which may positively affect mental well-being and improve mood, which can help in the management of anxiety.
Control Via an App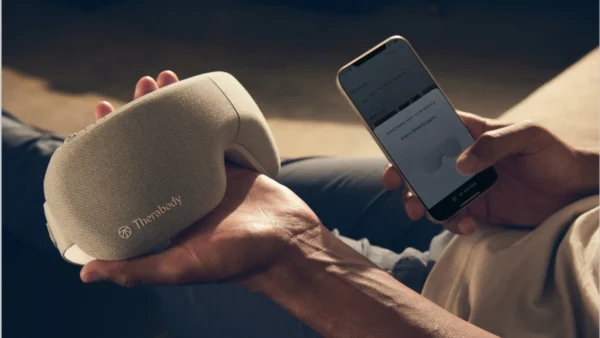 Sync the mind and body
Immerse yourself into a world of science-backed audio tracks that help you stay focused, increase relaxation, and fall asleep. Launched exclusively with SmartGoggles in the Therabody App.
What's Included
SmartGoggles device
Soft case
USB-A to USB-C charging cable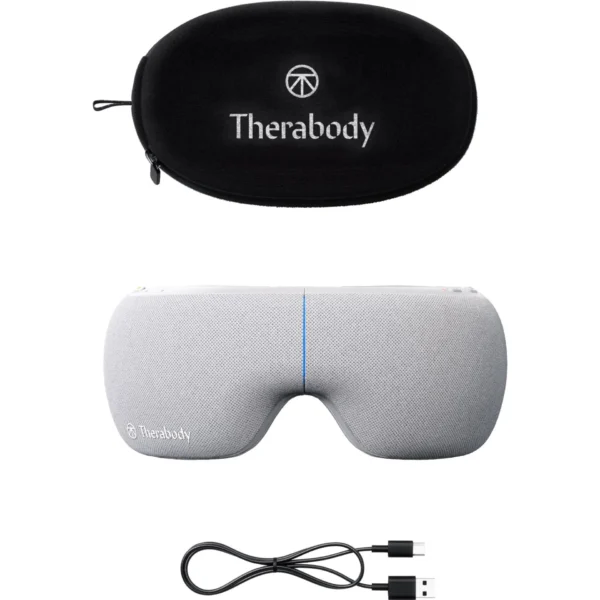 Dimensions
95 mm across when folded
210 mm x 120 mm when in use
Weight
420 g
Size
One size fits all
Battery Life
150 minutes depending on the mode
Material
Front and Interior panels: Protein leather fabric
Strap: Cotton fabric
Warranty
1-year limited warranty