The Oscimed Anti Snoring Belt is a great solution for snoring and positional apnea! Most snorers snore more when they sleep on their backs. In this position, the tongue moves back and obstructs the airway.
How Does it Work?
The Anti-Snoring Electronic Belt is a sleep trainer for positional snoring and apnea. It is ideal for individuals who need a comfortable and natural solution to stop snoring.
The belt consists of an intelligent electronic learning device and a comfortable chest belt. The device emits a vibration that informs the user when he is sleeping on his back. When the user is alerted, he or she can turn on his or her side, thus stopping the vibrations and snoring. After only a few nights, the side position will be adopted naturally.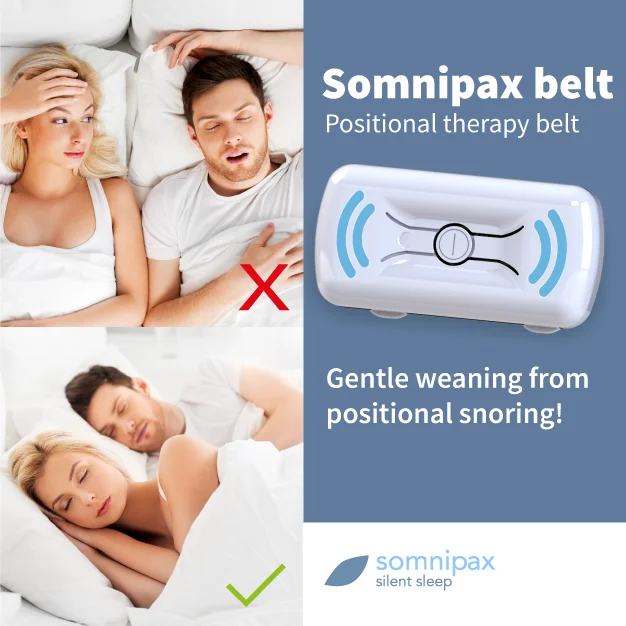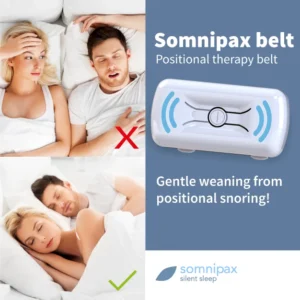 What is Positional Sleep Therapy?
Positional therapy is an intervention that helps to keep the person on their side during sleep.
Studies have shown that approximately 80% of people suffering from mild to moderate snoring find positional therapy an effective treatment against snoring.
Positional sleep apnea is present in over 50% of cases and impacts millions of people worldwide. This can lead to severe health consequences including increased chances of heart failure.
Sleeping on your side allows the airway to stay open and clear.
Benefits of this Device
• Trains patients to sleep in healthy positions comfortably
• This smart belt is worn to gently remind the user to turn on their sides when lying on their back through soft vibrations.
• Clinically proven to be effective
• Comfortable and easy to wear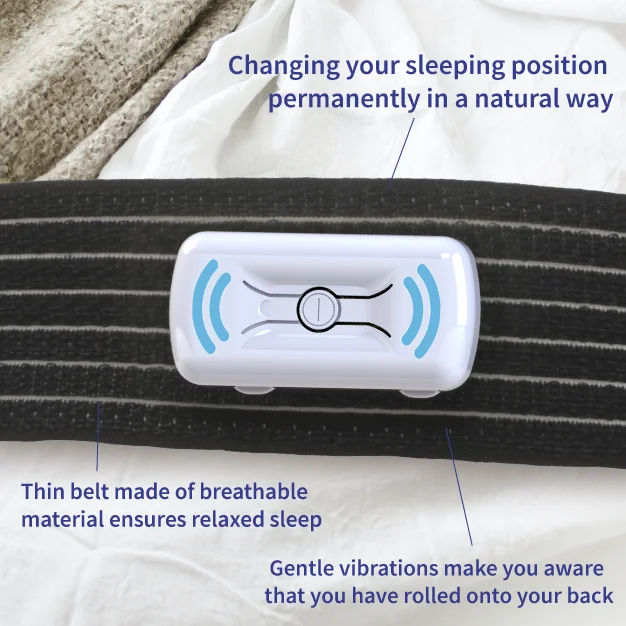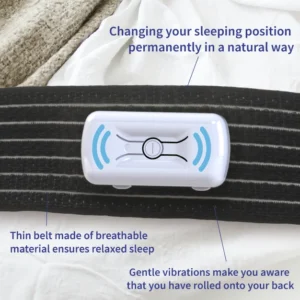 Features
Solution for snoring and positional sleep apnea (POSA)
It helps you to sleep on your side
Adjustable belt and vibration intensity – The intensity of vibrations can easily be adjusted for comfort
Different sizes available: S/M/L and XL/XXL
Not suitable for people with a pacemaker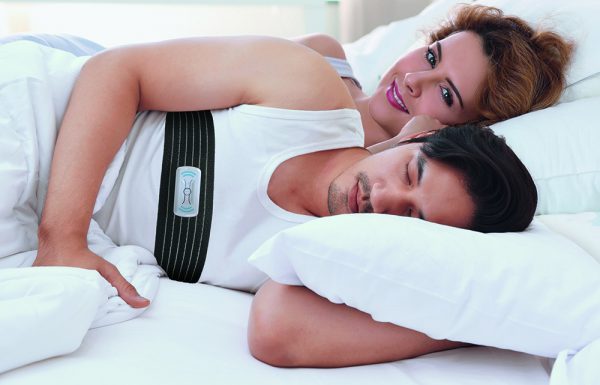 Who is OSCIMED Anti Snoring Belt suitable for?
For people who snore and for sleep apnea patients who mainly suffer from apnea when they sleep on their back (positional obstructive sleep apnea or POSA).
Please note: this product is not suitable for people with a pacemaker.
Stop Snoring
Snoring is most likely to happen if you sleep on your back. The posterior (soft) parts of the throat will drop partially. This causes snoring sounds that will disturb not only your night rest (you'll feel tired during the day), but also the night rest of your partner. The OSCIMED anti-snoring belt helps you to sleep on your side or your stomach. The device produces vibrations when you turn on your back. These vibrations continue briefly until you turn on your side or belly.

Suitable for Positional Sleep Apnea (POSA)
It is possible that you only – or especially – suffer from apnea when you sleep on your back. When your breathing stops twice more often when sleeping on the back than in other sleep positions, you suffer from positional obstructive sleep apnea. This type of sleep apnea (often abbreviated to POSA) causes the tongue to obstruct the airways. The OSCIMED anti snoring belt is a perfect solution to this problem and helps you to adopt another sleep position. Do you also suffer from apnea when you sleep on your side? Or do you suffer from severe sleep apnea? Then you'll probably benefit from CPAP therapy.
Adjustable Intensity
The anti-snoring belt is easy to use. By pressing the middle button, you can easily adjust the vibration intensity. A high(er) intensity level is recommended for corpulent persons or people who sleep very deeply.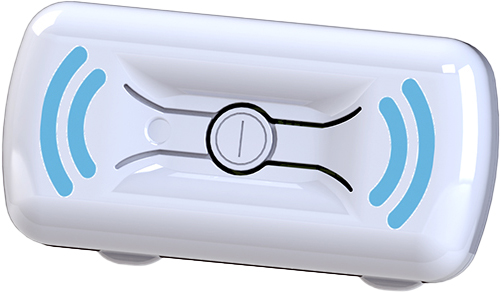 Easy to Fit
Fit the device onto the belt and fit the belt on your chest or hip. If you prefer, you can also put the device over your pyjamas or underwear. It's up to you!
Adjustable Size
The belt is easily adjustable with velcro and available in different sizes. Size is suitable for people with a chest circumference between 100 and 125cm. The anti snoring belt is made of breathable fabric that prevents perspiration. Perfect if you suffer from night sweats.
Size Guide
Chest circumference
S/M/L: 70 – 100 cm
XL/XXL: 100 – 125 cm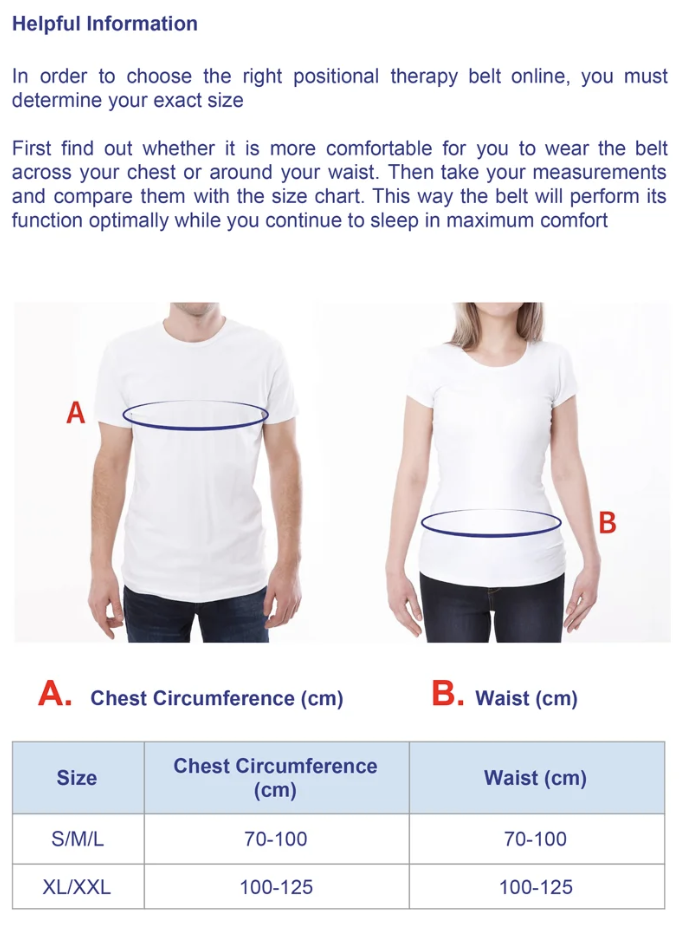 Easy to Clean
It is recommended to clean the anti snoring belt device regularly with a damp cloth. Never rinse it under the tap, and never lay it in water! The fabric belt can be hand-washed.
What's included
Intelligent Snoring and Positional Sleep Apnea Device
Adjustable Anto Snoring Belt
Two adjustable Fixing Clips
2 AAA Batteries
Instructions for Use
Reviews
I was diagnosed with borderline severe sleep apnea. I was going through a trial period with a CPAP machine and various masks and it was not an easy adjustment or a very pleasant experience at all. I decided to also explore alternatives and devices that could lessen the severity of my sleep apnea condition. I have recommended this to friends and family who also suffer from sleep apnea.
While trying the Oscimed anti snoring belt I was hooked up to a device to measure my oxygen level and heart rate. The overnight results after wearing the snoring belt were quite astounding. The diagnosis was now mild sleep apnea with a much-lessened health risk and the CPAP machine option was no longer a recommendation. Wearing the belt while sleeping was not that difficult an adjustment – much more preferable than a CPAP machine with the mask and hoses.
Dean 
This works! It is comfortable to use. After trying several ways to keep me on my side while I was sleeping, this anti snoring belt was the only thing that worked. No more sleeping on my back and that stopped my snoring.
Katherine
I tried many products some bought and some my wife made me without success, I often still ended up on my back at some point in the night and always woke up with my back very sore. Finally, with this anti snoring belt, I found success. It is very well made and quite comfortable, I stay on my side and I don't even feel it on and in the morning when I wake up my back is fine no back pain like everything else I tried. So happy to have found it.
Robert