No nappy bag should be without the Serenity Portable White Noise Machine.
Serenity takes the hassle out of providing busy parents with an easy solution when it comes to helping their little ones get off to sleep. This portable white noise machine is designed to help your little one drift off and stay asleep anywhere, anytime, so you'll no longer have to worry about naptime battles on adventures out and about.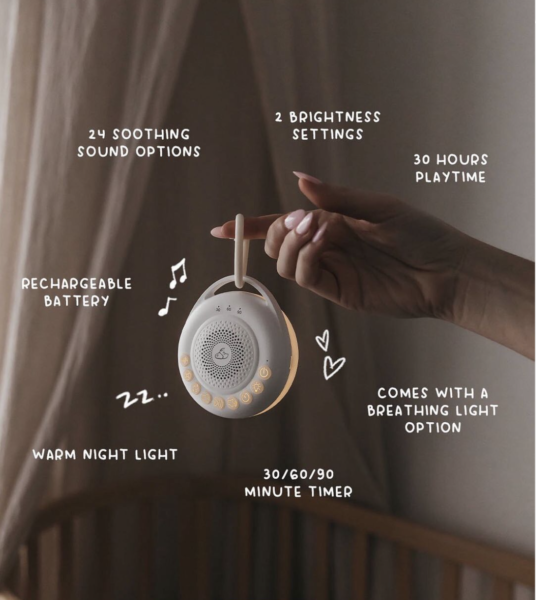 Offering 24 kinds of white noise mixed with pink noise, natural sounds and fan sounds, including heartbeat, ocean, rain, stream and more.- perfect for both children and adults – Serenity clips onto the pram, car seat or cot so your crowd can have better quality sleeps as you travel from place to place.
The white noise helps provide comfort as it masks environmental or outside noises which can interrupt a peaceful sleep. Whilst its dimmable nightlight gives everyone peace of mind that all is well in the dark – ideal for nighttime changes and feeding.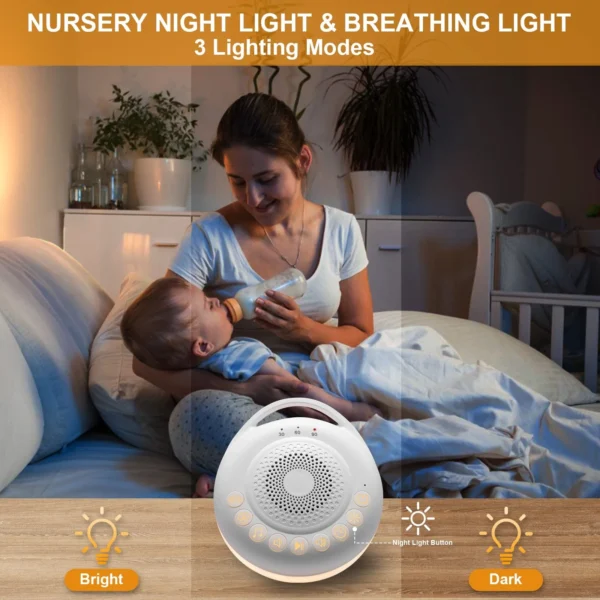 Portable for On the Go
Travelling with babies can be tough when they wake up easily and struggle to get back to sleep, but the Serenity Portable White Noise Machine is here to help! This versatile machine is designed for convenience, giving parents peace of mind when baby needs a nap away from home.
Whether it's daycare, Grandma's house, the car or a holiday trip – this Portable White Noise Machine for babies will be there to soothe baby back into slumber. This sound machine is battery or USB adaptor operated. Easy to take along wherever you may roam and easy to use, it'll make any tired parent's life just that bit easier.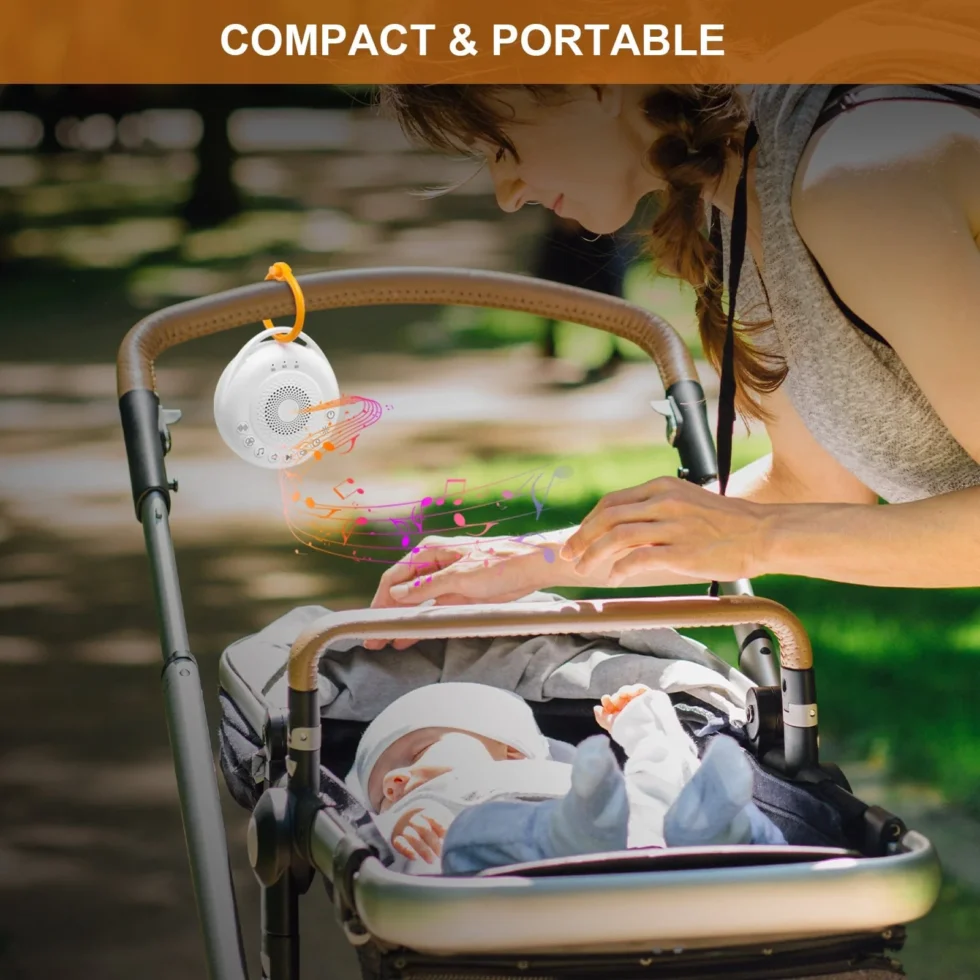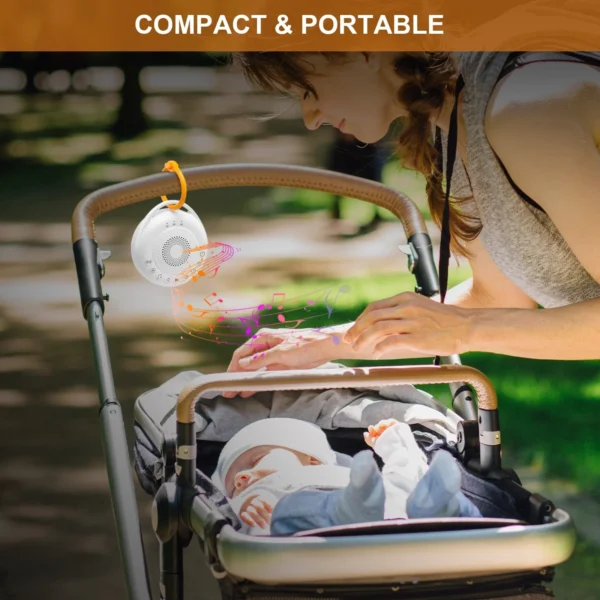 What is White Noise
White noise, by the technical definition, is a consistent noise that comes out evenly across all hearable frequencies. White noise is just an equal amount at every frequency, from low to high, that a human being can hear.
When a noise wakes you up in the night, it's not the noise itself that wakes you up, per se, but the sudden change or inconsistencies in noise that jars you from your slumber. White noise creates a masking effect, blocking out those sudden changes that frustrate light sleepers, or people trying to fall asleep.
"The simple version is that hearing still works while you're asleep," says Seth S. Horowitz, a neuroscientist and author of The Universal Sense:
Serenity Features
24 Unique White noise, Fan and Natural Sounds

3 Nightlight Settings, Perfect for night feeds & changes

Optional timer of 30, 60 or 90 minutes (or continuous) 

Built-in Rechargeable Battery with USB Plug included. 

Comes with a Loop Clip that you can pop onto your Pram, Nappy bag or Cot
Small, Sleek and Stylish Functional Design

Portable & Lightweight

Upward-facing speakers for full-room sound

User friendly and can be operated with one hand

One Year Warranty

Best Portable White Noise Machine
Our classic, best-selling portable white noise machine, offers white, pink and brown noises, plus nature, fan sounds & lullabies for masking disruptive noise while you're sleeping or working. They're all unique, digitally synthesised and non-looping. Equipped with a sleep timer, and night light, our sleep therapy machine comes loaded with options for every sound masking situation. 
Serenitys non-repeating white noise and fan sounds are dynamically generated using an algorithm that creates a truly random sound. Other white noise machines use looping sound clips that wake up your brain, while others use actual fans that can't get loud enough to block out anything. Serenity portable white noise machine has an adjustable volume control to mask all levels of noise and a timer for those daytime naps.
The sustainable Serenity sound machine will work unpowered for 10-20 hours depending on the level of light and sound that is used. 
The Most Versatile Portable White Noise Machine
The Serenity is ideal for:
Relaxation
Study
Speech Privacy
Anywhere that you want to control your sound environment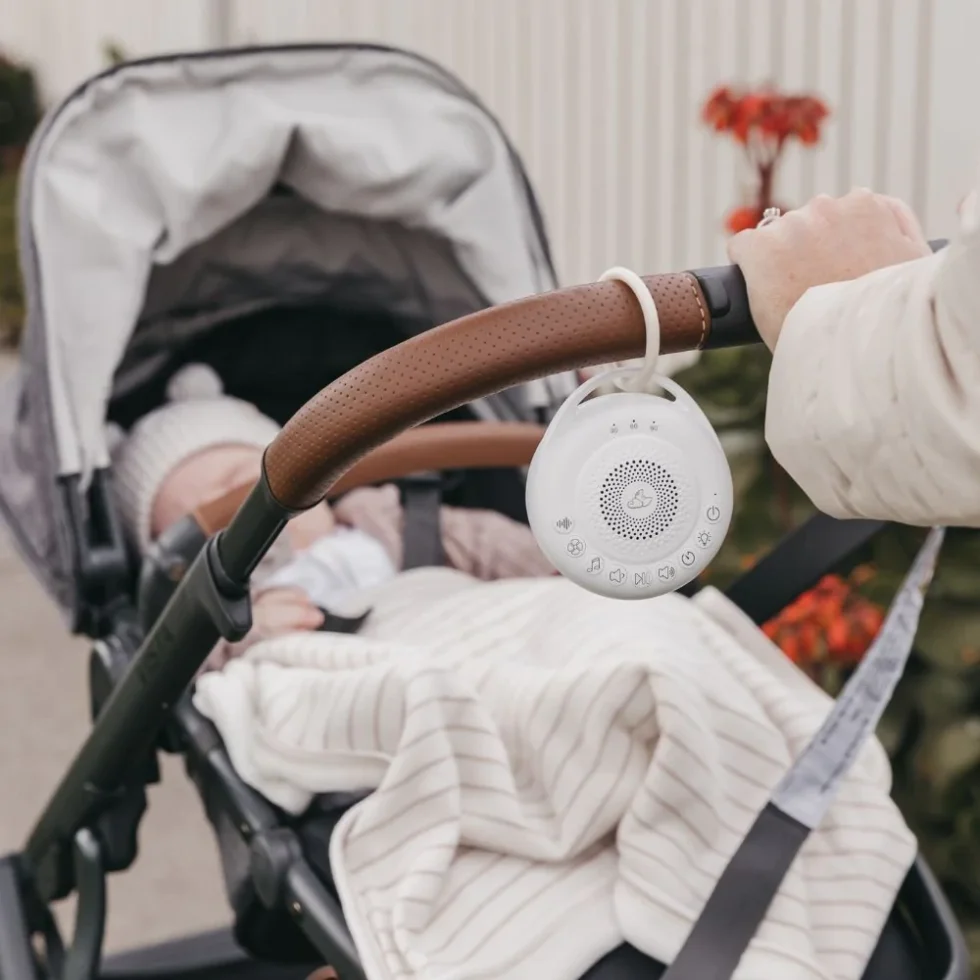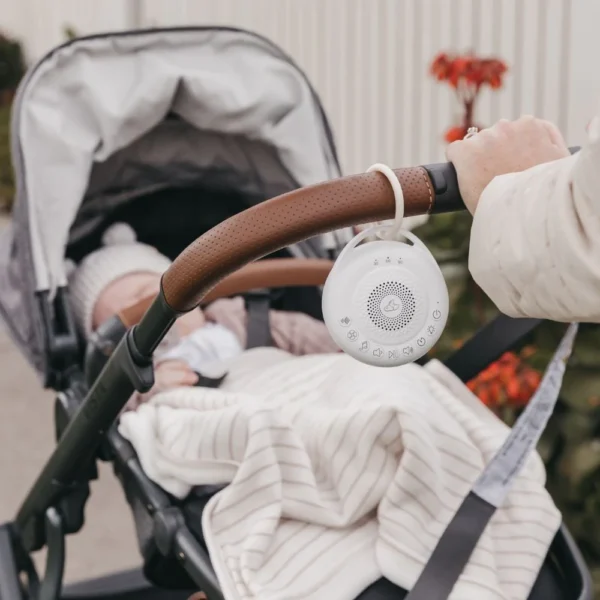 Set your Serenity to power off once you have drifted off. The Serenity has an auto-off timer for added convenience. Not only will it turn off after 15, 30 or 60 minutes  – it also remembers the last volume setting and tone selection for when you turn it back on! Now there's no excuse for restless nights; blissful sleep is just around the corner.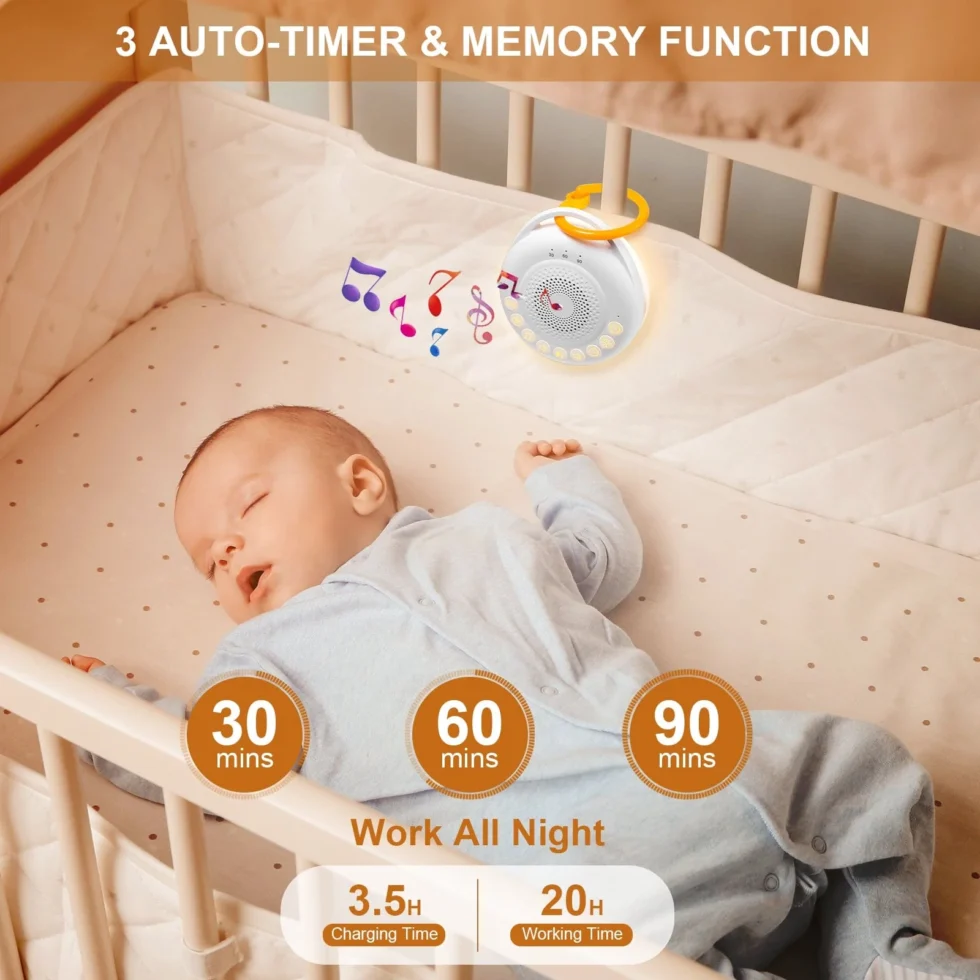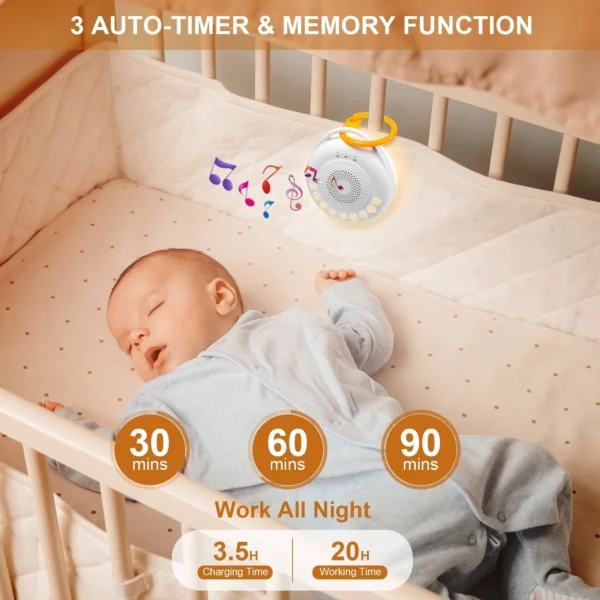 Twenty Four Unique Digital Sounds
What are all the sounds included?
Five different White noise, pink noise, and brown noise Sounds. Five Nature sounds include Forest/Birds, Water/Stream, Ocean/Waves, Rain & Fire. Five different sounds for baby – three different lullabies, heartbeat/womb and shushing. Plus seven different fan sounds!
This sound machine is compact and portable, not only good for bub but making it the perfect white noise device to take with you on your next business trip, vacation, or family adventure.