Looking for the ideal white noise machine for babies? Help soothe your baby to sleep with the lul of Yogasleep Hushh Portable White Noise Machine. This machine is designed to mask all other unwanted noise, making it the perfect bedtime companion for your little one.
With two different modes and three sound options, you can customize the perfect soundscape to help baby fall asleep and stay asleep the night through.
Plus, the portable design means you can take it with you on trips or anywhere else you need a little extra help getting baby to sleep. Help your little one get the best night's sleep possible with the Yogasleep Hushh Portable White Noise Machine.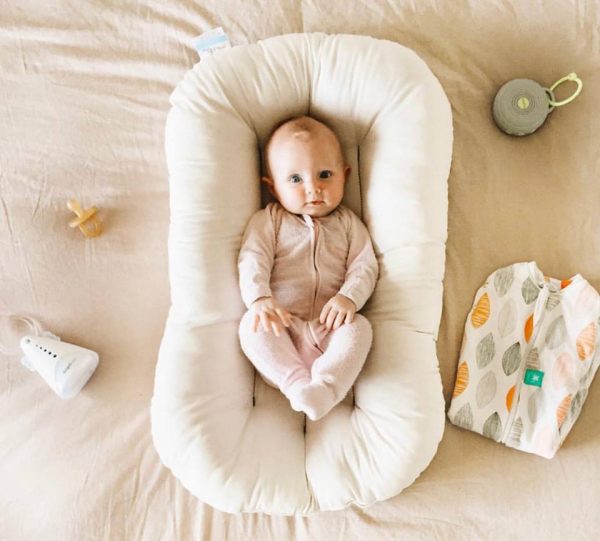 We are so excited to introduce our new baby!
That should really read our new BABY CALMER, shouldn't it?! Hushh Portable White Noise Machine, is the best white noise machine for babies!
The NO 1 Manufacturer of White Noise Machines, Yogasleep, has done it again! For over 55 years, they have been bringing some serious sleep to millions of people throughout the globe. 
The DOHM Ds Sound Machine has been our BEST seller for years! It is about to get pipped at the post for the very first time by its little baby brother, the Hushh Portable White Noise Machine.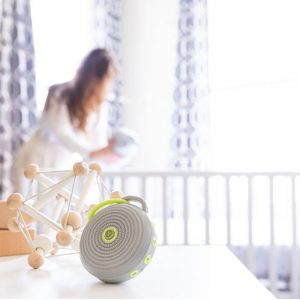 What is HUSHH?
Hushh is a portable sound machine designed to help your baby or you fall asleep and stay asleep anywhere!
For your baby, pop it on your stroller while you're doing the shopping. Attach it to your little one's car seat – especially wonderful if you've got older brothers or sisters who want to chat, sing, cry, laugh and wake bub up!
For adults, simply place it anywhere you want in your room! On your bedside table, dresser, bedhead etc. It is a dream machine!
Hushh Portable White Noise Machine creates a consistent, soothing, comforting sound, that makes for the perfect environment to keep your baby peacefully asleep.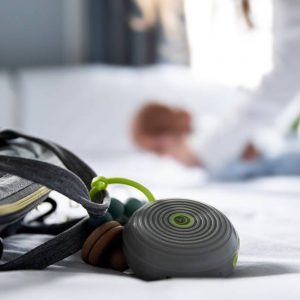 Why people around the globe are in love…
The new Hushh Portable White Noise Machine has 3 sound options for you to choose from deep white noise, bright white noise and gentle surf and has a wide volume range.
Perfect to soothe baby the whole night through and wonderful for naps when out and about.
Hushh is powered by a lithium-ion battery and recharges from a micro-USB cord (included).
It is ideal for masking disruptive noises and it promotes longer, more restful sleep cycles.
Fantastic amber night light creates a soft warm mood in the room and is great for checking on bubs without disturbing them with bright white lights. Perfect for toddlers who are afraid to sleep in the dark too!
.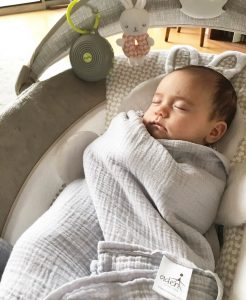 The New DREAM MACHINE!
TOTALLY PORTABLE – Perfect for Strollers, Portacots, Car Seats and more (baby-safe clip included).
FULLY RECHARGEABLE – convenient USB charging (USB cable included).
VARIABLE WITH 3 SOUND OPTIONS: Gentle Surf, Deep White Noise or Bright White Noise
VERY SOOTHING – cradles the baby in a consistent, soothing sound to promote restful sleep cycles
MASKS NOISE –  No need to worry about anyone (or anything) waking the baby, even when you're out & about!
BONUS NIGHTLIGHT – Amber LED light – nightlight provides just enough light to see without waking bub
CHILD LOCK –  Prevents little hands from changing the sound, volume or turning off unit
SIMPLE TO USE – EASY TO USE – Simple interface which is so easy to use & operate with one hand
ADJUSTABLE VOLUME & SOUND – choose your favourite soothing sound with a range of volume settings
12 MONTH WARRANTY – Backed by a one-year limited factory warranty and the always exceptional Yogasleep customer service promise.
If you want a white noise machine to use at home all the time, we recommend choosing a plug-in model. The Hushh Portable White Noise Machine is considered a portable white noise machine that can easily be used while on the go & be hooked onto bubs pram or whilst travelling in the car etc.
The Hushh Portable White Noise Machine can run while plugged in via the USB cable (mains powered). When plugged in there is a charging indicator light that lets you know it is on charge mode, the little light blinks when this is happening. This light is not to be confused with the night light. The night light is a brighter light that you can choose to have on or off in your child's room.
What's in the Box
Hushh Portable White Noise Machine
USB Charge Cable (compatible with any USB power adaptor).
Instruction Manual
PLEASE NOTE – This does not come with a USB Power Adaptor. It comes with a USB cable, which is compatible with any USB power adaptor.
What is the Battery Life of the Hushh?
As for battery life, it varies depending on the settings you choose to use.
At optimum power – this is at the highest volume, which is the deepest sound with the night light on. The Hushh Portable White Noise Machine will last about 4–5 hrs. At the opposite end of the spectrum— on low volume, with less taxing sound selection, and no night light, it will last over 20 hours.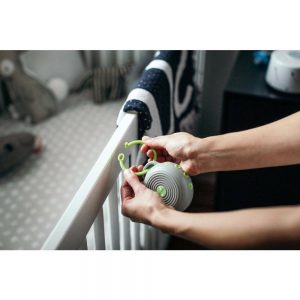 What others are saying…
Very compact, great sounds, easy to use. Does an exceptional job. You can't go wrong
This is a very nice product. Very compact and packs a wallop of sound. Turning it on is fairly easy … you press the power button for about three seconds. A light goes on to tell you it's on. You can choose from three sounds and can control the volume as well. Since this normally may hang from a stroller, one needs to be careful about the level of sound not to injure an infant's ears by having it too close.
The product comes with a nice circular ring that goes on easily and can hang from a stroller.
While this is geared for an infant, I think I will find plenty of uses for it, especially with all those evening lawn mowers that plague the airwaves at times.
Nice product, easy and compact. You can't go wrong.
Michael
……………………………
Perfect for Travel
I've tried other white noise machines, and they were all uglier, bulkier, or didn't sound as good. Some had up to 15 sounds, none of which were effective or were actually distracting (Thunder storms and Jungle noises?) This one is small, portable, and the sounds are simple but effective, without any noticeable looping repetition.
The controls are simple. This adult appreciates the just bright enough but not distracting amber nightlight.
The only thing I don't like is that charging is by USB only.
Very nice for the price.
Celestial Sky
……………………………
Not sure why this is marketed as just for children – it's a terrific and tiny white noise machine
As a fan of the Dohm, I was, I admit, sceptical about this little sibling. The magic of the Dohm is that, unlike standard white noise machines, it's analog. There's not a subtle gap when the digital file repeats, no annoying patterns that you can detect after the 100th cycle and are driven mad by after the 200th.
This little gizmo manages to avoid those pitfalls while also offering features the Dohm can't. For example, it's much, much smaller. It has a much wider volume range. It has a night light. It can do different types of white noise (though I wish it could do pink noise, I find that so much more soothing). It can do an ocean impersonation, too, though to me the range of sound within that setting was too wide.
So, basically, this is a great little white noise machine, and it's perfectly useful for people of any age. It's not explicitly baby-y, you won't feel silly hauling this around like you might if you had one of those sleep-sheep things. It's not as snugly as the sleep-sheep though, I'll grant that.
Silea
……………………………
Great White Noise Maker. Portable & Attaches Easily to Stroller, Car Seat or whatever!
This Marpac Hush Portable Sound Conditioner works very well for any age human. I especially like this for travel so I can sleep well without being wakened by strange noises. It comes with a USB cable for charging. There are three sounds to choose from: bright white noise, deep white noise, or gentle surf. This unit is an extra special white noise unit because there is a baby-safe clip to attach it to a stroller or car seat so that your baby does not wake from startling noises.
This is a winner! I have nothing negative to say about it and recommend it to friends and family.
It never occurred to me to attach a white noise maker to a stroller or car seat and I think whoever thought of that is a genius!
Dr D
……………………………
| | |
| --- | --- |
| Weight | 0.24 lbs (3.7 oz) |
| Material | ABS Plastic |
| Colour | Gray |
| Electrical | Lithium-ion battery and micro-USB charging cord |
| Standards | CE, BC, FCC, & ASTM-F963 safety listings |
| Size | 3.5″ W x 3.75″ H xl.75″ D |
FAQ
Is white noise harmful to babies' ears?
That's a good question and as a mum myself, that's one of the very first things I asked when we got our first white noise machine 7 years ago! It's still going strong by the way. It served us well through two children and now my friend has inherited it from us and is onto her second child. (She's actually just bought the new Hushh too) 
The unit is recommended to work best across the room (at least 1 metre) away from the sleeper. Like any noise, it is not suggested or recommended having directly near a child's ears. 
The Hushh Portable White Noise Machine is capable of producing a fairly high level of decibels, of course, which is volume adjustable. We recommend keeping it at around half-volume for infants, which I'm sure that you'll also find is more than enough to mask unwanted noise from bubs room. 
We encourage any parent who may have concerns about decibel exposures to also chat with their paediatrician or doctor to put their mind at ease. We are not medical experts, but we are parents who live in the real world.
Hushh versus Rohm
The Hushh Portable White Noise Machine was brought out by Yogasleep at the same time as the Rohm. The difference between the two is that the Hushh was specially designed with babies and children in mind and has the following extra features:
Night light
Baby-safe clip
Child lock
Which White Noise Unit is for Me
If you are a fan sleeper, you'll most likely want the Dohm. The Dohm is the original sound machine, first created (by us) in 1962.It features a real fan inside an adjustable acoustic housing, so you can alter the tone and volume of the sound to suit your personal preferences and needs based on your sound environment.  This ability to customize the sound makes it superior to a regular fan for sound masking purposes, and it also uses less energy than a fan.  Additionally, the Dohm is compact (easy to tuck out of sight or travel* with) and won't create airflow, so it's especially great in the wintertime or if dust and allergens are a concern.
If you travel or have an especially loud situation to contend with, we recommend the Hushh.  The sound of the Rohm is a little less like the "whoosh" of a fan and more like a deep "static-ish" sound. Like the Dohm, there are no loops or digital recordings. Choose from constant white noise (bright or deep), or gentle surf. The Rohm (for babies) and the Hush are compact and a USB cable. Pro tip: in noisy hotels, try placing the sound machine between the door and your bed, then adjust the tone and volume to your liking. You'll find that pretty soon, you don't even notice the sound of the machine, but you ALSO don't hear the doors banging or voices in the hallway… sound machine for the win.