Whether swimming laps at the pool or enjoying a day at the beach, Alpine SwimSafe Earplugs will keep water out of your ears so you can focus on having fun.
These earplugs feature patented open duct filters that allow you to hear conversations while still blocking out water.
Alpine SwimSafe Earplugs are also perfect in the shower to prevent water from entering your ears. Made of soft, comfortable silicone, they will stay in place all day long. So take a dip – your ears are protected with Alpine SwimSafe Earplugs.
Let's face it, earaches are not fun. Many people suffer from discomfort from water getting into the ear canal. Those regularly in the water are even more likely to develop ear infections or get surfers' ears.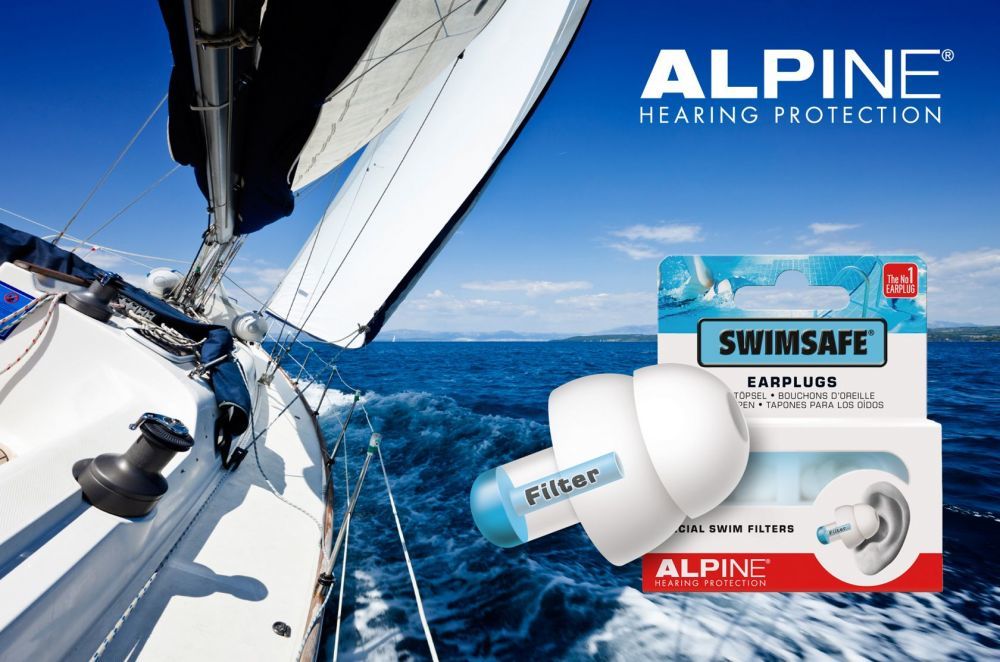 Keep Water out of your Ears
That's why many fans of various water sports want to protect their ears against the wind and water when swimming, kiting, surfing, sailing, water skiing, rowing, wakeboarding etc.
Where this condition blocks the ear canal, water and wax can become trapped and lead to infection.
Alpine SwimSafe Earplugs
Designed to prevent water from entering the ear canal, and thanks to the unique filters, ambient sounds can still be easily heard and understood.
This makes for the ideal earplug when surfing with mates, swim squad training, yachting etc.
SwimSafe earplugs are also perfect for shower use to prevent water from entering the ears.
Alpine SwimSafe Earplugs' unique patented open duct filters keep the water out while still allowing you to hear conversations out of the water.
Do you Suffer from Surfers Ear?
What is surfer's ear? Irritation from cold wind and water exposure causes the bone surrounding the ear canal to develop lumps of new bony growth, which constrict the ear canal. Where this condition blocks the ear canal, water and wax can become trapped and give rise to infection. Sometimes, it leads to surgery to remove the obstructing ear canal bone.
Designed for Comfort
The innovative Alpine earplugs are made of unique thermoplastic material, developed by Alpine: AlpineThermoShape. This material takes on the shape of the ear, so the earplugs have a perfect fit and stay in place at all times. ATS does not contain any silicones and therefore causes no allergic reactions.
When inserted into the ear canal, the dual-flange silicone Alpine Thermo Shape (ATS™) material softens as it warms and adapts to the shape of your ear duct. This makes them highly comfortable to wear, even for long periods.
Alpine SwimSafe Earplugs are Perfect for:
Swimming Training
Tri-athletes
Surfing
Swimming
Snorkelling
Relaxing in the Bath
Alpine SwimSafe Features:
It prevents water from penetrating your ear
Protects against ear infection and surfer's ear
Suitable for swimming with ear tubes & grommets
Ambient sounds and conversation can still be heard
Extremely comfortable AlpineThermoShape material
Alpine Miniboxx to take your earplugs anywhere and
Floating capacity
Hardly visible in the ear
No silicone
Reusable
Alpine Miniboxx
In addition to the convenient carrying case, you will find a cool Alpine Miniboxx in each SwimSafe package. This convenient carrying case is easy to take with you to the pool, and when you're swimming, it can be easily attached to your wrist, on your key ring, or on your wetsuit zipper.
Revolutionary Design
Twenty years of experience have allowed Alpine to develop a perfect new earplug model. The well-thought-out and extensively tested shape of these earplugs provides the perfect fit.
WINNER RED DOT AWARD 2015
Alpine Hearing Protection has won the Red Dot Award 2015 for the design of the SwimSafe. The jury of this prestigious design price applauded the "high quality and innovative ability" of the earplugs. The Red Dot Award is considered the most valuable award for excellent design. In addition, it is the biggest design competition in the world.
Alpine is now permitted to use the coveted quality seal on the Swimsafe Earplugs.
The hearing protectors are on display in the Red Dot Museum in Essen, among previous winners such as Audi, Apple, BMW and Philips.