Do you need a sleep mask that will be soothing enough to sleep on your side? The Silk Eye Mask for Side Sleepers is perfect for you!
Superior mulberry silk materials will gently apply pressure to your face leaving you with a cool and inviting sensation to relax.
Why not add a pair of Alpine Sleepsoft Earplugs for the ultimate relaxation. No light or sound is getting in.
A Small Luxury with Amazing Benefits:
With the sophistication of silk, you can get a small luxury with enormous benefits. We've not compromised cost for quality with this decadent new silk mask!
Features and Benefits:
SMOOTH – Feel the smooth sensation of Mulberry Silk against your skin
RELAXING – Design provides gently pressure against your face for ultimate Relaxation
LIGHT WEIGHT – Thin design ideal for side sleepers
EASY TO WEAR – Fully adjustable strap without Velcro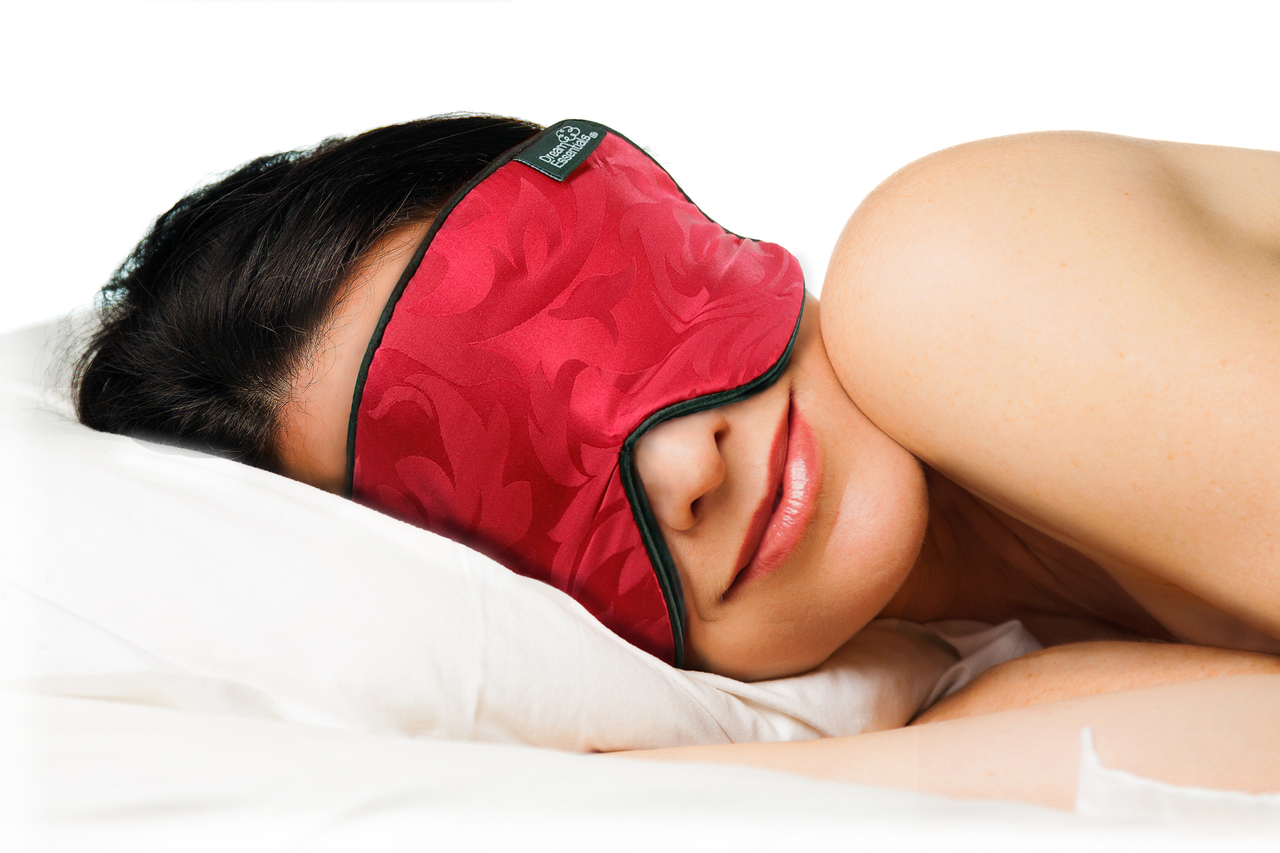 Did you know that over one-quarter of the population have difficulty either getting to sleep or staying asleep?
That is more than 1 in 4 people who lay in bed at night tossing and turning!
Some of the Biggest causes of Sleep Deprivation:
SNORING – Partners
NIGHT SHIFT Workers – People who work nightshift & need to sleep through the day when most other people are awake,
TRAFFIC – Busy and Loud Traffic
NEIGHBOURS – Noisy Neighbours and or their Pets.
How Does Sleep Deprivation Affect Us?
Sadly, lack of sleep invariably leads to many health problems both mentally and physically.
Little or broken sleep can significantly reduce your alertness. When we are tired we make errors in judgments which can easily result in harm, be it at home, in the car or at the workplace.        
It is no surprise that depriving the body of much-needed rest leads to a poorer quality of life.
How Can Sleep Soft Earplugs Help?
Apart from helping to alleviate all of the above mentioned problems…
Alpine Sleep Soft reusable ear plugs are the perfect alternative to foam and silicone earplugs for sleeping.
The patented open duct filters on these earplugs reduce ambient sounds such as noisy neighbours and traffic but still allow you to hear high-frequency noises like your baby crying in the middle of the night, or the front doorbell.
When inserted into the ear canal the dual-flange silicone Alpine Thermo Shape (ATS™) material softens as it warms and adapts to the shape of your ear duct. This makes Sleep Soft + Ear Plugs extremely comfortable to wear for long periods of time.
Many of our customers favour the Sleep Soft as the BEST ear plugs for sleeping for these very reasons!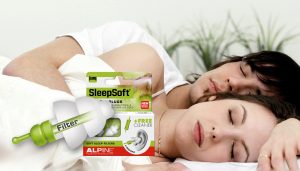 New: Minigrip

SleepSoft earplugs now have a unique Minigrip. This handy grip makes removing the earplugs even easier. The Minigrip is small, inconspicuous and made of soft material. This means that even side sleepers will not be bothered by the Minigrip.
Sleep Deprivation can lead to:
Weight Gain
Depression
Anxiety
Accidents
Irritability
Serious Health Problems
Lack Of Sex Drive
Memory Loss
Impairs alertness, concentration, & problem-solving
UNIQUE PRODUCT CHARACTERISTICS
Absorbs ambient noise and snoring sounds
Very comfortable due to soft AlpineThermoShape™ material
Doorbell, alarm, and alarm clock can still be heard due to unique AlpineAcousticFilters™
With extremely soft filters, specially designed for (side) sleepers
Handy and compact storage box
With Alpine Cleaner to easily clean the earplugs
Can be worn all night
Also suitable for apnea, snoring during pregnancy
Silicone-free
Reusable
Tired of not getting a good night sleep?
After an intensive but satisfying day, nothing is nicer than crawling into bed, leaving everything behind you and enjoying an undisturbed night's rest. Just wonderful, right? Unfortunately, this is not the case for everyone.
Is Noise Stopping You From Sleeping?
Noisy neighbours or a snoring partner are two of the top three most annoying noises that keep millions of people around the globe awake every night.
People don't just have difficulty sleeping in their own bed at home, but also whilst travelling for business or pleasure when staying away at hotels or on campsites, etc.
Trouble Falling Asleep?
Alarmingly, approximately 20% of the population have difficulty falling asleep. One in five people lay awake at night tossing and turning. After just one night of restless sleep, it doesn't have too much impact on our body. You might be a bit sleepy the next day and feel a little lethargic. If broken sleep is a regular occurrence for you, it might be worth a visit to your doctor.
Proper sleep promotes good health. Our body needs this time to rest and repair. If we don't get enough, we become irritable, more tired as the day goes on and lose concentration. We are more likely to make mistakes in all that we do. Our brain can become footy and we are daintily less alert.
How Much Sound Do Sleepsoft Earplugs Block?
Alpine SleepSoft earplugs have an average damping (SNR) of 25 dB. This means that disturbing environmental noises are muffled. However, you will still hear significantly louder noises. Of course, you will hear them less loud. Many people find it easier to fall asleep while wearing earplugs and wake up less easily. Noises such as your alarm clock, doorbell or children can still be heard.
Snoring
The volume of snoring sounds can be very loud and even exceed 95 dB. This is as loud as a pop concert!
Despite of the use of earplugs, you will probably still hear snoring at this level, no matter which earplugs you use. However, they will bring the level of snoring down considerably.
Alpine SleepSoft earplugs have an average damping (SNR) of 25 dB. This means that disturbing noises are muffled. However, you will still hear significantly louder noises. Of course, you will hear them a lot less.
Many people find it easier to fall asleep while wearing earplugs and wake up less easily. Noises such as your alarm clock, doorbell or children can still be heard.
How come Earplugs never fully block out all noises?
The conduction of sound takes place in two ways: through air and via bone. Our skull also picks up sonic vibrations. This is called bone conduction. Via bone conduction our eardrum vibrates, because of which we perceive sound; we can hear it.
Therefore, sound can never be blocked out completely, just by blocking the ear canal.
In case you would like the highest possible noise reduction, we would advise you to go to your local ear care specialist for custom made earplugs. Their advantage is that they have a perfect fit because they are an exact copy of your ear canal and can close off the ears completely. However, at at least $300 per pair for custom fit earplugs versus our Alpine Sleepsofts at $30, it's not rocket science to work out the best place to start!
SleepSoft Features:
REUASABLE
CAN STILL HEAR – Open duct filter allow you to still hear important sounds
COMFORTABLE – to wear. Alpine Thermo Shape allows earplug to adapt to shape of ear
TRIM TO FIT – Can be trimmed to size so it does not protrude from ear (instructions inside pack for details)
EXTRA NOISE CUTTING – Super Soft Double Flange Silicone
PERFECT SIDE SLEEPERS – First & Only Product on the Market with Soft Silicone Filter – Perfect for Side Sleepers
FREE – Durable carry case to store earplugs.
FREE Insertion stem included for ease of inserting and removing plugs
HYPOALLERGENIC – Silicone & Latex FREE – perfect for people with latex allergies who are in need of ear plugs
Winner Red Dot Award 2015
Alpine Hearing Protection has won the Red Dot Award 2015 for the design of its latest earplugs. The jury of this prestigious design price applauded the "high quality and the innovative ability" of the earplugs.
Revolutionary Earplugs
Twenty years of experience have allowed Alpine to develop a perfect new earplug model. The extremely well thought-out and extensively tested shape of the earplugs, provides a natural flat absorption and a great fit.
Alpine Acoustic Filters™ – Unique Filter System
The special acoustic filters in SleepSoft earplugs reduce troublesome and harmful noise, which hinders a good night's sleep.
Snoring sounds and environmental noise are blocked, enabling most people to fall asleep more easily and to enjoy uninterrupted sleep. The special filters prevent a sense of isolation from the outside world.
The sounds of the alarm clock, doorbell, alarm, or a crying baby remain sufficiently audible. SleepSoft earplugs are very suitable for use at home, while studying, or while staying in a hotel or at a camping site.
What Noise Reduction do Sleepsoft Earplugs Have?
SleepSoft earplugs have an average attenuation (SNR) of 25 dB. Disturbing sounds will be muffled due to these earplugs, therefore, falling asleep will be easier and they prevent from waking up too easy. You will still be able to hear some of your surroundings, for example, you'll still be able to hear your alarm or your kids.
Snoring sounds usually have a very high sound level. With SleepSoft earplugs, you will muffle a large part of the snoring sounds, with as a result falling asleep will be easier and keep you from continuously waking up. It is not possible to mute the snoring sounds completely. Due to bone conduction, some sound vibrations slip past and will always enter your hearing.
What are they made of?
AlpineThermoShape Material – Super Soft
Sleep Soft Reusable Ear Plugs are made from of a durable, soft, flexible thermoplastic polymer.
Due to the unique super soft AlpineThermoShape material, and special design, Sleepsoft earplugs are very comfortable to wear for long periods of time.
This material adapts to the shape of your ears, thus the earplugs fit perfectly. There is no sense of pressure on your ears.
What more is that, Sleepsoft Earplugs contains NO silicone or latex, which can cause irritation and allergic reactions in many.
Soft Filters – Exceptionally Comfortable
SleepSoft are the only sleeping earplugs on the market with super soft filters that will have you sleeping like a log.
Alpine Cleaner
Alpine has developed an-easy-to use cleaning tool to remove earwax from the earplugs. By keeping the earplugs clean, they keep working optimally and last longer.
Care
The lifespan of the earplugs depends on frequency of use. Keeping the earplugs clean will extend the lifespan. The earplugs can be cleaned with lukewarm water and soap.
Unique Dutch Design
The design of the Alpine hearing protectors is an exclusive Dutch Design. All earplugs and filter systems are produced in the Netherlands.
Contents
Two universal thermoplastic hearing protectors
Two acoustic soft filters
Alpine Cleaner
Plastic carrying case
Alpine insertion sleeve
Attenuation Values Alpine Sleepsoft
| | | | | | | | | |
| --- | --- | --- | --- | --- | --- | --- | --- | --- |
| Frequency Hz | 63 | 125 | 250 | 500 | 1000 | 2000 | 4000 | 8000 |
| Mean Attenuation dB | 25,0 | 28,0 | 27,6 | 26,7 | 27,4 | 30,1 | 31,3 | 23,8 |
| Standard Deviation dB | 2,4 | 3,8 | 5,5 | 3,6 | 3,3 | 4,3 | 4,9 | 4,6 |
| Assumed Protection in dB (APV) | 22,6 | 24,2 | 22,1 | 23,1 | 24,1 | 25,8 | 26,4 | 19,2 |